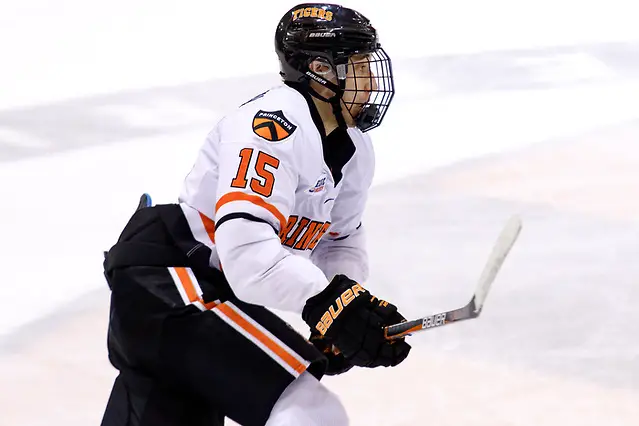 Last season, Princeton used a scorching offense to win the Whitelaw Cup as ECAC Hockey's playoff champion.
It's been a different story over the last few weeks, as goals have been harder to come by for the Tigers en route to a five-game losing streak heading into this weekend.
Princeton has only scored seven goals during that losing streak, a mark the Tigers reached three times in a game alone during the second half of last season.
"You've got to produce and we're a little bit snakebitten right now," Princeton coach Ron Fogarty said. "But we're not too concerned because we're still getting opportunities to score; we're just not cashing in on our chances."
One of those chances was Friday in a 3-0 loss at Quinnipiac. Max Véronneau appeared to have tied the game at one in the second period, but the play was ruled no goal as Bobcats goalie Andrew Shortridge knocked the net off its moorings.
Here's the play in question https://t.co/YxHsdpiqse pic.twitter.com/7WfJssm8fj

— Princeton University Hockey (@princetonhockey) December 1, 2018
Goalie Ryan Ferland and the Tigers' defense were an often overlooked part of Princeton's success in the second half of last season. But if the goals are going to have to pick up if the Tigers are going to repeat last year's success.
That lack of offense, especially secondary scoring, has been the main culprit for Princeton during its losing streak, as Fogarty doesn't feel the Tigers are playing with a target on their back as defending league playoff champions.
"Our conference is tight; anybody can win on any given night," Fogarty said. "I don't think teams get up for any more or less. With hour the playoffs our structured, you want to win those two points and get a bye in the first round."
Last year's team got most of its offense from its top two lines, and that depth was hurt by the graduation of forwards Eric Robinson and David Hallisey. This year, the Tigers' top five scorers – Véronneau, Ryan Kuffner, Jackson Cressey, Alex Riche, and Josh Teves, have combined for 18 of the team's 28 goals. Six skaters who have appeared in at least six games have not recorded a point so far this season.
"We need some secondary scoring — we need a threat," Fogarty said. "We're still tinkering with some of the lines but that has to come sooner rather than later and hopefully before Christmas we can get a couple of guys chipping in."
The Tigers end the first half of the season with a two-game series with Arizona State this weekend and then a game against Penn State on Dec. 15 at the Wells Fargo Center in Philadelphia.
Prior to the matchup against the Nittany Lions, Princeton will mark the 100th anniversary of Hobey Baker's death with a graveside ceremony at 9:30 on the morning of the game between the two teams. Forgarty and Penn State coach Guy Gadowsky will speak, in addition to members of Baker's family and representatives from the Hobey Baker Memorial Foundation.
The ceremony will take place at West Laurel Hill Cemetery in Bala Cynwyd, Pa. The event is free and open to the public, but registration is required. Guests can register at www.westlaurelhill.com/events.