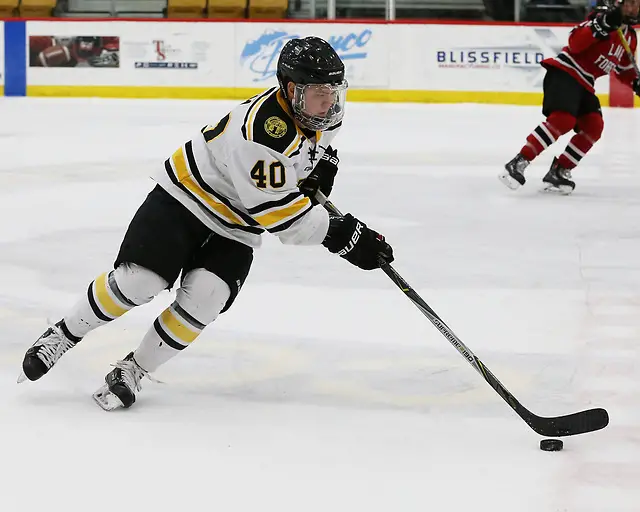 What's up Santa? Hope all is well as you prepare for your annual trip around the world. A bunch of children are expecting awesome presents on Christmas morning. Here in the Western region of hockeyland, there are high hopes for Christmas as well.
Over in the MIAC, Concordia and Augsburg are looking to see their success continue. The Auggies are ranked fifth in the nation. Concordia, winners of six in a row, would love to be ranked, but I guess receiving votes will have to do for now.
The two teams have combined to have the top five players in points, with the Cobbers holding down the top three spots. The Cobbers and Auggies also have the two best goalies in the MIAC in Jacob Stephan and Nick Schmit.
A chance to see those two duke it out for the conference crown would be a great thing.
Bethel could use some help in the win column. The Royals have just one win to their credit. They'd love to be able to turn things around in the second half. With your help, they can probably make that happen.
In the WIAC, Wisconsin-Stevens Point doesn't need too much for Christmas. The Pointers are unbeaten and ranked No.1 in the nation. It doesn't get much better than that.
They are lighting it up offensively with 57 goals while getting the job done on defense, too, giving up just 22 in their first 15 games.
About the only thing the Pointers do need is a national championship. Of course, everyone wants one of those. Wis.-Stevens Point was a Frozen Four team a year ago; would it be too much to ask for a little helping in bringing home the trophy this year?
Wisconsin-Eau Claire might have something to say about how things shake out both in the WIAC and in the NCAA tournament.
The Blugolds have lost just twice and have scored 51 goals while giving up only 23. To say the least, they are pretty good, and there's no question they have what it takes to make a run at the national title as well.
In the end, only one team can win the WIAC, and only one team can go all the way in the national tournament. You might need to flip a coin to decide on who you help. It's a tough decision; I'm just glad I'm not in your shoes.
Wisconsin-Stout is having one of its best seasons. The Blue Devils already have seven wins, not too shabby considering they've already matched last season's win total. If they could have one thing for Christmas, it would be to have a winning season. So help them out here and keep their momentum rolling in the right direction.
When it comes to Christmas gifts, Adrian and St. Norbert could be hard to please. Expectations are crazy high for both programs, and a national championship is the ultimate goal. The Bulldogs are always a contender, while the Green Knights won it all last year.
Both teams expect to play for the NCHA crown, and both hope to be the last team standing. I'm sure both would be willing to leave a few extra cookies and a second glass of milk for you on Christmas Eve if it means having their Christmas wish come true.
Of course, those aren't the only two teams looking for a little help at Christmas. St. Scholastica is as well. The Saints have won six in a row and are unbeaten in their last nine overall. They already have eight wins after winning 15 games total last season.
Ranked 15th in the nation and feeling as confident as ever, the Saints would love if you could help them carry their momentum into the second half of the season. They'd love it even more if you would bring them an NCHA title and NCAA playoff berth this season.
And first-year head coach Tim Madsen wouldn't mind being named coach of the year, not only in the NCHA, but perhaps the country. He's certainly a worthy candidate.
Trine could use some help, too. The Thunder has lost its last four and need a turnaround in a hurry. The Thunder has shown it has the potential to be a good team, tying Wis.-Stevens Point and nearly knocking off St. Scholastica.
Trine just needs that little extra boost to get back on track. A big win to jump-start a great second half. It has faith in you Santa that you can help make that happen.
I realize you are a busy guy at this time of the year. Everyone wants something from you. I'm interested in seeing what you deliver to the teams on this list and to the others in the West region. I'm also looking forward to Christmas and a great second half to the season.
Safe travels Santa. The children are counting on you to make this Christmas a great one. So is the hockey world. Merry Christmas.