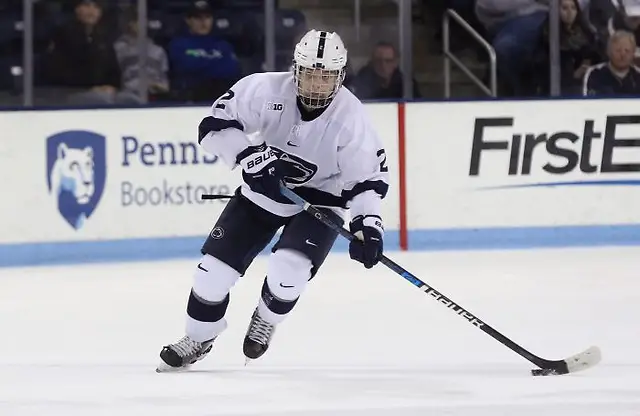 It's well-documented that Penn State has a talented group of forwards.
But during typical five-on-five action, there's three forwards, two defensemen and a goaltender on the ice.
So how do said defensemen fit into the highest-scoring team in the country?
"We've got a simple back end, I like to say," Nittany Lions sophomore defenseman Cole Hults said. "We're all first-pass defensemen and we're not going to have anybody do anything flashy out there, but that's what forwards are for. We'll take care of the back end and get you the puck. A lot of our back-end points come from being on the puck and odd-man rushes. We don't try to do too much, we keep it simple, and I think that's where we're going to find a lot of our success."
Hults, a Stoughton, Wisc., native and the Nittany Lions broke a 0-3-1 steak in a big way on Saturday when they downed Notre Dame at home 9-1. Obviously with the offense being first in the nation, it wasn't the first time this season that Penn State put a large number on the scoreboard.
"It's just how the flow of the game goes," Hults said of the team's high-scoring affairs. "Our forwards are obviously high-end, one of the best groups in the country, so being defensemen that makes our job really easy. Once you get those guys going and pushing the pace, it's pretty easy for them to make plays. It's natural for them all — they're all goal-scorers and playmakers."
The Nittany Lions will end their first half of the season by playing Princeton at the Wells Fargo Center in Philadelphia on Saturday.
When it comes to the defense, Hults said head coach Guy Gadowsky wants them to keep things simple.
"We know what our forwards can do and we know why we're a high-scoring team," he said "We're the highest-scoring team in the country right now so I think [Gadowsky] just expects us to keep moving the puck and keep it simple."
Hults had three goals and 10 assists so far this season and views himself as a two-way defenseman. He added that there are more ways to contribute to the offense than goals and assists.
"It starts from your own end and you can be a two-way from breaking out the puck and jumping into the rush sometimes," Hults said. "A lot of my success comes from clean breakouts, I try not to go off the glass too much unless I have to bypass somebody."
That being said, the player would like to see his offensive stats keep pace as the season rolls on.
"I would like to be a little more involved in the offensive-zone, and that's kind of been my main focus this year coming off of last year," Hults said. "Running more switches or fake shots and getting deep into the zone and causing havoc for the forwards.
"I'm not a big scoring defenseman, but obviously I like to score a little bit here-and-there."
He's already matched his goal total from last year before the holiday break, so a healthy step up in terms of stats is definitely in the cards. He's also done it before. In his two full seasons for the USHL's Madison Capitols, Hults scored eight points during the 2015-16 season and 32 during the 2016-17 season.
That's a situation where the numbers don't tell the whole story, though.
"My first year in Madison I thought was really good for me, too," Hults said. "I didn't put up the most points, but it really gave me a chance to work on my defensive game, be that five or six shutdown defenseman. The next year, I ended up having a great opportunity and put up some pretty good numbers, but I didn't really change much in my game. I just moved the puck, and most of those points came from breaking the puck out of the neutral zone or our own end."
It's a different team and a different level of hockey, but Hults may be experiencing a similar payoff during his sophomore campaign.
"I've got a lot more confidence out there," Hults said. "I already know my own identity and what kind of player I am, so this year it's kind of working on what I'm good at and not really changing too much. What I'm doing right now, I feel like it's working and it's very effective so it's just fine-tweaking little things."