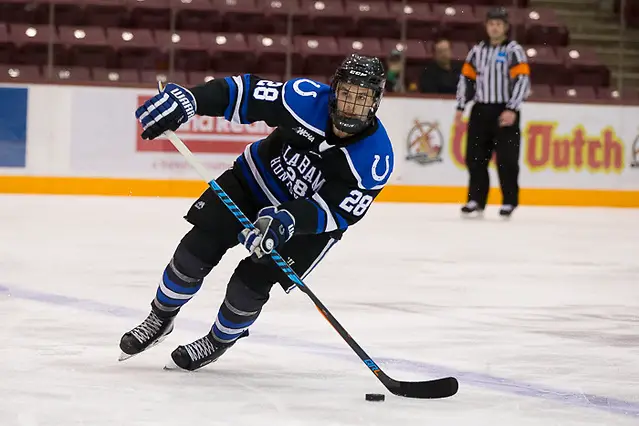 Alabama Huntsville hasn't been on the good end of close games much this season.
The Chargers, who have lost seven contests by one goal in 2018, found themselves in a similar situation going into the third period of Saturday night's game at Bemidji State. The Beavers led 2-1 after 40 minutes and looked to be on the verge of handing the Chargers yet another series sweep.
But Mike Corbett had calm words for the Chargers in that second intermission.
"We spoke in between periods," the sixth-year UAH coach said. "I told the guys that this is one of the games where we have to just leave it all on the table.
"And they did."
The Chargers scored three goals in the final frame, turning what had been an early 2-0 deficit into a 4-2 road victory. For a team with just two wins to their name this season — but plenty of close losses — it was a nice morale boost that Corbett hopes can be a springboard to more wins in the second half.
"It was nice because we haven't been able to score, not necessarily goals, but timely goals," he said. "And scoring the timely goals is important especially for a team like ours who has seven one-goal losses."
Also encouraging for Corbett was the way those third period goals were scored. Freshman forward Bauer Neudecker tied it up with a wrist shot from the right circle just four minutes into the third. As he did that, another freshman — Jack Jeffers — was bowled over by a Beavers player in the corner, which gave the Chargers a power play.
They took advantage almost immediately, as Cam Knight scored what turned out to be the game-winning goal just 30 seconds later.
"You get a few good things happen, you get some momentum, and the boys jumped on it," Corbett said.
Those bits of positive momentum have been somewhat few and far between for the Chargers, who improved to 2-14.
"In order to be a good team you have to come from behind sometimes, too. In this day and age, everyone wants to look at records, social media, the newspaper, message boards. For us right now, it's good to have a positive," Corbett said. "So far, the only thing they've seen next to our name is negativity in the first half of the year. That's why I've told our boys, 'We know how good we can be if we're willing to constantly focus on the next shift, the next play, what's right in front of us.'"
It's been hard for a team struggling to find an identity after losing so many key pieces from seasons past. Last year's edition of the Chargers didn't score a ton, but they did have the WCHA's leading scorer in Josh Kestner, who lit the lamp 24 times, as well as Tyler Poulsen, who had 17 assists.
This year, the Chargers have had to score by committee, as Corbett put it, with a pair of newcomers near the top of the scoring list. Jeffers, a freshman, leads the team with four goals while another newcomer — RPI transfer Jesper Öhrvall — is tied for the team lead with six points (all on assists). Sophomore Christian Rajic and senior Madison Dunn have also contributed a lot this season.
Corbett noted that while he expected scoring to be more spread out this season, it has taken the Chargers a while to figure out their roles.
"Minutes were available for guys, and I think guys early in the year put too much pressure on themselves to fill those shoes," he said. "We never asked them to fill those shoes, we just asked them to be the best version of themselves. But I think they're finally settling in and starting to embrace the roles that they have."
The Chargers seem to be getting more consistent, too — especially on defense. They opened up the season with a 5-1 loss to Miami and also had five-plus-goal losses to Denver and Arizona State early in the season before (mostly) settling down to keep goals against at a minimum. (A big loss at Bowling Green two weekends ago in which the Falcons scored three times in the third to turn a 3-2 lead into a 6-2 win being the notable exception.)
"In all reality, our team defense hasn't been bad, for the most part. Every game, for the most part, we've been in," Corbett said, noting that after that rout at Bowling Green they turned around and lost just 2-1 the next night. "You turn a few of those one-goal losses into a few three-point wins, we're in the middle of the pack in the WCHA.
"That's what our guys have to be able to understand, is how close it actually is. Every coach likes to talk about consistency and details and those sorts of things. We have to shore that up a little bit, because we go to Michigan Tech (this coming weekend) then right after we have Ferris at home (after the new year) and it's not going to get any easier after the first of the year. Our team has to continue to improve. As you start coming down the stretch, there's got to be some results that come with that process."