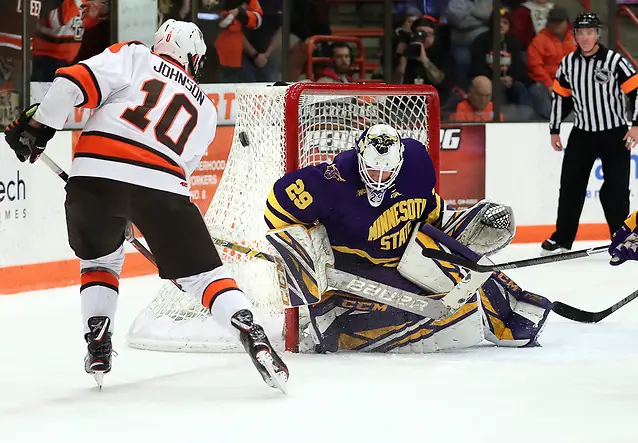 The two teams with the best overall records in the WCHA squared off on Friday with host No. 12 Bowling Green earning a 4-1 win No. 3 Minnesota State to tighten the race for the top spot in the league.
The Falcons scored the game's final four goals after falling behind 1-0 on a Josh French tally.
After knotting the game midway through the second when Connor Ford scored, Bowling Green struck three times in the final period.
Brandon Kruse's goal turned out to be the game-winner, as Ford added a second on the power play at 9:20 and Stephen Baylis finished the scoring with an empty-net goal.
The two teams finish the series tomorrow night before heading to the break.
No. 15 Arizona State 4, Colorado College 2
After falling behind, 2-0, host Arizona State rallied to even the game on goals by Joshua Maniscaico and Johnny Walker in the second before the same pair, in reverse order, scored the go-ahead and insurance goals in the third period for the 4-2 victory.
The two goals for Walker were number 14 and 15 on the season and allow him to move into the lead for the national goal-scoring lead.
☝️🖐 for #7! pic.twitter.com/nbALoXf8Vm

— Sun Devil Hockey (@SunDevilHockey) December 15, 2018
Joey Daccord made 23 saves to earn the victory, his nation's best 13th of the season.
The teams complete the two-game series on Saturday in Tempe.
Alabama Huntsville 1, Michigan Tech 0
After just one win in its first 15 games, Alabama Huntsville earned its second consecutive win, this time with a 1-0 upset at Michigan Tech, a team that entered the night second place in the WCHA.
Bailey Newton's goal at 10:30 of the first period was the only tally of the game. Mark Sinclair made 39 saves to earn the shutout.
Boston University 4, Dartmouth 1
Patrick Harper's second period goal broke a 1-1 tie and Ty Amonte added an insurance marker late in the third as Boston University entered the break on a high note with a 4-1 win over Dartmouth.
The Harper goal came just 64 seconds after Dartmouth's Kevan Kilistoff netted the equalizer for the Big Green.
Harper does it all by himself to give us the lead back! #GoBU pic.twitter.com/naf2gY5hPe

— BU Men's Hockey (@TerrierHockey) December 15, 2018

That was all BU netminder Jake Oettinger allowed, though, as he earned his sixth win of the season making 33 saves.