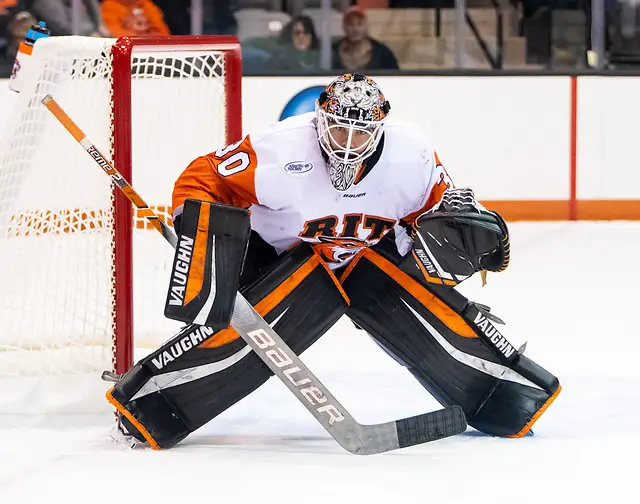 Each week, USCHO.com columnists will pick the winners of the upcoming games in their respective conferences.
Atlantic Hockey
Saturday
Niagara at Rochester Institute of Technology
This is the first of three straight meetings between the schools this season, with the second and third games coming on Jan. 4-5.
In 2017, the last time Niagara visited RIT's Polisseni Center, the Purple Eagles came away with a wild best-of-three series win in the Atlantic Hockey tournament.
Both the Tigers (five losses in a row) and the Purple Eagles (one win in their last five games) are struggling at the moment, and each would obviously like a win going into the holiday break. I expect RIT's home woes to continue and think Niagara comes away with this one.
— Chris Lerch
Big Ten
Saturday
Princeton vs Penn State (at Wells Fargo Center, Philadelphia)
The Tigers kept the game close when these two played at Penn State in late October, but their season has gone downhill since the middle of November. I'll take the Nittany Lions and their high-flying offense on a neutral ice sheet in this one. Penn State wins comfortably.
— Drew Claussen
ECAC Hockey
Friday
Dartmouth at Boston University
Here's a weird stat: The Big Green have have played four games this year against teams that are over .500 and are 4-0. They've played six games against teams below .500 and are 0-5-1. The trend says that should continue against a Terrier team that is 5-8-2 this year, but I've got a feeling Dartmouth picks up a win to end the first half.
Saturday
Princeton vs. Penn State (at Wells Fargo Center, Philadelphia)
The Tigers have lost seven straight entering the final game before the winter break. Princeton just doesn't have a lot of depth behind its top scorers. Meanwhile, the Nittany Lions lead the nation in offense, averaging more than five goals a game. This game should be a shootout, but Penn State's offensive depth should be the difference. Penn State wins
— Nate Owen
Hockey East
Friday
Dartmouth at Boston University
Neither team has lit the world on fire yet this season, and neither is hot. Dartmouth just got swept by New Hampshire, while BU only has one win in its last five games. My belief in BU has been battered, but I'll hold on for one more. BU gets its first nonconference win. BU wins.
— David H. Hendrickson
NCHC
Friday-Saturday
Colorado College at Arizona State
I've felt for a while that Arizona State is overrated, considering the Sun Devils are 1-3 against ranked teams. They are 3-3 in their last six against some middling teams. They are at home though, which is perhaps good for a win against a CC team that has struggled with consistency on the road. The Tigers have to be disappointed at splitting with Vermont last weekend at home. However, given that Omaha swept ASU two weeks ago, I'm going out on a limb and predicting a CC sweep. Colorado College 3-2, 4-2.
— Candace Horgan
WCHA
Friday-Saturday
Minnesota State at Bowling Green
Getting a win over Mankato would be huge for the Falcons, who sit in third place of the WCHA standings. If they could steal a win, it'd keep them in the hunt for a regular-season title and knock the Mavs down a peg. I like BG to steal a win Friday night, but MSU to pick up a win going away Saturday.
Alabama Huntsville at Michigan Tech
Only a tie separates the Huskies (8-1-1) from first-place MSU (9-1-0) in the WCHA standings, so they'll have to take care of business against Huntsville to keep pace in the league race. Give me MTU to sweep the weekend series.
Ferris State at Northern Michigan
Probably the biggest disappointment in the WCHA this season has been Ferris State, which has been on the receiving end of some tough blowout losses this winter. Things won't get any easier this weekend either, as NMU trails first-place MSU by nine points in the standings. I like the Wildcats to sweep the home series and make a play to move up from fifth place. The good news is the Ferris football team is playing in the national championship game. As a bonus pick, give me the Bulldogs and Jayru Campbell to edge No. 1 Valdosta State.
Alaska Anchorage at Bemidji State
The Seawolves are yet to get a league win this winter, and I don't think one is going to come during their series at BSU. The Beavers are at a pivotal point in their season where a few more losses could knock them out of contention for a regular-season title and the WCHA playoffs. Give me BSU to sweep Anchorage.
— Brandon Folsom