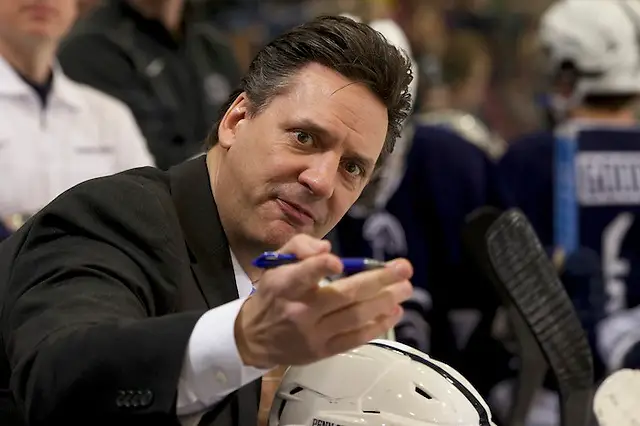 Roughly 225 miles separate Penn State University and Princeton University, across the Pennsylvania-New Jersey state line.
The relationship between the men's NCAA Division I hockey programs on both campuses, however, feels much closer.
The Nittany Lions and Tigers will renew their nascent rivalry on Saturday at the Wells Fargo Center in the 2018 Philadelphia College Hockey Faceoff, the second such game between the two schools at that venue. They last met in State College in October, with Penn State (11-5-1 overall) emerging with a 4-2 victory.
Before taking over the club program at Penn State and re-building it to Division I standards, Nittany Lions head coach Guy Gadowsky mentored Princeton for seven seasons, from 2004 to 2011. In that time he led the Tigers to just their second and third NCAA tournament berths all-time, in 2008 and 2009, before leaving for Hockey Valley. At both schools, in his fourth year at their respective helms, he got his team into the NCAAs.
"Our whole staff has a ton of pride in the Princeton program," said Gadowsky, who brought Princeton assistants Keith Fisher and Matt Lindsay with him to Pennsylvania.
The idea of a college hockey game in the City of Brotherly Love first came about when Penn State was testing the Division I waters after four decades as a club powerhouse. Princeton (3-8-1 overall) will serve as the home team on Saturday—but the contest was the brainchild of the visitors, one that gestated when the Nittany Lions began playing games in Pittsburgh, Hershey, and Wilkes-Barre after tickets for home contests became difficult to secure, first at Greenberg Ice Pavilion and then Pegula Ice Arena.
Penn State faced off with Vermont at Wells Fargo Center on Jan. 19, 2013, the day the NHL ended its latest lockout—and the place was packed as the Nittany Lions won 4-2.
"There were over 19,000 people, and 98 percent of them were wearing Blue and White," said Gadowsky. "It was a great game."
After four go-arounds and three wins against UVM in Philadelphia that averaged over 14,500 fans, the Nittany Lions sought a more local geographical opponent — and Princeton made the most sense.
"They were close, and it seemed like a perfect fit," said Gadowsky. "They had done so well and were an excellent team, plus there's a lot of Princeton alumni in the Philadelphia area."
Following in Gadowsky's stead in leading Princeton back to national prominence is current Tigers head coach Ron Fogarty, who last year guided the Orange and Black to its first ECAC Hockey championship in a decade — in his fourth year on the bench in Old Nassau.
"What Coach Gadowsky did is what we hope to keep doing," said Fogarty at the NCAA Midwest Regional in Allentown, Pa., in March. "He's a great coach. He shares information with other coaches, and I'm fortunate to rely on him.
"He's a class act, and the reason why Penn State is where it is now," added Fogarty. "He texted me after we won (the ECACs), and he takes time for everyone. He embodies what college coaches should be, and he's a great person with a great program."
Gadowsky reciprocated those compliments.
"He's a great guy, and I greatly respect the job he's done," he said of Fogarty. "They won a championship, and it was impressive. It was nice to see, and he's really nice to interact with."
Two seasons ago, Princeton came to Philadelphia, fell behind Penn State by two goals, and then scored three times in the final 20 minutes to escape with a 5-4 win. The two teams combined for 88 shots on goal that night, showcasing the high-intensity offense that is a staple of both squads, and was a trademark of the Tigers when Gadowsky guided them.
"We plan to keep the series going at Wells Fargo a couple years, and we look forward to the test," said Fogarty, shortly after the Tigers' 3-2 overtime loss to visiting Arizona State on Dec. 8. "Both teams battled in October, and we look forward to turning our season around before the break."
The ASU loss marked Princeton's seventh straight setback following a 3-1-1 start to the season, while Penn State entered this year's Philadelphia College Hockey Faceoff off a 9-1 shellacking of Notre Dame, its first-ever victory over the Fighting Irish.
Even though the Penn State game will be contested in an NHL arena, with the possibility of starry-eyed freshmen thrown into the mix, Fogarty felt that the trappings wouldn't make much of a difference once the contest got underway.
"You play at different rinks, in minor hockey and juniors, and it's another game," he said. "You're not playing the venue, you're playing an opponent, and we hope to feed off the energy once the puck drops."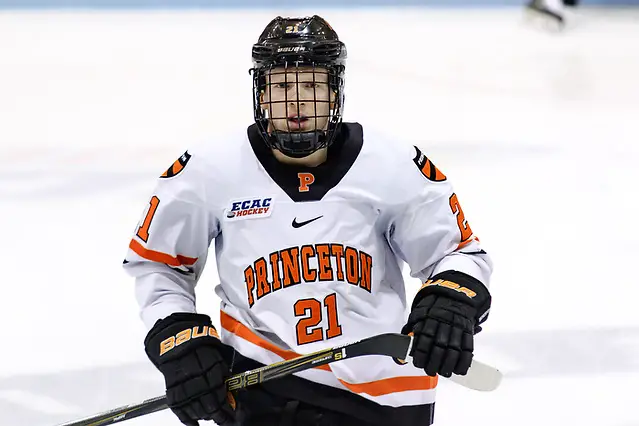 Princeton senior left wing Ryan Kuffner, who scored his team-leading eighth goal of the season in the ASU contest, tallied an assist against Penn State in their first Philadelphia meeting on Jan. 28, 2017. A participant in past NHL development camps with both Winnipeg and his hometown Ottawa, he was looking forward both to playing at Wells Fargo Center, and getting another chance to snap Princeton's skid before Christmas.
"Of course," he said of playing in Philadelphia, "but it's also an opportunity to play Penn State (again). It's one of the biggest stages to play on, and we hope to feed off the fans' energy.
"It's awesome to play in that rink and in that atmosphere," added Kuffner, who was second in Division I with 29 goals last year. "It's your dream as a kid, and we hope to feed off it and get rolling again."
"Last time it was a great game," added Gadowsky. "I like the way Coach Fogarty runs things. They get up and down the ice, and have two of the highest returning scorers (Kuffner and Max Véronneau) in the nation. They play an exciting brand of hockey, and our games against each other are excellent."
The bell for their latest clash rings on Saturday.