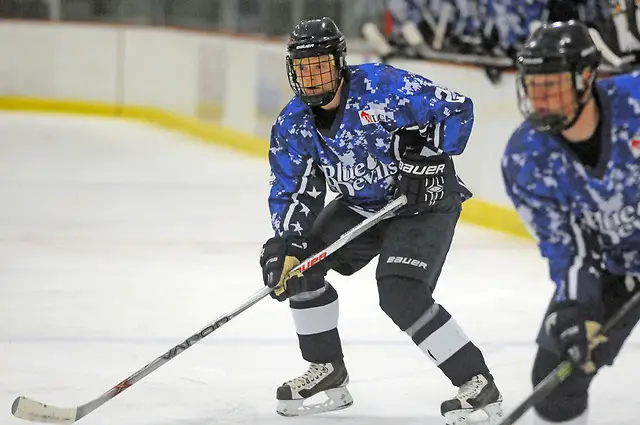 In a showdown of nationally ranked teams, Augsburg survived a key road test, knocking off St. Scholastica, 6-3, Saturday night. The fifth-ranked Auggies trailed 2-1 after one period, but rallied to stretch their unbeaten streak to nine games. The loss ends a nine-game unbeaten streak for the 10th-ranked Saints.
Luke Dietsch and Lukas Gillett led the way, both scoring a goal and dishing out two assists apiece as Augsburg improved to 10-1-2.
Goals by Dietsch and Eric Brenk in a span of 59 seconds put the Auggies in front 3-2. Alex Rodriguez scored a goal in the win as well, marking his team-leading 13th of the season. Rodriguez and Brenk also tallied an assist. Tommy Carey came through with two assists.
The Saints dropped to 8-2-1 with the loss. Michael Talbot, Cole Golka, and Sam Fuss all scored off the power play.
Nick Schmit made 34 saves and now has six wins on the season. Nick Trenciansky finished with 24 saves.
Falcons stun Sabres
Concordia couldn't have asked for a better way to end 2018. The Falcons stunned No. 13 Marian, 2-1, Wednesday night in an NCHA showdown. The Falcons trailed 1-0 early after a goal by Dylan Hutton. Concordia answered with a goal in each of the final two periods. The Falcons finished with a 41-25 advantage in shots.
Adam Fauchoux scored the game-tying goal, and Nick Guerra delivered the game winner. The goal by Fauchoux was his first of the season. Guerra scored off the power play.
Concordia stepped up on special teams to put help put the game away. The Falcons have killed off their last 22 penalties and have gone four consecutive games without giving up a power-play goal. The Sabres were 0-for-5 on power-play opportunities.
Bo Didur, who is only a freshman, came up big between the pipes, stopping 40 shots as Concordia ended a 10-game losing streak to Marian. It was the Falcons' first win over the Sabres since 2013 and their first ever road victory in the series.
The fact that the Falcons knocked off Marian isn't a shock. This is a Concordia team that has played two other nationally ranked teams close, losing by just a goal to both St. Norbert and Wisconsin-Stevens Point.
Pointers are still unbeaten
It's been quite a first half of the season for Wis.-Stevens-Point, which capped it without a loss after wining 4-1 Tuesday night over Lawrence. The top-ranked Pointers are 13-0-2.
Austin Kelly scored just 19 seconds into the game, and the Pointers rolled from there.
Brandon McReynolds led the attack for Wis.-Stevens Point, scoring two goals. Zach Zech scored a goal as well.
Connor Ryckman started at goal, but only played the first period. He made two saves as he won his 13th game of the season. Eli Billing, a freshman, played the rest of the way and tallied seven saves.
Matt Beranek scored the lone goal for the Vikings. Evan Cline made 39 saves.
Blue Devils continue to roll
Wisconsin-Stout closed out its first half of the hockey season with a sweep of Finlandia. The Blue Devils wrapped up the series in Wisconsin Saturday with a 7-4 win. They won Friday's road game, 4-1, in Michigan. Their win streak now stands at three games. They are 9-4-1 as their impressive turnaround season continues. This is a Blue Devils team that won just seven games last season. They have scored four or more goals in each of their last three games.
On Saturday, Arturas Laukaitis scored his seventh goal of the year as he helped lead Wis.-Stout to the win. He is tied for the team lead in goals with seven. Logan Nelson also scored his seventh goal of the year in the win. Raphael Gosselin also punched in a goal in a game played at the Eagle River Recreation Association Sports Arena. It marked the first-ever college hockey game played at the 86-year-old dome.
The game was a homecoming for Eagle River native Adam Kresl, who scored his first goal of the year.
Finlandia got goals from Connor Hannon, Bryce Mitzel, and Tim Kocar for the Lions, who are now 3-9-1 on the season.
Pipers forge tie with Raiders
Hamline didn't get a win Friday night, but did manage to come away with a tie in its game against the Milwaukee School of Engineering. The Pipers and Raiders skated to a 3-3 tie in this nonconference game.
Off an assist from his brother, Mitch Hall scored the game-tying goal in the third period. Tommy dished out the assist on the play in the Pipers' final game of 2018.
Brandon Zajicek and Weiland Parrish also scored for Hamline, which will head into 2019 with a 2-9-1. The Pipers are winless in their last five games.
Hamline racked up a 43-38 advantage in shots. Goalie Sam Nelson came up with 35 saves.
Jeff Makowski, Michael Romund, and Garrett Gintoli all scored for the Raiders, Harry Vangellow tallied 40 saves.