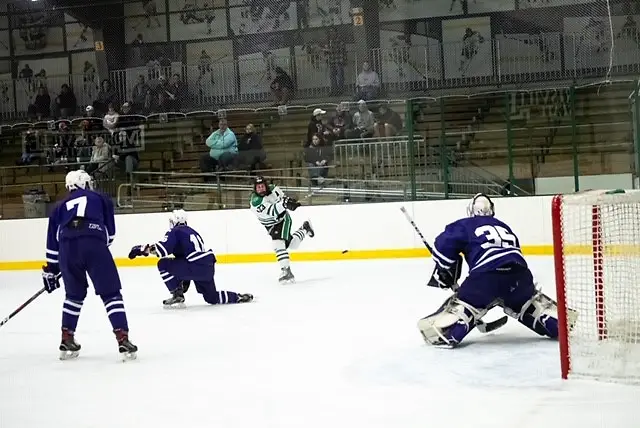 With just four teams in action over the weekend and just a single game between Bryn Athyn and Wilkes coming on Wednesday, the semester break and holiday season is upon us. As always, the number of games didn't in any way diminish the performances on the ice. Here are the brief highlights from the weekend.
Independents
Anna Maria faced fellow independent Bryn Athyn on home ice on Friday and came away with their fourth win of the season by a score of 5-3. Brendan Boncore made 35 saves in goal for the Amcats, while five different players scored goals for Anna Maria, which raced to a 4-0 lead and held off the Lions for the home win.
MASCAC
Worcester State finished their first-half schedule with a nonconference game against Stonehill on Tuesday night. The Lancers were led by Matthew Manning and C.J. Buckingham, who both scored a goal and added an assist each in a hard fought 4-3 win. The win moves Worcester State to 6-5-0 on the season.
SUNYAC
Morrisville played Bryn Athyn on Saturday night, and the rested Mustangs took advantage on two goals from Ben Sprague and four points from C.J. Stubbs in a 6-3 win. Morrisville went 3-for-5 on the power play while holding the visitors goal-less with the man advantage. Mustangs netminder Jared Young made 21 saves in earning his first win of the season.
UCHC
Chatham closed out their first-half schedule with a two-game set against Trine where each team picked up a shutout win. The Cougars took Saturday's game, 5-0, with Ricardo Gonzalez and Matt Calas combining for the 38-save shutout. Offensively, Chris Lutz and Clay Plyler each scored a pair of goals in the win.
On Sunday Trine flipped the script and skated away with a 4-0 win. Four different players scored for the visitors, who limited their hosts to just 18 shots on goal.
Three Biscuits
C.J. Stubbs, Morrisville: Stubbs scored the game-winning goal against Bryn Athyn and added three assists in the Mustangs' 6-3 win over Bryn Athyn on Saturday.
Brendan Boncore, Anna Maria: Boncore came up with 35 saves in Anna Maria's 5-3 win over Bryn Athyn on Friday.
Chris Lutz, Chatham: Lutz scored two goals, including the game-winner, and added an assist for three points in leading the Cougars to a 5-0 win over Trine on Saturday.
Best wishes to all for the holiday season, and I am positive that the second half will only bring more surprises and exciting hockey to the New Year.