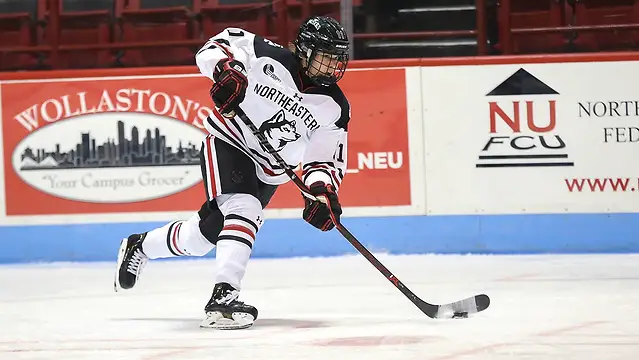 On our final weekend of picks in early December, Nicole and I did so-so. I went 15-5-2 (.727), while Nicole was 14-6-2 (.681). I gained another game in our season race, so now I am at 160-62-26 (.697) while Nicole is 153-69-26 (.657). We are back with some interesting series, so let's get to prognostications.
Friday, Jan. 4
Princeton at Harvard
Candace: I like the Tigers to further cement their position atop the ECAC. Princeton 3-1
Nicole: Princeton wins this. Princeton 2-0
Quinnipiac at Dartmouth
Candace: Dartmouth has potential, but I think the Bobcats are too consistent. Quinnipiac 2-1
Nicole: Quinnipiac should take this. Quinnipiac 3-1
Friday-Saturday, Jan. 4-5
Connecticut versus Holy Cross (home-and-home)
Candace: Holy Cross got crushed the last time they faced Connecticut, but this could be closer. Connecticut 5-2, 4-3
Nicole: I see a split. Connecticut 4-2, Holy Cross 2-1
RIT at Brown
Candace: The Bears came back to Earth after their wins over Colgate and Cornell, but I like them to sweep. Brown 2-1, 2-1
Nicole: I like a split in this one. RIT 2-1, Brown 1-0
Union at Bemidji State
Candace: The Beavers have been playing much better of late, winning three of their last four. Bemidji State 3-1, 3-1
Nicole: Bemidji State sweeps. Bemidji State 2-1, 3-2.
Saturday, Jan. 5
Princeton at Dartmouth
Candace: Again, the Tigers will come out strong. Princeton 4-1
Nicole: Princeton wins this one. Princeton 3-0
Quinnipiac at Harvard
Candace: What's the over/under on a goal being scored in this one? Harvard 2-1
Nicole: Harvard wins this. Harvard 3-1
Boston College at New Hampshire
Candace: It's scary to think of a BC team actually really needing a win over New Hampshire, but that's where the Eagles are. Boston College 3-1
Nicole: BC gets back on track. Boston College 3-1
Saturday-Sunday, Jan. 5-6
Boston University at Maine
Candace: The Terriers stumbled out of the gate last week with a tie and loss to Penn State. I think this is a split. Maine 3-2, Boston University 3-2
Nicole: BU sweeps. Boston University 4-2, 3-1
Vermont at Providence
Candace: I see the Friars sweeping this. Providence 4-1, 4-1
Nicole: Providence sweeps. Providence 3-0, 4-1
Minnesota Cup
St. Cloud State versus Minnesota State
Candace: The Huskies swept Lindenwood out of the gate, and look to build on the momentum. St. Cloud State 3-2
Nicole: Minnesota State should get the win. Minnesota State 3-2
Minnesota versus Minnesota Duluth
Candace: I like the Gophers to get a big win here. Minnesota 4-1
Nicole: Minnesota wins. Minnesota 4-2
Colgate at Mercyhurst
Candace: I like Colgate to get the sweep. Colgate 3-1, 3-1
Nicole: Colgate sweeps. Colgate 3-2, 3-1
Northeastern versus Clarkson (Belfast)
Candace: This is the marquee series of the weekend. I'm picking Clarkson to sweep. Clarkson 2-1, 3-1
Nicole: I see a split. Northeastern 3-2, Clarkson 2-0
Tuesday, Jan. 8
Syracuse at Rensselaer
Candace: I keep expecting Syracuse to get traction. Syracuse 2-1
Nicole: Home ice wins. Rensselaer 2-1
Cornell at Penn State
Candace: The Big Red start strong. Cornell 3-1
Nicole: Cornell wins this. Cornell 4-1
New Hampshire at Yale
Candace: I think the Wildcats get a surprise win. New Hampshire 3-2
Nicole: I pick home ice. Yale 3-2