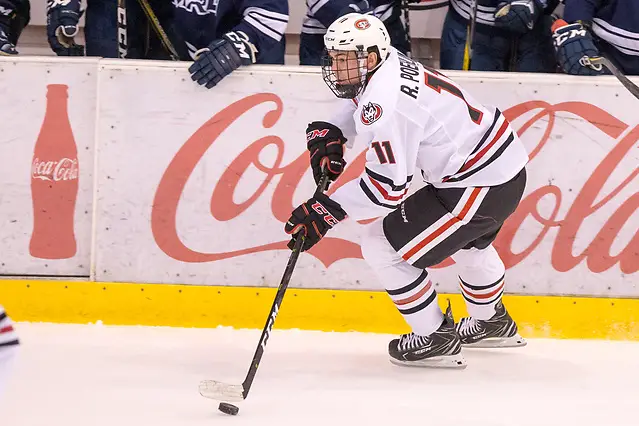 Sasha Chmelevski (Ottawa 67's) and Josh Norris (Michigan) scored and Cayden Primeau (Northeastern) turned aside 28 shots, but the U.S. National Junior Team fell to Finland 3-2 in the gold-medal game of the 2019 IIHF World Junior Championship Saturday night in Vancouver.
Finland took the lead with 1:26 remaining as Kaapo Kakko jumped on a loose puck alongside the net after a shot from the point off the stick of Anton Lundell.
"We knew from Day 1 that this group had something special and even though we didn't play the perfect game, it was almost enough," said Team USA coach Mike Hastings (Minnesota State) in a statement. "There's no doubt this stings, especially with the way we came back from a two-goal deficit, but there's a lot this group can be proud of in helping the United States earn a fourth straight medal in this tournament. These players earned a medal for our country and it won't be their last.
"This is the future of USA Hockey and I think I speak for our nation when I say we're excited to see these players one day represent our country again and I have no doubt they'll one day bring gold home."
Team USA's silver-medal finish continues its unprecedented medal streak in tournament play after winning gold in 2017 and earning bronze-medal finishes in 2016 and 2018. The U.S. now has 12 medals in tournament play, including four gold medals (2004, 2010, 2013, 2017), two silver medals (1997, 2019) and six bronze medals (1986, 1992, 2007, 2011, 2016, 2018).
Following the game, Ryan Poehling (St. Cloud State) was named tournament MVP and earned the Director Award as Best Forward, finishing with five goals and three assists.
Poehling is just the fourth-ever U.S. player to earn tournament MVP honors after Zach Parise (2004), John Gibson (2010) and Casey Mittelstadt (2018).