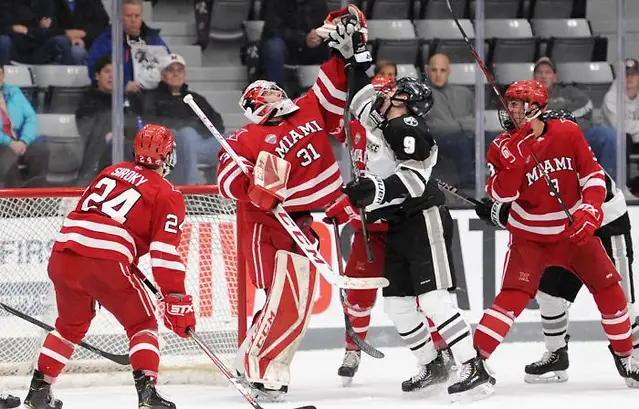 PROVIDENCE, R.I. — So often in the length of a college hockey season, small moments can help change the direction of a team's season.
If No. 16 Miami goes on to have a solid second half, you can count on Saturday's third period against No. 10 Providence to be that pivot point.
The RedHawks trailed 2-0 entering the frame. After Ryan Siroky tallied on the power play with 14:02 left to pull Miami within a goal, a Friars goal by Bryan Lemos just 15 seconds later could have easily have been the proverbial nail in the heart of the RedHawks.
But not a shoulder sunk on the Miami bench and Christian Mohs' first collegiate goal through traffic with 5:21 left and then an extra-attacker goal by Gordie Green with 41.2 seconds left helped Miami earn a 3-3 tie on the road and make the plane ride back to Oxford a little bit nicer.
"Our identity of resiliency and hard work" was what Miami coach Rico Blasi said when asked when helped his team earn this road tie. "For us to come out an battle the way we did after [Friday] night, that showed a lot about us."
It certainly wasn't an easy weekend for the RedHawks as Blasi admitted his team had to battle tooth and nail for every inch of space on the ice, particularly to get players open for quality chances on Miami's power-play goal early in the third and its game-tying goal in the final minute.
He admitted that he was disappointed in his team's effort, a 4-2 loss, on Friday and that from the opening faceoff, his club battled harder and more diligently on Saturday.
But that hardly made things easier.
The Friars kept their momentum from Friday night's performance early in the game, dominating possession early and scoring on their first power play.
An awkward play managing the puck at the blue line led to Spenser Young feathering a desperation shot towards the net that Scott Conway placed a delicate tip on, moving the puck past goaltender Ryan Larkin (31 saves) and into the far-side corner to give the Friars an early lead.
The penalty-filled opening frame ended with every situation from 5-on-5 to 4-on-3 in favor of the RedHawks, yet neither team could score.
The second featured tighter defense on both sides. And while Miami's Grant Hutton and Green each had great looks on Hayden Hawkey (27 saves), the Friars scored the only goal courtesy of yet another power play.
It was a marginal penalty call that sent Providence to the man advantage with 7:45 left in the frame and 12 seconds later, Ben Mirageas fired a shot with Conway as a partial screen that beat Larkin cleanly.
While Providence seemed to benefit from the power plays early, Friars coach Nate Leaman felt the number of penalties his team took throughout the game, despite allowing just a single power play goal, hurt the club.
"There will be a learning film session on Monday about the penalties," said Leaman, whose Friars allowed seven power-play opportunities to Miami on the night. "There was a lot of extra stuff going on out there tonight and we let it rattle us. There was a lot of hooking and lot of holding, and lot of grabbing guys behind plays and we let it get to us. We've got to keep working."
For both teams, the tie represents a step forward in putting together solid nonconference results. Providence continues to dance on the positive side of the PairWise bubble.
"We've got one nonconference game left, a big one against our crosstown rivals, Brown," said Leaman. "If we can cap that off, we can have a good nonconference record and we can focus on our league."
Blasi, whose RedHawks still sit below the PairWise bubble line, seems confident that Saturday's tie can be a springboard to league play which will comprise the remainder of the team's season.
"If nothing, this is a great prep for our league opponents," Blasi said. "We can be much better and much more determined and tonight proved that."
Michigan 4, Notre Dame 2 (outdoor game at Notre Dame Stadium)
Michigan scored three times in the first period and held on to defeat Notre Dame in an outdoor game at Notre Dame Stadium in front of 23,422 fans.
Joseph Cecconi scored from the other side of center ice in one of the more stranger goals you'll ever see.
Shoot your shot, right?@umichhockey scored from behind their own blue line! 😳 pic.twitter.com/fktibaTfzW

— NBC Sports (@NBCSports) January 5, 2019
Canisius 2, North Dakota 1
Canisius completes the series sweep of North Dakota with a 2-1 victory.
P3 | 1:30 – #Griffs GOAL scored by Grant Meyer!!! Canisius takes a 2-1 lead over North Dakota. pic.twitter.com/9Fq7PV819J

— Canisius Hockey (@GriffsHockey) January 6, 2019
Grant Meyer and Felix Chamberland both score in the win, while Matt Ladd gets his first collegiate victory, recording 48 saves.
Denver 4, Wisconsin 3 (overtime)
Slava Demin's goal at 1:42 of overtime handed the Pioneers a 4-3 win against the Badgers and their fifth straight victory on Saturday at the Kohl Center.
Denver outshot Wisconsin 40-16.
Shootin' Slava gets it done! #PioneerTogether pic.twitter.com/ynQXmGnpeA

— Denver Hockey (@DU_Hockey) January 6, 2019
"Wisconsin came out hard as we expected," DU coach David Carle said in a news release. "We were on our heels to start the game. That's the next evolution for our team is to win on Friday night, have an opportunity to sweep on Saturday and really take the fight to them. It took them getting two goals on us for us to wake up a little bit, but again, credit to us, we were the better team for two and a half periods – possessing pucks, getting pucks to the net, having a wide margin in the shot count. We had a lot of chances that we could have buried earlier and I give our guys a lot of credit.
"We stuck with it, our bench was real positive, we didn't get down and we just continued to work."