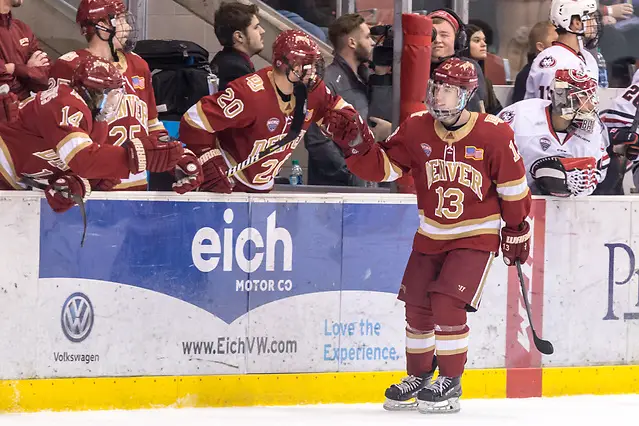 For No. 3 Denver, this season has been one of steady growth.
Not many expected the Pioneers to have played as well as they have, given how many question marks they had coming into the year with the losses of all-world forwards like Henrik Borgström and Troy Terry and their coach, Jim Montgomery, who all jumped to the NHL.
Yet Denver is currently 12-4-2 and has answered almost every question they've faced.
They've gotten balanced scoring from people like Liam Finlay and Jarid Lukosevicius, as well as highly touted first year Emilio Pettersen. Goaltending has been exceptional from Devin Cooley and Filip Larson, who have easily slid into the huge skates left by Mike Richter Award winner Tanner Jaillet.
Even when they've hit a stumble, they've answered. After starting the year 1-3 on the road, Denver has won five straight road games, including sweeping Wisconsin last weekend.
"I think when you look at early in the year, our first road trip was at St. Cloud," said Pioneers coach David Carle. "I believe we had leads in both of those games, but got heavily outplayed by a real good St. Cloud team, a veteran St. Cloud team, and I just think at that point, it was early in November, we were still learning how to play the game as a group, and certainly learning how to play the game on the road. I think what really helped was we've learned a lot since we were at St. Cloud. I just think our team matured a lot during that stretch.
"Coming back from the break, one, we brought the guys back early, we brought them back on the 20th, so we had a full week of practice prior to going out East to try and shake off some of the rust. Then we just talked about how we need to play a real complete road game and do things together, not force the game but doing things simply, changing well, executing good dumps when we're tired, getting pucks out of our zone and into their zone, playing better second periods, and managing the game a little bit better."
That was certainly in evidence against Wisconsin. The Pioneers opened with a 6-3 win Friday and followed it win a 4-3 overtime win Saturday, rallying to tie it the third before Slava Demin scored in OT.
"I really credit our players and our bench for staying positive and just sticking with our game plan," said Carle. "We didn't try and one off and do things on our own. We just kind of told each other it was a lot of hockey left, and we just need to execute like we did the night before and we were going to get our chances, we were going to get our opportunities, and like I said I really commend our players and our bench for sticking with our process and our game plan and understanding that if we continue to work, we'll get our opportunities.
"I think that's what you saw, and that's ultimately what happened in the game. So, it's good for us to have to win games different ways."
One of the key cogs for Denver has been Liam Finlay, who leads the team in scoring with 19 points. As a sophomore, Finlay only had 15 points in 41 games, and he had 19 points in 38 games his freshman year. Carle credits Finlay's maturity.
"I think the biggest thing for Liam is he's becoming a more everyday practice player," Carle said. "His habits and practice are much improved. He's a player that's getting inside the dots more with and without the puck, and he's been on the right side of pucks when he doesn't have it. Those things I think are allowing him to have the puck more, to have it in dangerous areas. If you look at Liam's goals throughout his career, I would guess that 90 percent of them are within five feet of the net. He doesn't score from range. He scores from getting to dirty areas and darting through traffic, and when he's doing those things on a consistent basis he gets rewarded with production."
Another pleasant surprise for Denver has been the goaltending tandem of Devin Cooley and Filip Larsson. The latter was expected to be the starter at the beginning of the season, but when he went down with injury, Cooley stepped in and played exceptionally well. Since Larson returned from injury, the two have platooned. In Wisconsin, Cooley started the first game, but got hurt and Larsson stepped in.
"Devin did something in the first period to his lower body, and our training staff met with him in between periods. He felt like he could continue to go, and I think it just progressively got worse into the second period, so, Devin pulled himself due to injury, and I really commend him for doing that. I think there comes a point, especially in that position, where an injury can be become detrimental to yourself and the team. He set his ego aside and understood that we got another real good goalie on the bench and he pulled himself. Devin was not available for Saturday night, so we actually had to get Michael Corson into town. He was in Chicago visiting his family. We had our student equipment manager fly his bag from Denver to Madison, and he backed up Filip on Saturday night."
After four straight wins in out-of-conference games, the Pioneers return to NCHC action starting this weekend against a resurgent Omaha squad. Denver reconvened at home Monday after the Wisconsin series to prepare for this weekend.
"We set ourselves up really well with how we performed in our nonconference schedule, but the reality is we need to turn the page," said Carle. "We sit in fourth place in league play with 16 games left, and we reminded the guys of what NCHC play does look like. It's faster, it's more physical, it's more competitive than anything we see out of conference. I think our guys are excited about getting back into conference play. They're excited about being back at home. I really don't worry about a letdown, to be honest. I think we're in a good place mentally.
"I think because of that, it's going to allow us to have success week in and week out as we really try and build here in the NCHC play and try and secure home ice in the best conference of college hockey."