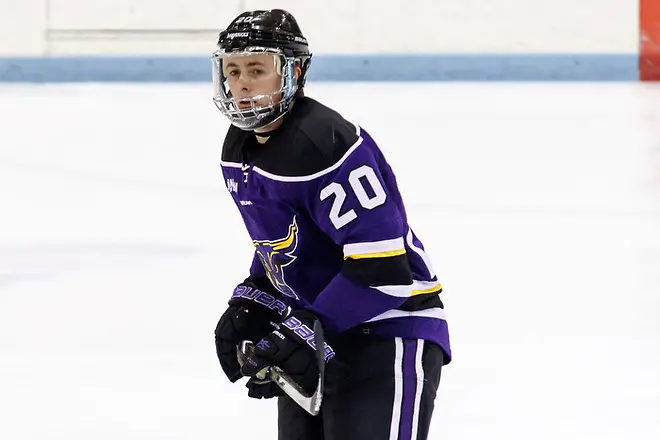 A funny thing happened to the WCHA in December.
The conference when into its holiday hiatus in December with a team that wasn't Minnesota State at the top of the standings.
Despite a solid record at the time, two teams — Michigan Tech and Bowling Green — were ahead of the Mavericks in the standings. All three of those teams were within a point of one another at the break.
But just when it looked like the conference might have itself a three-team race for the MacNaughton Cup championship, one team has pulled away.
Minnesota State, winners of seven of the eight games they've played in the month of January, has reaffirmed its lead at the top of the standings. And they've done so, according to head coach Mike Hastings, because of their incredible depth.
"We've played well this month, and we're hoping we can continue to reply upon our depth," Hastings said. "We've kind of had to recently because of injuries but also because of how our league is and the amount of games we're going to be playing moving into the last few weekends."
The Mavericks (21-6-1) haven't had a break since Christmas — they played in the Desert Hockey Classic on Dec. 28-29 and won't be off again until the weekend of Feb. 15-16. And they've been without a number of key contributors during that span, mostly due to injury. Forward Parker Tuomie missed a few weeks with an lower-body injury, while senior captain Max Coatta and defenseman Riese Zmolek were both banged up off and on. The Mavericks also lost forward Nick Rivera in the first period of their game against Northern Michigan last Friday.
Playing without some of their top players — Tuomie is the team's second-leading scorer — has forced others into important roles.
Last weekend, for instance, the Mavericks swept NMU on the road with 3-2 and 8-2 victories. On Friday, Walker Duehr scored the game-winning goal and also played well on defense. In Saturday's game, Dallas Gerads and Shane McMahan each scored twice in what was a much closer game than the 8-2 score indicated.
"I'm hoping we can continue to have different guys step up, if we do, we're going to be better for it in the long run," Hastings said.
That doesn't mean Hastings isn't also happy to see his top guns — players like Tuomie, Marc Michaelis and Charlie Gerard, three of the team's four scoring leaders — play well. Those three had nine combined points on the weekend.
"Recently, they'd gone away a little bit, so to see them come out at a point where we really needed somebody to step up because of what we were missing in our lineup, I thought that group did a great job providing examples of how we needed to play to be successful," Hastings said. "They were good on the power play, they were good five-on-five, Marc Michaelis did a great job killing penalties. That group was really asserted themselves at an important time for us when we really needed them."
It's clear that MSU's strength is in their depth. That extends to behind the bench, too. Hastings was away coaching Team USA in the International Ice Hockey Federation World Junior Championship, which took place Dec. 26-Jan. 5 in Vancouver and Victoria, British Columbia. Todd Knott and Darren Blue filled in for Hastings during the six games he missed.
"I was very appreciative of the opportunity USA Hockey gave me, and the support of the university, but probably the most important piece of that is being able to know when you put your head to the pillow that they guys are in great hands," Hastings said.
He called that time he missed perhaps the toughest of the season. MSU went 2-3-1 in that stretch — a sweep at the hands of Bowling Green Dec. 15-16, the Desert Hockey Classic in which they finished fourth, then a home sweep of Michigan Tech Jan. 5-6 that kicked off their recent hot streak.
"That was probably the most challenging six-game set that we had back-to-back-to-back on our schedule," Hastings said. "They did a great job."
The trick now is for the Mavericks to navigate the final eight games of the regular season. They have an eight-point lead on second-place Bowling Green, and a 12-point lead on third place Northern Michigan (who has two games in hand). Of those eight games, four will be at home — a series this weekend against Alabama Huntsville and then the regular season finale against rivals Bemidji State March 1-2. The Mavericks have been one of the nation's best teams when they play at the Verizon Wireless Center in Mankato, with a 12-1 record.
"Our crowds have been phenomenal. They've done their part, they've bought the tickets, they're in the building, and there's a great environment in there where we're at 90-some percent capacity almost every night," Hastings said, noting that it's been fun for his team to play in front of an energized crowd like that each night.
The Mavericks' lone home loss was two weeks ago, a 1-0 defeat at the hands of a resurgent Lake Superior State. He hopes MSU won't lose in Mankato again — especially when the WCHA playoffs start in March.
"You play your whole season in the conference to try and play at home in the end, so we've got to go back and establish that as a place we're dominant," said Hastings. "Last time we were in there, we didn't, so hopefully, that's a learning experience that doesn't go any longer than that. We have four more games left there, so we have to take advantage of the home ice this weekend."