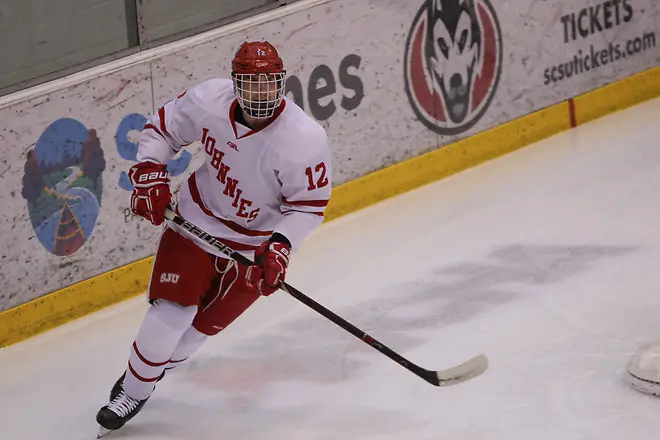 Robb Stautz knows that more golf is in his future once his senior season at Saint John's is over.
"I've played golf my whole life, and after this year, it's probably going to be my favorite sport since I'll be playing it the rest of my life," Stautz said.
But for now, hockey is the sport Stautz puts at the top of his list. He is one of the top scoring threats for the Johnnies, who are one of the better teams in the MIAC once again.
"Hockey is my favorite sport to play. It's a high-intensity sport, and I love how close I am to my teammates. I've had a lot of fun playing it over the years."
Stautz is fourth in scoring for the Johnnies with six goals and five assists. He has seen significant time on the ice each year of his career. As a freshman, Stautz played in 21 games and came through with a goal and four assists. He followed that up with six goals and seven assists as a sophomore.
Stautz was an honorable mention All-MIAC pick last season, tallying eight goals and 14 assists.
There is no question his game has evolved over the course of his career.
"I was more of a defensive center and a role player my first year, but took a big jump as a sophomore to be more of an offensive player," Stautz said. "I think learning the system and being pushed by my teammates has helped bring my game to the next level."
The Minnesota native spent two seasons of hockey in the NAHL before coming to Saint John's, playing for both Odessa and Minnesota. He benefited from the experience.
"The biggest thing in juniors is that you mature as a person and as an athlete. Your whole life revolves around hockey. It really prepares you for college," Stautz said. "It wasn't that big of a leap going from the NAHL to Division III."
Stautz has helped the Johnnies fashion an 8-8-3 overall record and a 6-3-1 mark in the MIAC. They are 3-3 since the calendar flipped to 2019 and find themselves in fourth place in the conference standings, though they are just six points out of second place.
"We feel good with where we are, and we know we control our own destiny down the stretch," Stautz said.
Outside of hockey, Stautz has had some cool experiences, including studying abroad after his sophomore year in Spain.
"I went over there for six weeks. I have family that lives over there, and that sparked my interest in Spain," Stautz said. "It was amazing and really sparked my love for travel, too. Now I want to see the rest of the world."
His priority at the moment, however, is helping the Johnnies get back to the conference tournament and battle for a championship. It's just a matter of being ready to go every night.
"Anyone can be beaten on any given night, and everything is always so intense in the MIAC," Stautz said. "I feel like we've taken some good steps forward. The big thing is scoring more goals and being disciplined."
Five things to know about the West Region
Saint John's has scored 54 goals and is led by Brady Heppner, who has tallied 10 goals and eight assists. Kyle Wagner is second on the team, scoring three goals and 13 assists.
Augsburg has three players in the top five in the MIAC in terms of points. Alex Rodriguez has tallied 28 and ranks second. Chandler Madry and Luke Dietsch are fourth and fifth, respectively, both scoring 24 points.
Troy York leads the WIAC in power-play goals, tallying eight. He's the only player in the conference with more than four. He is tied for the league-lead in game-winning goals.
St. Norbert, Adrian, and Lake Forest have all clinched NCHA playoff berths. The Forresters still have a shot at the South Division title as well, tied with the Bulldogs at 19 points apiece.
Garrett Hallford of Trine is among the league leaders in goals, scoring 11 on the year. He has also dished out 10 assists. He has tallied a point in four consecutive games.
In the Poll
The state of Wisconsin is well-represented in the poll. Wisconsin-Stevens Point is still No. 1, and Wisconsin-Eau Claire is fourth. St. Norbert is fifth. Augsburg is sixth this week, and Adrian is 10th.