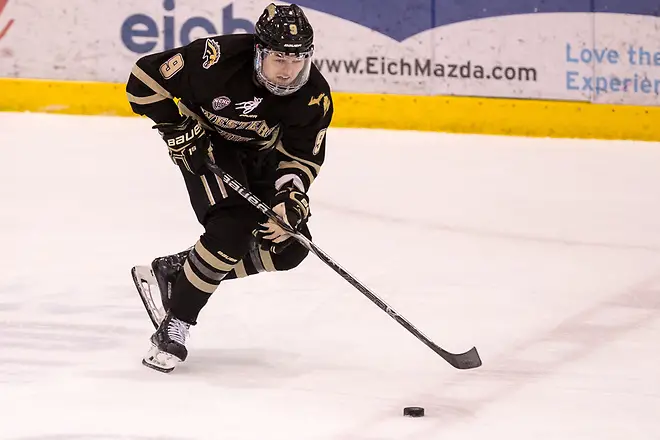 To say Western Michigan got back on the bike last weekend after getting swept two weeks ago at St. Cloud State is oversimplifying the situation.
Two losses Jan. 18-19 at second-ranked SCSU now look like a blip on WMU's recent run after the Broncos won two home games last week against No. 4 Denver. Twelve of Western's 15 wins this season have come since Nov. 8, and that's no fluke.
Plenty of hard work has been put in behind the scenes. WMU coach Andy Murray said Monday that his team's performances in a 3-1 win Friday and 5-1 win Saturday were some of the Broncos' best this season, but he also explained what led to those showings.
"If you're playing a team of (Denver's) caliber, if you expect to have success, you've got to be at the top of your game, and I felt the reason that we won on Friday and Saturday was what happened between Monday and Thursday," Murray said.
"We had great practices last week. We had great focus, guys put a lot into those practices, and we were obviously coming off a weekend at St. Cloud where none of us were satisfied with our efforts, from coaches to players to everyone involved, but there was a lot of attention to detail, a lot of focus, knowing that we needed to get off to a great start and needed to try and take away as much ice on Denver as we possibly could. They're a very skilled team, and we needed to deny them space."
Denver's attackers weren't totally frozen out, but the Pioneers were made to work for their goals. Liam Finlay's goal in Friday's third period cut Western's lead in half, but Broncos goaltender Trevor Gorsuch wasn't beaten again that night. Twelve of his 21 saves came in the third period as the senior picked up his career-best 12th win.
Two Ethen Frank goals and one from Hugh McGing were also vital in that game before Western got goals from five different scorers Saturday. Josh Passolt, Paul Washe and Drew Worrad scored in a three-goal first period before Cam Lee and Dawson DiPietro made it 5-0 with two goals 30 seconds apart in the middle of the second.
Gorsuch had another big third period, making 19 of his 36 saves in that span despite seeing his shutout bid ruined on an Emilio Pettersen power-play goal.
For as good as WMU (15-8-1, 8-5-1-1) has been in the last nearly three months, the Broncos do have some problems to fix. For example, Murray wasn't pleased with Western taking five penalties in the third period of Saturday's victory, including a 10-minute misconduct call on Lee.
Discipline will be important this weekend as the Broncos visit Omaha, which boasts the NCHC's best power play units. The Mavericks' 24.77 percentage this season is good for seventh-best in the country.
Murray recalls that, in WMU's last game in Omaha a year ago last Sunday, the Broncos took seven minor penalties. UNO only capitalized on one of four power plays that night but won 7-3.
"We expect people who come to Western to be pretty smart people, and we've got students who get good grades, and if you're a hockey player, it doesn't take very much to figure out that you need to stay out of the penalty box," Murray said.
"I was disappointed with our discipline in the third period (Saturday against Denver). Now, on the other side of it, we played aggressive, we played assertive, we played really hard. We just need to make sure that we don't do things that can come back to haunt us as a team."
Omaha sits in last place in the NCHC (7-15-2, 3-10-1-1), but the Mavericks are only three points out of sixth and could start climbing this weekend if WMU isn't on its game.
"We're going to have to be ready for a real tough team," Murray said. "They came here and took the second game of a two-game series here at Lawson before Christmas.
"We know that they've got players who are much better than their record shows right now, and they're going to make a push here at the end of the year, and we want to make sure we're ready for it."