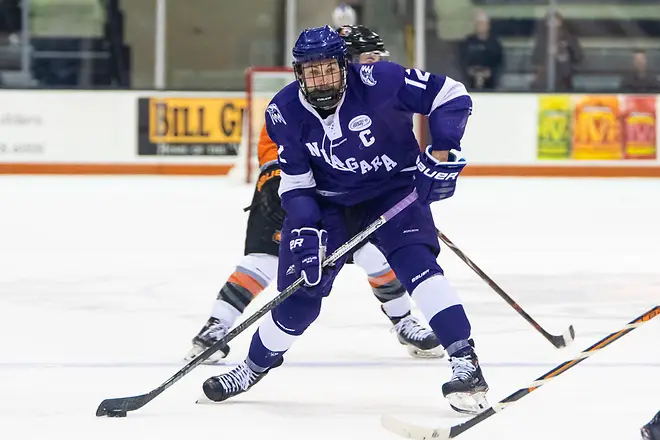 Each week, USCHO.com columnists will pick the winners of the upcoming games in their respective conferences.
Atlantic Hockey
Friday-Saturday
American International at Army West Point
AIC has six wins in its last seven games and has clinched at least home ice in the first round for a second straight year (and second time in program history). Now they're going for a first round bye. If they sweep the Black Knights this weekend, their 35 points would clinch a first round bye. That's some great work by Eric Lang, who we featured this week on the USCHO Spotlight. I'm going with the Yellow Jackets for the sweep and a tightening grip on the regular season championship.
Canisius at Bentley
Speaking of hot teams, Bentley. The Falcons are in third, one point behind Air Force, and hold the nation's longest unbeaten streak. Hard to imagine that we could live in a world where AIC and Bentley could be 1-2 in the league? Better start believing. Bentley sweeps.
RIT at Holy Cross
The Crusaders haven't lost a weekend series since December, save for one weekend against AIC where they were swept. RIT, though, is coming off a competitive weekend with Arizona State, and the Tigers' only loss in conference play since that first weekend in December came against Bentley. I think the Crusaders will take at least a point, but the Tigers will pick up a win.
Sacred Heart at Niagara
Niagara hasn't lost exactly one league weekend all season long, and it came last weekend at AIC. That's a big reason why the Purple Eagles are in position for a postseason bye, and why I think they're taking four points from Sacred Heart at home. Get ready for a heck of a weekend next week against Bentley. Niagara sweeps.
— Dan Rubin
Big Ten
Friday-Saturday
Minnesota at Penn State
After getting swept on the road and consecutive home splits, it looks like Minnesota missed the opportunity to get something rolling after its sweep at Notre Dame. Like many other teams, Penn State has been a tough place to play for the Gophers. They lost four games at Pegula Ice Arena in a two-week stretch to end the season last year. After getting off to a good nonconference start, the Nittany Lions have officially come back to earth. Penn State has a 6-9-1 Big Ten record and is still looking for a conference weekend where it grabs more points than its foe. They still sit 18th in the PairWise, so a strong finish means an at-large bid is still a possibility. Split here.
Michigan State at Michigan
These two teams have been very similar this season. Their goals for are within 0.07 of each other and goals against are 0.29 apart. Michigan won the first game of this season's series 4-3 and the Spartans picked up a shootout point after a 1-1 tie the next night. They tied 2-2 in the GLI consolation game in late December. I'm expecting two similar games this weekend. Split here, too.
Ohio State at Wisconsin
The Big Ten definitely has an "any given Sunday" feel this season, but the one team that is hard to bet against has been Ohio State. There have been some bumps in the road but, aside from the 7-7 tie with Michigan State, those were in October. Wisconsin has the look of a team that is trending in the right direction, but good results haven't come in droves this season. Ohio State sweep.
— Drew Claussen
ECAC Hockey
Friday
St. Lawrence at Colgate
This is an intriguing game as St. Lawrence is coming off a win over Princeton on Friday while Colgate was swept by Rensselaer and Union. This should be a low-scoring affair as Colgate is averaging 1.39 goals per game and St. Lawrence is at 1.96. Despite the slight differential, I will take Colgate with the goaltending advantage in Mitch Benson.
Clarkson at Cornell
Second weekend in a row the Golden Knights face a top 10 team as they lost to Quinnipiac last weekend. Cornell is coming off a tie with Rensselaer. With two close teams, it's really a tossup, but I will take Cornell.
Rensselaer at Dartmouth
This is a game is a game the Big Green should win, but Rensselaer.is coming into the game riding high after a tie against Cornell. If the Engineers can keep this game low scoring, they have a shot. At the end of the day, I believe Dartmouth is the more complete team. Dartmouth wins.
Union at Harvard
This is an important game for both teams. The Dutchmen have beaten the teams they should and haven't beaten teams in the conference ranked or ahead of them in the standings on a regular basis. Harvard, meanwhile, needs to rebound from their Beanpot loss to Boston College and find a way to stop their 0-for-7 streak on the power play. I will take Harvard as I believe they are a deeper team.
Brown at Princeton
Who would've thought this would be an important game for both teams at this point of the season? Brown is trying to solidify their position to host a first-round playoff series and climb up the standings to be in the conversation for a first-round bye. Princeton is trying to get in position to host a first playoff series. I think Princeton wins at home.
Yale at Quinnipiac
A rivalry game, for sure. Both teams are coming off two-win weekends. Both teams can put the puck in the net with Quinnipiac averaging 3.85 goals a game while Yale is under three per game. The difference may come down to goaltending and the Bobcats have that advantage. Bobcats win.
Saturday
Clarkson at Colgate
This is a perfect trap game for Clarkson. Whatever the result is on Friday against Cornell, it will be hard-fought. Mitch Benson can steal the game for Colgate and that what makes this game dangerous, though I will take more complete team. Clarkson wins.
St. Lawrence at Cornell
I don't think Cornell will let what happened last Saturday again with the tie against the Engineers. The Big Red will be focused, and I am sure coach Mike Schafer has reminded them this week to not let their guard down. Cornell wins.
Union at Dartmouth
This game will tell a lot about both teams going forward the remainder of the season. Union has been Jeckyl and Hyde this season and a win could get them back on the right track down the stretch. Dartmouth can show they might not be flashy, but they are skilled hockey team that can match up with anyone in the conference. Dartmouth wins.
Yale at Princeton
This should be a fun one as Yale's Joe Snively goes up against Princeton's Ryan Kuffner and Max Véronneau. Those are three of the most talented forwards in the country. I think Yale has the defense to stop Princeton's 1-2 punch. Yale wins.
Brown at Quinnipiac
If you think this will be an easy game for Quinnipiac, think again. Brown has been playing with confidence this second half. If they are able to possess the puck like they can, then that limits the Bobcats' opportunities. It feels like the Bobcats are due for a minor hiccup like other top teams in the country have had lately. Brown wins.
Monday, Feb. 11
Harvard vs. Boston University
The game all four Beanpot schools dread — the Beanpot consolation game. Harvard will be taking part in it for the second straight season. They have already faced the Terriers this season as the both teams skated to a 2-2 tie in early January. It's an important game for both teams for the PairWise. I think Harvard pulls out the toughest game to play on the schedule for a Beanpot school.
— Nathan Fournier
Hockey East
Thursday
Northeastern at Connecticut
The Huskies ended their losing streak in the Beanpot and hope to stay on track. Northeastern wins.
Friday
Boston University at Massachusetts
After getting and exciting road win at BU a week ago, I'd expect UMass to win again. UMass wins.
Boston College at UMass Lowell
Home ice hasn't been Lowell's favorite, but after taking three of four from BC two weeks ago, I think the River Hawks can find the way. UML wins.
Saturday
Massachusetts at UMass Lowell
Lowell won the first game between the two on the road, but I think this is where the unbeaten streak ends. UMass wins.
Merrimack at Connecticut
I'm going to let home ice dictate my pick in the battle of the bottom in Hockey East. UConn wins.
Friday-Saturday
Providence at Maine
A month ago, picking a Providence sweep was easy. Now, not so much. PC, Maine split.
New Hampshire at Vermont
As much as Vermont needs all four points, I'm not sure they can get them. UNH, UVM split.
Monday, Feb. 11 (Beanpot Tournament, Boston)
Boston University vs. Harvard
Harvard might need this game more, but I think BU wants the win more. BU wins.
Boston College vs. Northeastern
Can you imagine picking Northeastern to win consecutive Beanpots? Believe it. NU wins.
— Jim Connelly
NCHC
Friday-Saturday
Omaha at Miami
Omaha did many good things last weekend in splitting against a hot Western Michigan team, whereas Miami is yet to win in this calendar year. The RedHawks are at home for this series, which makes it a little tougher to predict. If UNO was at home again, I'd be a little more bullish on the Mavericks. In Oxford, it's closer to a toss-up. Omaha 4-2, Miami 3-2.
Colorado College at St. Cloud State
My writing partner Candace Horgan has an excellent piece this week on CC's recent success, but while the Tigers have won three of their last four games, I think they may develop a losing streak this weekend. I'll take the Huskies to sweep, but I don't see either game being a rout. St. Cloud State 3-2, 4-2.
— Matthew Semisch
WCHA
Friday-Saturday
Bemidji State at Ferris State
The Beavers are back after a week of rest while the Bulldogs are looking for a bounceback after being swept by Lake Superior State last week. The Beavers are still in the hunt for home ice in the third round. The Bulldogs, meanwhile, are simply fighting for playoff lives. I think this one will be a sweep — the Beavers have been the stronger team this season but weird things are known to happen at Ewigleben Ice Arena. Bulldogs win a close one Friday but the Beavers win big Saturday.
Minnesota State at Michigan Tech
The Mavericks can't clinch the MacNaughton Cup title this weekend, but a sweep will get them close. However, I don't think that's going to happen. It's Winter Carnival this weekend, and Michigan Tech is going to be a tough team to beat at home for that event. I think the Mavs win Friday but Tech wins Saturday to get the split.
Northern Michigan at Alabama Huntsville
The Chargers will be playing their final home series of the season this week. It also happens to be the first time this season the teams will meet — which is ironic considering the teams played seven times last year. The Chargers actually won three of those seven games a season ago and took NMU to a third game in their WCHA playoff series. I don't think the Chargers have been as good of a team this season, and I don't think they'll be beating the Wildcats at all this year. This is a sweep for NMU, and a big one for their chances at home ice in the playoffs.
Alaska Anchorage at Alaska
Round one of the Governor's Cup gets underway this weekend. While neither is mathematically assured, the Nanooks' playoff homes currently look safe, while the Seawolves' chances seem grim at the moment. Still, the rivalry series is never a gimme. The Nanooks have won six consecutive trophies (nine if you count the three the Nanooks vacated), and won four of six matchups last season, but the Seawolves actually won the final two games of the series last year. Either way, I'm going to pick a split here because that will make things much more interesting during the final week of the season. Seawolves win Friday and Nanooks win Saturday.
— Jack Hittinger