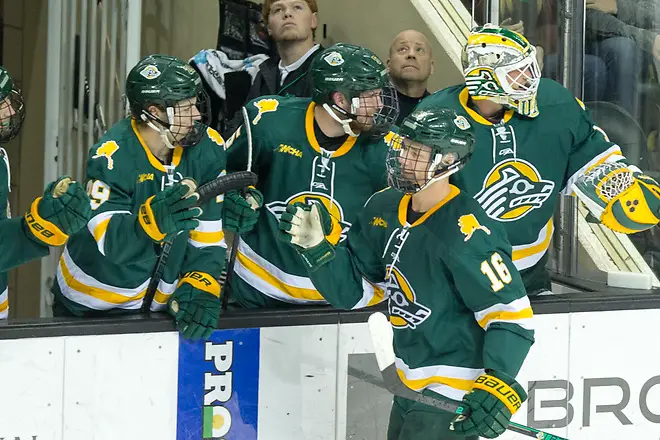 To say it's been a rough season for Alaska Anchorage would be something of an understatement.
Coming into last weekend's rivalry series against Alaska in Fairbanks, the Seawolves were in the midst of a 10-game winless streak. They'd won just twice all season — the opening weekend against Colorado College and then again right before the holiday break against Bemidji State.
"It's been a long year for us, but it hasn't been for a lack of effort," first-year head coach Matt Curley said. "Wins have been tough to come by."
Because of that, Friday's result against Alaska — a team that has lifted the Governor's Cup trophy six consecutive times — was even more meaningful for the Seawolves. They won their first game in nearly two months with a 4-1 victory against the Nanooks — a rough-and-tumble game that featured 45 minutes of penalties and the most goals the Seawolves have scored in a game this season.
"It was very rewarding to get that first game if the Governor's Cup series," Curley said. "It's a little bit of validation for the guys and what they've been doing the past three weeks, so it's nice to get that win."
It was Curley's first experience with the Governor's Cup rivalry, and the Clarkson alum compared it to the battles that his Golden Knights would have against St. Lawrence during his playing days. Being in Alaska, though, makes for a unique trophy series.
"It's special. We're all alone up here, and we're both outliers in the college hockey world. Folks up here are really attached to their teams because we don't have the bigger markets like you do in the East or Midwest, it's the two biggest universities in the state and it's our only Division I sports," he said. "It's exciting to be a part of it for the first time."
For a team like UAA which has a 3-23-2 overall record this season and sits in last place in the WCHA with nine points (13 points out of playoff position) a win over instate rivals is a big deal. Most importantly, earning the split against the Nanooks gives the team something to play for in the last weekend of the season.
For the past few years, the Governor's Cup was essentially over after the first series between the teams.
"What's really nice about how this has shaped up for us, getting the split up there has given us a chance to still play something for the rest of the season," Curley said. "That's not to say we have nothing to play for against Ferris State and Michigan Tech until then, because we still want to do the best we can and get as many points as we can get and finish ninth instead of tenth, but getting that split gives us a chance to win something on our home ice, and that's really exciting."
Friday's win was about as complete a game the Seawolves have played this season. The four goals were the most they've scored in any game this season, and they came from four different players — Eric Sinclair, Aaron McPheters, Jeremiah Luedtke and Drayson Pears.
Special teams were especially solid for the Seawolves, as they went 2-for-5 on the power play and held the Nanooks scoreless on four of their own. UAA's special teams were strong all weekend — they were perfect in all nine attempts and scored another power play goal in Saturday's 2-1 loss.
"We were able to capitalize on our man advantages, and we were able to keep the puck out of the net," Curley said. "Our special teams play has been much better recently, so that gave us a chance. When we've been at our best is when we're pressing, we're skating, we're playing hard team defense and we're getting great goaltending. Those things didn't change this weekend."
Curley, who has been rotating three goaltenders pretty consistently this season, decided to go with the hot hand against Alaska. Freshman Kristian Stead, who was in the net for UAA's 0-0 tie with Michigan Tech on Jan. 26, returned to the net for both games, making 51 saves to keep up his solid performance and earning his first NCAA win.
The Seawolves will return to the ice this weekend with a little more confidence than usual when they play Ferris State — the team immediately above them in the WCHA standings. They hit the road once more after that — at Michigan Tech — before returning home to face the Nanooks in the season finale.
And while the playoffs aren't entirely off the table for UAA — the Seawolves are still mathematically in it, but they need some help from teams ahead of them — that Alaska series is the one Curley and the players really would like to win.
"It was kind of a checkmark that we had from Day 1, knowing full well that it's been a while since we've been able to win it," Curley said. "We also knew that this year was going to be a long year for us and some goals that we wanted to do right away probably weren't attainable, but this one was. The mindset, the focus for us as a staff has been we're all hands on deck to try and get that thing back and to bring some pride back to this program and to our town to win that trophy."