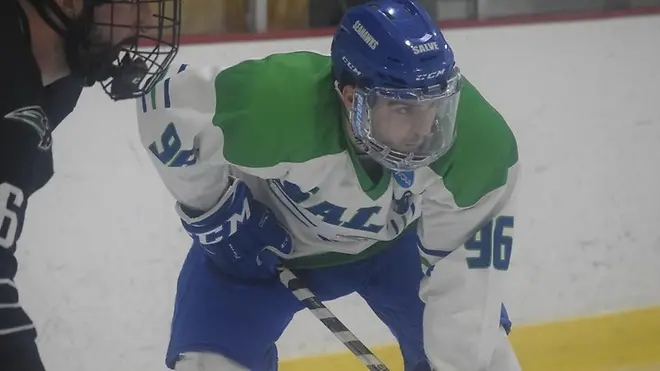 Coming off a double overtime loss in last year's national championship game would be heartbreaking for any team. One could certainly understand a "hangover" coming into the season this time around. For coach Zech Klann and his Salve Regina Seahawks, it isn't about any hangover symptoms in their play this season, but about rounding a new core group of players into playing their best hockey now, when it matters most, that can help them win a CCC title and get back to the national stage.
"Last year, we lost in our conference tournament to a great Nichols team," stated Klann. "I won't say we backed into the national tournament, but we didn't check all the boxes and do it the right way. This year, we want to do all the steps, and that starts with winning our very competitive league."
The Seahawks did find some early challenges in their season based on some injuries to key players like Erik Udahl while integrating nine new freshmen into the lineup and the culture of playing college hockey. The results were mixed, particularly in their nonconference schedule, but since the end of January the Seahawks have won five games in a row and face second-place University of New England on Saturday to determine the top seed for the CCC playoffs.
"Again, I am going to say that we had a different start to the season than last year," said Klann. "I wouldn't call it a hangover. Maintaining a high level of play is hard. We certainly weren't going to sneak up on anyone off the season we had last year, but it took us a while to find our groove, and I still don't think we have found it at home yet. We play at Portsmouth Abbey, which is a great atmosphere where we have received tremendous local support from the school and community. We want and expect to make that a tough place for opponents to play, but have actually been a bit better on the road against our conference opponents.
"We said that the Nichols series a couple of weeks ago was the beginning of our playoffs. I think right now we are starting to play our best hockey. We are healthy, and guys are doing the little things on the ice that help win games, and they are doing it for each other. That is a great thing to see and will help us reaching for our goals."
Key to the Seahawks' success has been the play of two of the most competitive guys on the team, sophomore forward Danny Eruzione and senior goaltender Blake Wojtala. Eruzione (13-22-35) leads the team in scoring while emerging as a vocal team leader. Wojtala, another of Klann's fierce competitors, appears to be rounding into the form that carried the Seahawks to the Frozen Four last year.
"Those two guys just hate to lose," noted Klann. "Both have had experience and success and know what it takes to be successful. Danny sees the ice so well and really gets his game going, whether he is taking a hit or giving one. We always feel like we have a chance to win with Blake in goal. I think he is getting into his comfort zone right now, which is a very positive thing for us starting on Saturday in Maine."
While Eruzione, Wojtala, and some others may get a bit more recognition than others on the roster, coach Klann knows that it will be a team effort that helps them be successful and guys doing the little things on the ice for each other that will be key to their pursuit of the CCC title.
"We have some terrific players and seniors who know the grind and what it takes to get to play big hockey games in late February and March," said Klann. "One of our more underrated and valuable players has been senior Kyle Moore. First, we asked him to move from wing to center this season, which was an adjustment for him, but he took it on and now is a guy we use in every situation. He has been an important piece on the power play and now the penalty kill unit, and he is a player we want on the ice in the final minute of any period of the game. He does those little things well and might not be among our leading point getters, but contributes so much when he is on the ice. The younger guys see that commitment and effort and are learning from Kyle and others about what it takes to win two points as a team."
The Seahawks will end the regular season on Saturday night where they first played on the road in the 2018-19 campaign back in November. The two teams split the season opening series, with each team winning as the visitor. With just two points separating UNE and Salve Regina, the number one seed is on the line and certainly provides motivation for a Seahawks team focused on checking all the boxes this season, starting with winning the CCC regular season title.