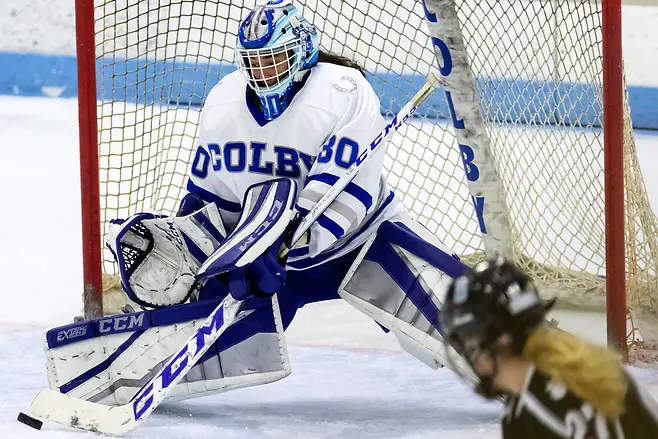 The NESCAC, New England Small College Athletic Conference, has been known to be extremely competitive, but Middlebury has been the top dog in the league for the past few years. Although they are still one of the top teams in this conference, many other programs have progressively developed and are not only able to compete with the Panthers, but beat them as well. The latest team to deliver a loss to the conference favorite was Colby.
Colby coach Holley Tyng describes what it is like to coach in the NESCAC and what it takes to be successful.
"The NESCAC is such a competitive conference, it can be a blessing and a curse. We face some of the best competition every weekend that I sometimes describe it like a boxing speed bag — not a lot of time to stop and take a breath, you just keep going week after week with tough opponents. Every game is a close one. We don't have many blowouts, and the goaltending within the NESCAC is exceptional. It really forces you to have to show up and be on every game. I wouldn't have it any other way. It's fun."
Tyng and the Mules can add their name to a short list of teams that have beaten Middlebury during the regular season. Watching a program that is constantly known for winning the playoff tournament lose not once, but three times to conference opponents, gives hope and drive that any team can win this year. Tyng describes just how they have been using that atmosphere as motivation for her team.
"The parity within the NESCAC this season is unbelievable, it's great to see. We certainly used the wins by Bowdoin and Wesleyan over Middlebury as incentive and motivation going into our games last weekend. We knew that if we stuck to our game plan, we would be successful. Across the league, I think, there's a mutual respect for each opponent. You don't have to look much beyond the standings to see how close we all are and that the playoffs are anyone's game."
Tyng acknowledges the strong and successful program that coach Bill Mandigo has built at Middlebury over the years. The confidence and strength that comes with beating such a well-known team is not lost on her.
"The tradition of excellence that Middlebury has built over the years is admirable. They're always one of the top teams, if not the top in our league. I think the Middlebury series is always a big one for each team in the NESCAC. It's an easy series to get fired up for from the players' perspective. We knew we needed to play our best games if we were going to beat them. As coaches, we wanted to put together a great game plan that our team could execute and feel confident about.
"Unfortunately, Friday didn't go quite as planned in terms of results, but it did show a ton of character and discipline for the team to stick with our game plan and commit to one another to get the result we did on Saturday. A win like that on the road certainly helps our players gain confidence and believe that on any day, the team that plays best as a unit of six can be successful."
A unique aspect of Colby's team is their depth. Tyng said they rely on everyone to get the job done without the support of a superstar player.
"We don't have a superstar or a top line. We rely on solid depth and contributions from everyone throughout our whole roster, top to bottom. Our defensive game has really come into its own this season, and we've sort of built from the goal crease out. We still give up more shots than I'd like on a nightly basis, but as a team we've made great progress in the D zone. At this point, we focus mostly on being sound systematically."
The women on the roster believe in the systems and also in each other, which makes them a viable candidate to win the NESCAC tournament, according to Tyng.
"I think any team is capable of winning the tournament; that's the most exciting thing about this time of year. We may be unique in our youth and 'underdog' mentality, but we have the confidence because we've gone on the road and beat some of the top teams in our conference already. We believe in our systems and in each other."
Just like any other team across D-III hockey, Tyng would love to win the conference tournament and earn a bid to the NCAA tournament. However, Tyng also notes that it is important to her to build a strong program and continue getting better as a team.
"For us as a program with so many young players (combined 18 freshmen/sophomores and 9 junior/seniors) some of our goals are less about wins/losses and more about our culture and the way we grow our program and conduct ourselves on a day-to-day basis. We talk a lot about being accountable to our core values and working hard to live those out on a daily basis. As a team on the ice, we set out to try and secure home ice for our first-round playoff matchup. At this point, we don't know if we've earned that privilege, but we have also shown we can win on the road. Advancing past the first round of playoffs would show improvement from last season, and I think we'd all like to reach that goal too. We really try to keep a game-by-game focus."
The NESCAC playoff tournament this year will be one of the best, if not the best, conference playoff to watch. Colby, along with many other teams that encompass this conference, have grown tremendously and are viable candidates to make the NCAA tournament. Right now, that opportunity in the NESCAC is up for grabs.