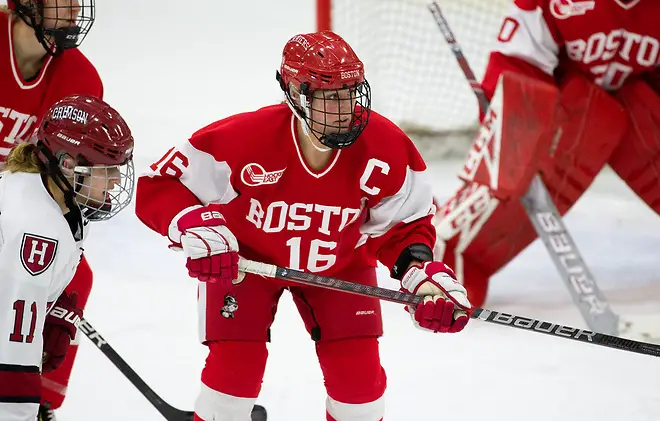 The Beanpot Tournament can be difficult to grasp for those of us that didn't grow up or attend school in Boston. There are those who'd say that winning a Beanpot title is better than winning a national championship, and after Tuesday night's overtime win for Boston University, the Terriers might be prone to agree.
To truly understand what an absolutely gigantic deal BU's win was on Tuesday in the 41st iteration of this storied tournament, you have to understand their futile history.
Brian Durocher is pretty much the only person associated with the BU women's program that was actually alive the last — and only — time they won the Beanpot. Boston University's sole Beanpot win came in 1981 when the team was still in club status. In fact, the Terriers didn't become an NCAA-sanctioned varsity program until the 2005-06 season.
The BU Beanpot win came in the third-ever playing of the women's tournament. They returned to the final the following year, ultimately losing and starting a drought that had carried on until Tuesday night. They lost 14 of the next 17 Beanpot games they played and were actually benched from the tournament in 1993 and 1994, when Brown replaced them and won one of the titles, meaning that a team that's not even from Boston had as many Beanpot titles as BU did.
The Terriers didn't do much to respond to that indignity when they returned to the tournament in 1995 — they lost 24-0 to Northeastern. They played 11 more Beanpots before they officially became a varsity sport, losing twice each year to go 0-22 and failing to even score a goal in 17 of those outings.
They had reached just two Beanpot finals in the past 10 seasons, and both times lost in heartbreaking fashion in overtime, once to Northeastern in 2012 and last year to Boston College.
There's futility, and then there's heart-wrenching, soul-crushing loss. You can guess how the Terriers felt about last year's loss.
It's probable nothing will top the feeling of defeating 38 years of futile history. That it was Pembroke, Massachusetts, native Sammy Davis who ended the game and the streak for BU makes it all that much sweeter. Having grown up midway between Boston and Cape Cod about 30 miles south of Boston, Davis was well-versed in the meaning and importance of the Beanpot.
Davis missed all of last season after undergoing hip surgery. She's returned to the Terriers lineup with a vengeance, already doubling her point output from her sophomore season. She's second on the team with 43 points in 30 games, and she's currently the most popular person on campus.
She put home the game-winner from one knee off a perfect pass from Jesse Compher. She knew it was going to go in before it actually hit the net, but she still couldn't believe exactly what that goal meant.
"I kind of looked over at Jesse and said, 'Oh, my gosh. We just won the Beanpot.' But, it's bigger than us," Davis told the Boston Globe. "We kept saying, 'Do it for the ladies of the '80s.' The win wasn't just for our team, it was for the girls that came before us and the girls that are going to come after us."
This wasn't just for our team. This was for everyone that's ever put on a Terrier uniform. pic.twitter.com/7RB72U6tu6

— BU Women's Hockey (@TerrierWHockey) February 13, 2019
Most athletes will talk about putting their stamp or mark on something, or leaving a program better than they found it. On Tuesday night, Compher and Davis became legends, closing one very depressing book and starting what might be the most interesting chapter and season yet.
A few weeks ago, I wrote about the turnaround Boston University has engineered this season. That they're in the conversation for an at-large bid to the NCAA tournament, a threat to win the Hockey East tournament, and celebrating the biggest thing to happen to their program in 38 years is something of a miracle, but it's also a testament to their unwillingness to give up and the importance of confidence in accomplishing anything.
Though the Boston University players were feeling the pressure to win on Tuesday, it was nothing compared to the years coach Brian Durocher had put in. The only coach BU women's hockey has ever known, Durocher has engineered quite a turnaround for the program from the futility of their time as a club to two national championship game appearances and six straight NCAA tournament trips from 2010-2015.
If confidence was the key to the season turning around in week 13, the giant injection of adrenaline and self-esteem they got on Tuesday may be enough to power the Terriers right on through the Hockey East tournament.
"We're all excited to get the monkey off our back; I thought we played an unbelievable game," Durocher told the Boston Herald.
Compher is likely to end up with a Patty Kazmaier top-10 nomination — and maybe more. How far the Terriers go this season seems to be solidly in their control. One of the most important steps to upsetting a favorite and going on a winning streak is believing that you really are capable of those things.
They say you fake it til you make it, but on Tuesday night Compher ensured that the Terriers are no longer pretending.
"Tonight, winning in a big game, a big stage is super-important," Durocher told BU Today. "Now these kids get a taste of winning something big … the confidence is the biggest thing that goes forward."