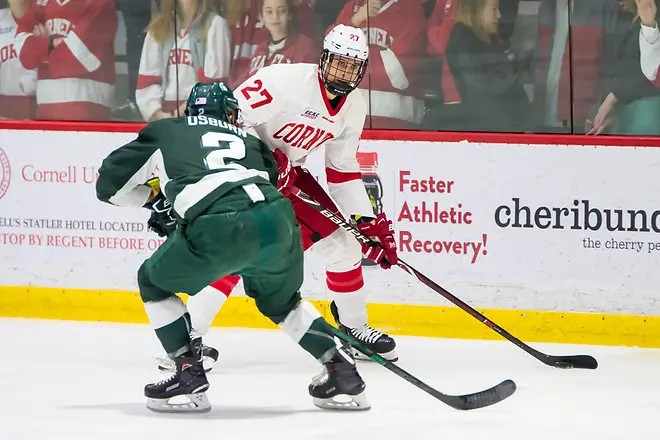 Resilient.
That will be one of the words that will describe Cornell's 2018-19 season.
The injury bug hit the Big Red hard in the first half of the season as they were without forwards Brenden Locke and Jeff Malott, defensemen Brendan Smith and Alex Green and goalie Matthew Galajda at different points.
Over the past month, most of those players returned to the lineup and the results showed, with Cornell going 8-1-2 going into this past weekend where they picked up wins to go 10-1-2 in their past 13.games.
Those two wins came at cost, though, as the injury bug struck again as they lost defenseman Cody Haiskanen Friday during the 5-0 victory over Clarkson in a freak injury as he suffered a right arm laceration during a race for the puck in an icing situation and started bleeding on the ice. The next night, second leading scorer Cam Donaldson left with an upper-body injury.
Head coach Mike Schafer told the Cornell Daily Sun Donaldson will be out at least a couple of weeks.
Donaldson had six goals and seven assists since the turn of the calendar.
With the injuries mounting up, Schafer believes his team will be ready down the stretch as they are missing key components, once again.
"The biggest thing is I am very happy with the resiliency of this team," Schafer said Tuesday. "Everybody goes through it – all teams go through it. It's just been continuous for us. All teams go through it."
It will be all hands on deck for the final three weeks of the regular season as freshman Max Andreev, who missed the final game of the first half against Harvard, got injured again in a game against the Crimson on Jan. 18. The Daily Sun reported he will be out at least until the start of the ECAC Hockey playoffs.
Morgan Barron has elevated his game, scoring seven goals and 12 assists in the second half. Schafer said the New York Rangers seventh-round pick in 2017 wants to make sure his teammates get involved.
"He has great hockey sense, he's a physical beast, he's a big body and he's very unselfish," Schafer said. "He a guy that continues to get better."
What has gotten Cornell to the 15-6-2 overall record is their goaltending, though. There were high hopes for Matthew Galajda, a Hobey Baker finalist from a season ago, where he went 21-5-2 with a 1.51 GAA and a .939 save percentage.
It was going to be hard to replicate those numbers in his sophomore season after suffering an injury, but Galajda has found his form the past four weekends.
"The guys have played well in front of him, and he's definitely back to just being calm in the net and controlling the rebounds, being there when needed," Schafer said. "He has a great ability to stay very focused."
Galajda has three shutouts in the past four weeks and hasn't allowed more than two goals since returning to the crease on Jan. 12.
After Austin McGrath had the start on Jan. 19 against Dartmouth in a 5-1 victory, Galajda has started the past six games. For this season, after a shaky start in the opening series against Michigan State, Galajda has a 11-5-1 record with 1.78 GAA and a .919 save percentage.
Will Schafer get McGrath in a game or two down the stretch?
"We will see what happens." Schafer said. "Austin, talking about coming back, could be our MVP, the way he played when Matthew was out. He didn't play much last year and he stepped in those games and he was outstanding."
McGrath is 4-1-1 in nine games with a 1.92 GAA and a .927 save percentage. After losing his first start of the season against Dartmouth on Nov. 30, he bounced back the next day with a win against Harvard. He also has wins against Princeton, Arizona State and Dartmouth in January, along with a tie against Quinnipiac.