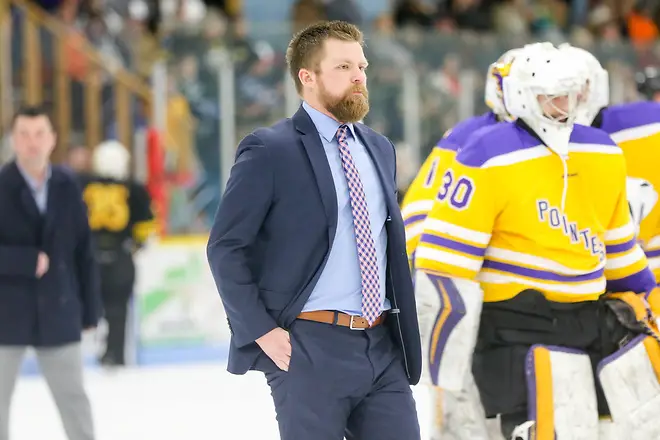 Wisconsin-Stevens Point is accustomed to success.
An unbeaten season though ? It wasn't expected.
"We expected success, but this season, we couldn't have predicted this," said coach Tyler Krueger said.
Then again, the Pointers are unlike a lot of other teams. There is no automatic bid to the NCAA tournament up for grabs in the WIAC. That means it's playoff time every week.
"It works out in our favor. It creates a sense of urgency in practice and in games," Krueger said. "We treat the regular season like the playoffs. We've put ourselves in a good position."
Wis.-Stevens Point ended the regular season with a 23-0-2 record. Its win streak is up to 17 games.
The Pointers feature a balanced attack, scoring 104 goals. Twelve players have scored four or more goals. Tanner Karty leads the way with 10 goals and 19 assists.
"We have really good depth, and that has carried us in games," Krueger said. "We play four lines and wear teams down. We stay patient with the game plan and let it come to us."
Great defense has played a role in the Pointers' unbeaten run through the regular season as well. Connor Ryckman has spent most of the time in goal, winning 20 games.
"He's been on a roll. When he sees the puck clean, he rarely lets it go in," Ryckman said. "He plays with calm and confidence and settles things down."
Eli Billing has shown he can step up when needed as well.
"He's stepped up in a big way in the second half of the year," Krueger said. "He even beat Connor out for a couple of games. We feel comfortable playing both in the net."
The Pointers have a week off before playing in the semifinal round of the conference tournament. Their focus is on winning another WIAC title.
Krueger said the time off can be a good thing. However, he knows his team has to stay sharp during the weekend off.
"We were off a week earlier this season and then played Stout and Superior, but we treated that off week like an off week and we felt like we took a step back," Krueger said. "We were rusty and sloppy and not very good. We still found a way to win, but didn't play up to our standards or expectations."
Krueger is confident his team will handle the time off well this time around as it prepares to make a run at a national championship.
"We used that past experience of how to treat an off week, and we're going to take the key parts of our game and work on those," Krueger said. "We are getting back to the basics and want to keep guys focused in practice to put them in a good spot for the tournament."
Krueger reminds his team to enjoy this time of the season.
"My message to them is to enjoy it," Krueger said. "For a lot of teams, their season is over. We are still playing hockey, and that's a privilege. I want the guys to embrace the opportunity and have fun with it."
Krueger, a Pointers alum, certainly is.
"It's been a blast for me," Krueger said. "I love coaching these guys every day. They are always willing to work hard and listen."
In the Poll
Wis.-Stevens Point remains the No. 1 team in the poll. St. Norbert checks in at No. 4. Wisconsin-Eau Claire is sixth. Augsburg is sixth, and Adrian is seventh.