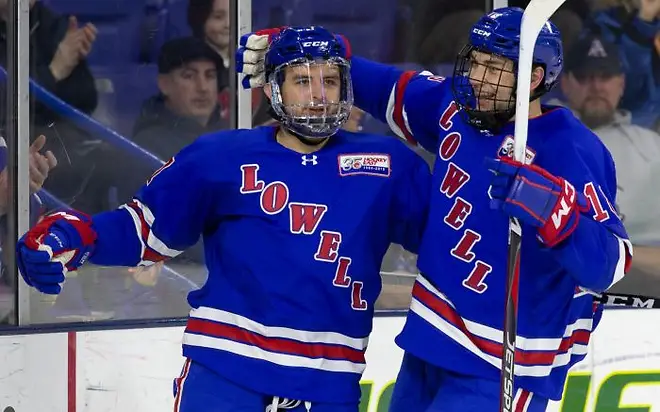 For much of this season, the Massachusetts Minutemen have been the story of Hockey East.
And going into Saturday night's game with their sister school in Lowell, they appeared poised to take a major step toward locking up their first regular-season title.
The UMass Lowell River Hawks, however, had other ideas.
After all, until last season, they had finished first two of five years, had appeared in the tournament championship game all five seasons, and won three of them.
This year, they also hadn't lost a game since the New Year's Eve ball dropped in Times Square.
So it really shouldn't have been a surprise to see the River Hawks defeat the Minutemen to move within two points of first place. As much as any team over the eight years of coach Norm Bazin's tenure, Lowell has been the standard of Hockey East excellence.
And the River Hawks now look poised to do it again this year. Since Jan. 1, they've gone 9-0-1, vaulting from 38th in the PairWise to a tie for 11th.
"There wasn't any magic Kool-Aid," Bazin says. "We came back from break refreshed, revitalized, and re-energized. Everybody's been buying in to their role.
"Keep in mind we had 12 freshmen coming in, so a lot of these guys were figuring out how hard college hockey can be and where they fit in into the puzzle."
The key component to the team's recent success isn't hard to find. During the 9-0-1 stretch, the River Hawks have either shut out their opponent or held it to only a single goal eight of the 10 games.
"It starts with goaltending," Bazin says. "Both goaltenders have given us some real good starts, and that's been welcome all throughout that stretch. The D-core is doing a good job at net front, and the forwards are chipping in with some strong plays."
While every other team in the league has made one goalie their lead guy (playing at least two out of every three games), the River Hawks have employed close to an even split between junior Tyler Wall and senior Christoffer Hernberg.
As a freshman two years ago, Wall played almost every single game, leading Hockey East in wins as he backstopped Lowell to a first-place finish, a league tournament championship, and just an overtime loss away from a berth in the Frozen Four.
When that lofty beginning to his collegiate career gave way to significant struggles last year, seldom-used Hernberg came to the rescue. In a classic heartwarming tale of paying your dues eventually paying off, Hernberg went from only two decisions over his first two seasons to 24 last year.
And despite summertime surgery that slowed his start this season, he remains an integral part of the goaltender rotation and the team's success.
"The kid came into it the hard way–he had to earn it," Bazin says. "I'm so proud of the kid because he gave us life last year when Tyler had a little bit of an off season compared to his freshman year.
"Hernie won the job and ran with it. I give him kudos. He became our team MVP.
"This year, since his first couple of games when he was getting back into the mix [because of the surgery], he's been very, very good."
Wall has also rebounded in a big way, casting aside every last remnant of last season's struggles to the tune of leading all Hockey East goaltenders in goals-against average and save percentage.
"You know, you win the league championship as a freshman and you might think it's going to be a little easier than it really is," Bazin says. "But Tyler's obviously found his rhythm again.
"Having two goaltenders instead of one is a real luxury for a coach."
The goal scorers haven't exactly been chopped liver either.
"We're third in scoring in Hockey East, so [our success] isn't just team defense," Bazin says. "We haven't given up a whole bunch of goals, but you have to score to win games. We've had more of a propensity to put up numbers after Christmas."
Despite the team's exceptional results since the turn of the year, Bazin isn't counting his chickens just yet. The River Hawks may be just two points out of first place, but only seven points separate them from eighth.
"We feel we're in the thick of it, but when you're in the grind like this, you're just looking at your next weekend and hoping that you can win some points," Bazin says. "So we're not getting too ahead of ourselves here."
As for whether the primary focus is first place, a tournament championship, or an NCAA berth, Bazin's outlook is simple and direct.
"We're just trying to be the best team at the end of the year," he says. "That's really our only goal."