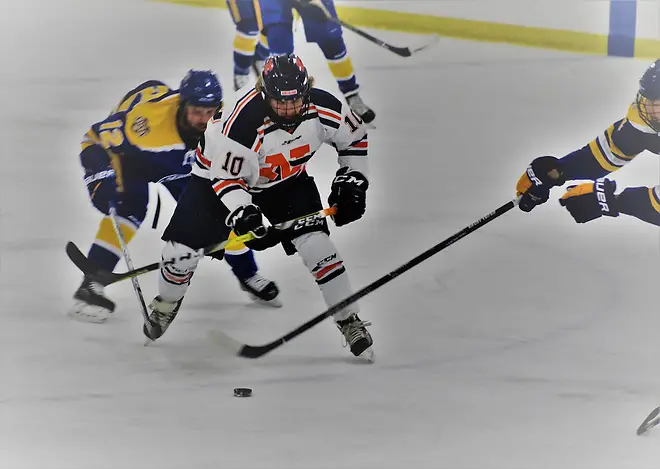 It's playoff time in the NCHA. Action begins this weekend with the quarterfinal round of the Harris Cup.
Regular-season and reigning national champion St. Norbert opens its playoff run with a series against surprising Finlandia.
The Green Knights have a ton of offensive firepower and the experience that it takes to navigate its way through the playoffs. Riley Christensen leads the league in points, tallying 27, and Roman Uchyn is one of the team's top goal scorers, punching in 12. The Green Knights have scored 106 goals in all.
Finlandia has been a great story this season, and this playoff experience will benefit them going forward into next season. The Lions have dropped their last five and hope to turn things around this weekend. It's not going to be easy. St. Norbert 7-2, 5-1
Milwaukee School of Engineering takes on Adrian in a quarterfinal game. The Bulldogs swept the season series. Cory Dunn leads Adrian with five goals and 20 assists. Kevin Entmaa has won 14 games in goal. The Bulldogs also have the luxury of playing this series at home.
If the Raiders are going to pull this upset off, guys like Garrett Gintoli (10 goals, 7 assists) and Jeff Makowski (6 goals, 11 assists) have to play well. Both games should be close, but the Bulldogs seem poised to prevail. Adrian 5-3, 4-2
The other two series feature Aurora at Lake Forest and Northland at Marian.
The Spartans have had a tough time on the road, winning just five games. Anthony Tzveyn could be a difference-maker. He has four goals and 12 assists on the year. Shawn O'Malley has scored nine goals.
Lake Forest tied the Spartans and won 3-0 in their two games in the regular season. The Foresters have been a contender most of the season and have one of the better goalies in the game in George Argiropoulos, who owns a 1.96 GAA. He has made 411 saves. Aaron O'Neill and Joe Sardina are great goal scorers, tallying 12 and 10, respectively. Lake Forest 5-3, 3-2
The other series is Northland at Marian. The Lumberjacks and Sabres split their regular-season series. Both games were decided by a goal.
Northland would love to come into this series and pull off the upset. Northland has been on the rise as a program, and a playoff series win would be huge. Zackary Fisher has been phenomenal, scoring 10 goals and dishing out 10 assists. If he's playing his best, the Lumberjacks have a shot.
Marian is led by Nick Monfils, who has come through with seven goals and 10 assists. Jake Howie has tallied six goals and eight assists. Marian is playing its best hockey heading into the tournament, having won its last three, and that momentum could carry it to a series win. Marian 3-2, Northland 2-1, Northland 2-1 in mini-game
Friday-Saturday, Feb. 15-16
Concordia at Augsburg
This is a huge showdown between the top two teams in the MIAC. Augsburg can win the regular-season title with a sweep of the Cobbers, who trail the Auggies by four points (35-31) in the standings. Augsburg needs at least two points to secure the title. This could be quite the offensive show. The top five point leaders are either from Augsburg or Concordia. Tyler Bossert of the Cobbers leads the way with 38 points. Alex Rodriguez is second with 21 points and is the league-leader in goals with 18. Aaron Herdt is tied for second in goals, tallying 16 on the season. Augsburg 5-4, Concordia 4-3
St. Thomas versus Hamline
The Tommies are in the playoffs no matter what, but they still have a shot at the championship as well. Brett Gravelle continues to play great hockey. He is tied for second in goals scored with 16, and Cam Buggrabe features a goals-against average of 1.99. Hamline is in the hunt for a playoff spot as well, but needs to pull off the upset of the Tommies and get help. The Pipers have to be at their best defensively if they are going to stun St. Thomas. Sam Nelson is in goal and has given up 48 goals while making 403 saves. With the Tommies still in the hunt for a title, their motivation will be high, and they'll cap off the regular season on a high note. St. Thomas 3-1, 4-2
St. Olaf versus Saint Mary's
Both teams still have their hopes alive for the fifth and final spot in the MIAC tournament. Saint Mary's is the frontrunner for it and needs to win just once to assure itself of a bid. The Cardinals have been up-and-down lately, but are certainly capable of getting the job done. Tommy Stang has played a pivotal role in his team's success, scoring 10 goals and dishing out eight assists. Jack Stang hasn't been bad either, dishing out 11 assists as one of the team's best playmakers. The Oles need to win both games to have any shot at making the playoffs. St. Olaf has to be able to play its best hockey to have a chance to steal the playoff bid. The Oles don't have a go-to scorer, but Tyler Bump could be that guy this weekend. He has five goals and three assists. Saint Mary's 5-2, St. Olaf 2-1