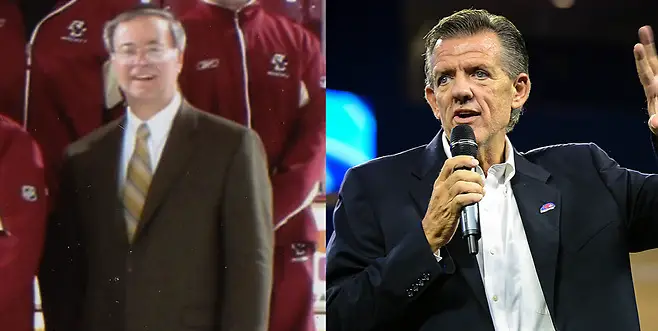 Former Boston College associate athletic director Tom Peters and former UMass Lowell director of athletics Dana Skinner will be presented the prestigious Hockey East Founders Medal at this year's Hockey East championships.
The ceremony will take place on TD Garden ice on Friday, March 22, between the semifinal games.
The Hockey East Founders Medal was established in 2009 upon the occasion of the 25th anniversary Hockey East season. The inaugural recipients were, fittingly, the five founding athletic directors who created the conference in the mid-1980's. In all, the award has been presented to seven institutional administrators, three conference administrators, two administrators associated with the TD Garden (home of the Hockey East championship) and two head coaches.
"Tom and Dana combined for nearly six decades of contributions to the advancement of Hockey East," said Hockey East commissioner Joe Bertagna in a statement. "The quality and length of their service to growing the conference are unparalleled in the history of Hockey East."
Peters, who was promoted to senior associate athletics director in May 2010, spent 26 years at Boston College. Peters joined the Eagles' staff as an associate athletics director in Jan. 1992. Prior to coming to the Heights, Peters spent more than three years as associate athletic director at Tulane. In addition, Peters served as Tulane's acting athletic director from Dec. 1990 until June 1991.
Peters served on the executive committee of men's Hockey East, chairing the committee in 2012-13, and on the Hockey East special events committee. He was also a member of the men's Beanpot hockey tournament committee.
A 1971 graduate of Massachusetts, Peters was a three-year hockey letterman for the Minutemen. Peters earned a master's degree in sports management from the university in 1973. Peters was then an administrative assistant at Virginia, before joining the New Boston Garden Corporation and Boston Bruins as assistant sales and marketing manager in 1973. In 1976, he was named sales and marketing manager. From there, the Arlington, Mass., native moved to New Jersey where he was the assistant athletic director at Rutgers from 1981 to 1988.
After more than three decades of leadership and service at UMass Lowell, including 23 years as director of intercollegiate athletics, Skinner retired in Sept. 2018. He recently led the university's successful transition to NCAA Division I competition, a comprehensive five-year process that was formally completed last summer.
Skinner's commitment to excellence was reflected in his focus on both sides of the "student-athlete" term. Since joining the Division I America East Conference in 2013, UMass Lowell student-athletes have achieved a cumulative 3.0 GPA or higher every semester.
A firm believer that sports can be used to promote positive social change, Skinner took pride in the River Hawks' community engagement efforts with the Special Olympics, the National Youth Sports Program, the Make-A-Wish Foundation and Team Impact.
A native of Danvers, Mass., Skinner was a Division II All-American basketball player for Merrimack, where he graduated in 1978. He was drafted by the Boston Celtics in the third round (50th overall) of the NBA draft and played briefly for the Maine Lumberjacks of the Continental Basketball Association. He later became head coach of the New England Gulls of the Women's Professional Basketball Association and earned a master's degree in sports administration from St. Thomas (Miami).