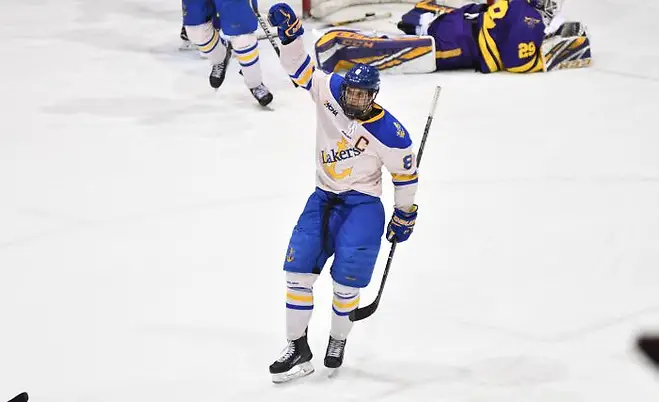 Maybe the hottest team in college hockey right now is Lake Superior State, which sits at No. 18 in the latest polls and finds itself in a two-way tie with Bowling Green for second place in the WCHA standings with just two weeks left in the regular season.
That's really saying something about a 20-8-2 Lakers squad that had every reason to be awful.
We see it all the time: A new coach comes in, begins a rebuild and by the end of his contract, the team isn't much better than he found it. Coach Damon Whitten entered this winter with four seasons under his belt, none of which resulted in a better finish than seventh in the standings. He's dealt with program turnover – a la graduation or players transferring elsewhere for better situations – and he's had to recruit his style of players to play his brand of hockey.
Take last season for instance.
The Lakers finished a lowly 10-22-4. They were ninth in the final WCHA standings, the worst under Whitten, and they missed the conference playoffs for the first time under him. Instead of firing him, LSSU actually extended his contract and gave him another shot at turning things around, knowing that this would be the first season everyone in the program is a Whitten recruit.
Betting on Whitten paid off for the Lakers, who have won 14 of their 18 games since the start of December.
"For us, there's finally a lot of belief in our room," Whitten said. "For the first time during my time here, we go into a weekend expecting to win games and have success. We've talked a lot about our leadership core in our seniors, and they've done a great job having our team prepared."
Isn't that a crazy thing to read? This season is the first time LSSU has entered a weekend series expecting to win games – five years into Whitten's tenure.
The Lakers just swept Upper Peninsula rival Michigan Tech 3-1 and 3-1 over the weekend. Two weeks before the matchup, Michigan Tech coach Joe Shawhan told me he was worried about playing Lake State Superior because "no one wants to be playing them right now."
And he's right. I've heard that from a handful of other coaches and players in the WCHA the past two months. The Lakers have quietly put together a dream season, regardless of what the PairWise says about them.
"We haven't paid a ton of attention to it," Whitten said. "There's been a lot of accolades with individual players success. But, honestly, we've just taken a short-term approach. We've just played in our bubble, lived in our bubble."
Here, I can tell you about the accolades.
Aside from the weekly WCHA player of the week awards you see in the press releases, the Lakers have 1) won the Great Lakes Invitational, an annual tournament in Detroit in its 54th year, for the first time in program history, knocking off both Michigan State and Michigan Tech, 2) have the second-leading scorer in the country in senior forward Diego Cuglietta (20 goals), who is also top 20 in total points and 3) are set to have home-ice advantage in the WCHA postseason for the first time in Whitten's tenure.
"It's just a mixture of things," said Cuglietta. "There's a lot of talent in the locker room, and they (the coaches) have a good structure in place with solid goaltending. We're doing a really nice job of sticking to our gameplan and not thinking too much ahead. Everyone is loving the way we are playing right now."
Added goalie Nick Kossoff, who is 14-4-2: "So far, it's been a lot of fun to play when the team is playing really well and getting contributions from every line and on defense. We're going into games with confience. In previous years, it's always been a question mark. This year, we know what we're getting into.
"The big difference for us at the beginning of the year is we discussed what we want to be as a team and who we are. We've made a few sayings that we believe in — we like to keep those in house — but those have guided us through. We're together as a team this year, and we know exactly what we need to do to win.
"We know who we are."
Of course, that doesn't mean there hasn't been any stressful times. In fact, three different players have lost immediate family members this winter, including two who have lost parents. Can you imagine winning 20 games while dealing with three separate deaths on your team?
"We've had our hard times as well with tragedy off the ice," Whitten said. "We've been able to bounce back and stick together as a team. It's been unbelievable, and the guys have unbelievable love for each other, which is tremendous with this kind of support in the room."
One of those deaths, which we'll keep private out of respect for LSSU's players, came during tthe GLI weekend. The day after the Lakers raised the championship trophy, they were made aware of the tough road ahead.
"I've never gone through something like this in my nearly 20 years," Whitten said. "No one in my programs have lost parents. Usually it's been grandparents. Thankfully, going back to our culture, we've surrounded our players with good teammates that care about each other and support each other. And we've put an emphasis on our coaching staff to connect with our players. We want our players to know we care about them as coaches and like to maintain strong relationships. Whether it's tough play on the ice or a loss of life, we want them to feel welcome to come to us coaches."
The Lakers visit rival Northern Michigan for a series this weekend and wrap up the regular season by hosting Ferris State next weekend.
They'll likely not catch No. 1 Minnesota State in the standings, but 12 points could give them the second seed entering the postseason.
At this time last year, they were getting ready to empty lockers and hang up the skates for the offseason.
"It's been an unusual year," Kossoff said. "With so much going on, our togetherness has kept us going. We support each other, and we are truly a family."