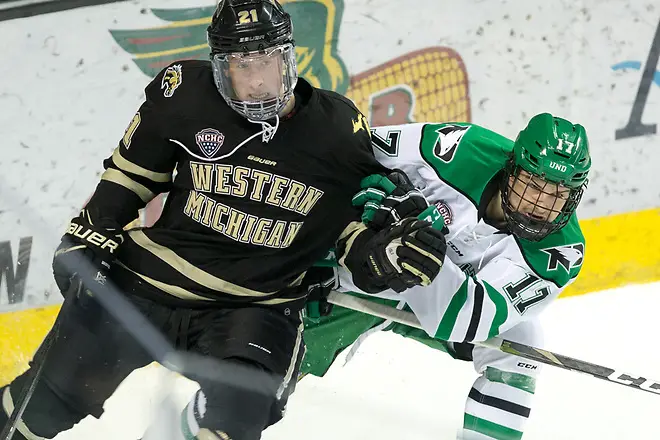 The NCHC is down to its final three weeks, but because each series is worth a potential six points, almost everything is still in flux.
For instance, it is still possible for last-place Miami to finish in the top four and clinch home ice. On top of that, Denver and Colorado College have a game in hand on all the other teams in the conference due to the snow postponement of a game between the two. That game will be made up next Tuesday, Feb. 26.
Looking at the overall college hockey landscape, the NCHC has the best out-of-conference record of all the teams, going 50-21-8 (.684). They are the only conference above .600 in winning percentage, and one of only three above .500, the others being the Big Ten and Hockey East. The NCHC is also the only conference with a winning record against at least four of the other conferences; only the ECAC has a winning record against the NCHC. The Big Ten has a winning record against three conferences, and Hockey East only has a winning record against two other conferences.
Being that strong has helped the conference in the PairWise, which is used to help decide the teams in the NCAA tournament. If the season ended today, three NCHC teams, St. Cloud State, Minnesota Duluth, and Denver, would be no. 1 seeds in regionals, while a fourth, Western Michigan, would be a three seed.
In terms of NCAA tournament possibilities, those four are likely the only ones from the conference who could get an at-large bid. North Dakota is currently 21st in the PairWise, and Colorado College is 26th. North Dakota could boost its chances of getting an at-large bid if the Fighting Hawks could sweep Minnesota Duluth this weekend, but their remaining two series are against Miami and Omaha, which won't help them much in the PairWise. To feel safe for an at-large bid, a team likely needs to be 12th in the PairWise, and North Dakota probably can't get that high.
As far as the conference standings are concerned, St. Cloud State has locked up home ice for the first round. Every other team could still theoretically qualify for home ice, though those scenarios are unlikely. Miami, for instance, would have to almost run the table in the last three weeks of the season.
St. Cloud could also clinch at least a share of the Penrose Cup this weekend and become the first team to win three Penrose Cups. To do so, the Huskies would need to sweep Omaha this weekend while Minnesota Duluth only gets three points out of its series with North Dakota (a split, or two ties). If that happens, and Western Michigan also fails to sweep Colorado College in regulation, then St. Cloud clinches the Penrose Cup outright.
There are currently only three other teams that could win the Penrose Cup: Minnesota Duluth, Western Michigan, and Denver. North Dakota, currently in fifth place with 25 points, could get a maximum of 43 points for the year, which would still put the Hawks below St. Cloud State, which currently has 44 points.
The only other teams that could clinch home ice for the first round of the NCHC playoffs this weekend are Minnesota Duluth and Western Michigan. The Bulldogs would need to get five of six points in their series with North Dakota. Western Michigan could clinch home ice with a sweep of Colorado College AND a Minnesota Duluth sweep of North Dakota.
As far as the other teams in the conference and their final placement in the standings:
• St. Cloud State can finish no lower than fourth.
• Minnesota Duluth can finish no lower than seventh.
• Western Michigan and Denver can still finish anywhere from first to last.
• North Dakota, Colorado College, and Omaha can finish no higher than second, and can still finish last.
• Miami can finish no higher than third.
In terms of schedule difficulty, it's hard to top Miami, which is on the road against Denver and Minnesota Duluth the next two weekends before finishing at home against Western Michigan.
St. Cloud State still has series with Western Michigan and Minnesota Duluth to play after its series with Omaha this weekend. It is likely that St. Cloud will have the Penrose Cup in hand before the final weekend of the regular season, but if they do not, the Huskies will host Minnesota Duluth for what could decide the Penrose Cup.