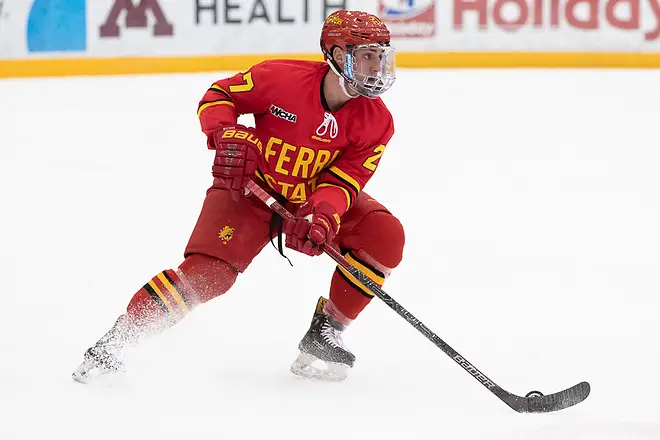 Each week, USCHO.com columnists will pick the winners of the upcoming games in their respective conferences.
Atlantic Hockey
Thursday-Friday
Niagara vs. Canisius
The Battle of the Bridge starts this weekend in Buffalo before shifting to Niagara Falls on Friday. It's a huge multi-sport rivalry, and it'll likely carry major postseason implications this year with several scenarios eliminating the Purple Eagles from a first round bye contention as early as Thursday night. With only one game next week against RIT, the need for a victory is huge, though last week's win over Bentley helped after five straight losses. Canisius is appearing increasingly likely to be at home in the first round, and a loss on Thursday seals that fate. I'm going with Niagara, and I wouldn't be surprised if these teams meet again in the first round in a couple of weeks. Niagara sweeps.
Friday-Saturday
Holy Cross vs. Bentley
Bentley's loss at Niagara delayed clinching a first round bye, so a win on Friday over the Falcons' longtime rival would send them through to the second round. But strange things happen when these teams get together, and the Crusaders still have a legitimate shot at home ice in the first round (and an outside shot at a first round bye). Holy Cross hasn't been swept in a conference series since the AIC series at the beginning of January. I'm going with Bentley here, but expect two incredible hockey games.
Air Force at Mercyhurst
This is the series carrying arguably the most weight. Both teams are fighting for a top four position, though the Lakers are in sixth, and with Sacred Heart lurking in fifth place, the door opens for the Pioneers if one team stumbles. Last weekend's overtime loss really hurt the Lakers, but Air Force has struggled away from Cadet Ice Arena, going 5-6-1 in league play. So I'm going with a split to help create some real chaos (more on that in a bit).
Army West Point vs. Sacred Heart
The chaos will come if Army West Point beats Sacred Heart. Based on my prediction, Niagara's sweep would give it 27 points, which is the point totals that Air Force and RIT currently possess. Based on my math, a split pushes Mercyhurst to 27 points and Air Force to 29 points, behind Bentley, which would have 34 points. That means we could potentially see one team with 29 and anywhere from three to four teams with 27 points, all while a team sits behind with 24 going into the last weekend of the season. In that scenario, two bye slots are up for grabs, along with the No. 5 spot.
Conversely, Sacred Heart taking three points would slide the Pioneers into third place. AIC, Bentley, and Sacred Heart would then possess the three top spots in the standings. I think that would finally put the east-west discussion to bed permanently. I'm going with a happy medium and a split.
Robert Morris at. RIT
A lot of the chaos is contingent on RIT-Robert Morris. The Colonials are lurking with 19 points but could push forward into home ice with help from Sacred Heart. They are eliminated from a first round bye with a loss but fall out of top four consideration even if they tie (or Sacred Heart beats Army. It could also happen if SHU ties Army and Niagara wins, which I think is what I'm calling for in one scenario). I think the Colonials will give RIT a run for its money, but I think this is one of those years where RIT just finds a way to win games, especially at home.
RIT, for what it's worth, could still finish as low as ninth in some scenarios, though that could end on Thursday if Canisius beats Niagara. I'm calling for an RIT sweep here.
— Dan Rubin
Big Ten
Friday-Saturday
Ohio State at Michigan
The Buckeyes are heading into the rink of their fiercest rival needing one win to capture the regular-season conference title. I think they'll get that win, but which night? Ohio State is very disappointed not to have taken care of business last weekend at home against Minnesota, losing twice to the Gophers and ending the Buckeyes' seven-game win streak. Last weekend also marked the first time this season that Ohio State had lost two in a row altogether. The Wolverines would love nothing more than to spoil Ohio State's party. Michigan last played Tuesday, February 12, a 5-2 road loss to Notre Dame. The Wolverines need to win out to guarantee a first-round home playoff series. These teams split in Columbus in mid-January. That is what I think they'll do again. Michigan wins Friday, Ohio State wins Saturday.
Notre Dame at Minnesota
The Irish split a pair of home games against Wisconsin last weekend, losing Friday and winning Saturday, and they've now played five games since the beginning of February. Notre Dame is two points behind Minnesota in B1G standings, in third place but with a mathematical shot of at least a share of first place. If Notre Dame wins out, the Irish will finish in second place – so they're not in control of their own destiny. The Golden Gophers return home after that sweep in Columbus, and even though Minnesota is in second place in the standings, there's no way for the Gophers to capture a portion of the regular-season title as they have two conference games remaining. Minnesota has already beaten Notre Dame twice this season, and I think the Gophers keep their little win streak alive, taking Friday's game. I'm calling a split, though, with Notre Dame winning Saturday.
Wisconsin at Penn State
The Badgers took that road split from Notre Dame last weekend while the Nittany Lions also split on the road against Michigan State. If Wisconsin wins out, the Badgers finish no lower than fifth place – but it's still technically possible for the Badgers to finish as high as second should stars, planets, and tectonic plates align. If the Nittany Lions win out, they finish no lower than third, and they have a shot – a very, very, very, very, very, very long shot – at a slice of the regular-season title. What a season. Wisconsin took four of six points from Penn State in Madison with a tie and shootout loss Nov. 30 followed by a win Dec. 1. I'm calling a split because, well, it's B1G hockey. Penn State wins Friday, Wisconsin wins Saturday.
— Paula C. Weston
ECAC Hockey
Friday
Union at Colgate
The Dutchmen have held opponents to two goals or less in the past three games. Colgate is coming off a solid 3-3 tie on Saturday against Brown. I believe Union will take this game.
Rensselaer at Cornell
These teams just played recently, skating to a 1-1 tie in Troy. Now, they face each other in Cornell's barn. Despite some of the injuries Cornell has, I think the Big Red will win this one at home.
Yale at Dartmouth
This may be the most intriguing matchup of the night. Both teams have played very good hockey at points of this season, but both teams have laid a stinker or two, too. I will go with Dartmouth as Yale has won only one away game in 2019.
Brown at Harvard
Harvard will be facing a different Brown team than they did in early November when the Crimson defeated the Bears 5-2. Brown is 8-4-2 in the second half and three points behind Harvard for fifth place. Harvard is playing well also in the second half. I will take Harvard in a close contest.
Clarkson at Princeton
For the past four weekends, Clarkson has split each weekend. This is an important game for the Golden Knights to get that important 'W' to start the weekend. The feel is Princeton is still a sleeping giant and could upset Clarkson with the offensive skill they have. Still, I have Clarkson here.
St. Lawrence at Quinnipiac
The Saints have played very well against the top of the conference since facing Quinnipiac a few weeks ago, so this isn't a game the Bobcats should sleep on. Wyatt Bongiovanni had two goals and an assist in that game. Quinnipiac wins Round 2 also.
Saturday
Rensselaer at Colgate
It might not be the sexiest matchup on the docket this weekend, but this could be an important game as the teams are separated by one point in the standings. Both teams have decent goalies who will give their team a chance to win. Rensselaer may have the advantage in terms of offensive depth. Engineers win.
Union at Cornell
This is a game that if the Dutchmen can win could give them confidence heading into the playoffs. They are also facing the Big Red at a good time as the injury bug has returned to Cornell's locker room. The Big Red has shown they can get contributions up and down the lineup. Cornell wins.
Brown at Dartmouth
Another game on the schedule that might not appeal to the masses, but one that is important in the playoff picture. Both teams have 19 points, tied for sixth in the conference. I believe Brown's Tommy Marchin and Dartmouth's Alex Jasiek — both seniors — will be keys to this game. Brown wins.
Yale at Harvard
I expect a playoff atmosphere in this one. It's another game between two teams separated by one point heading into the weekend as the Bulldogs sit in the No. 3 spot while Harvard is tied for fourth, but if the playoffs started this weekend would be fifth and have to play in the first round. I'll take Yale.
St. Lawrence at Princeton
It's the battle of the basement as the No. 11 Princeton takes on No. 12 St. Lawrence. The Saints can't catch the Tigers this weekend, no matter how the results shake out. The Tigers are still in striking distance with RPI and Colgate, so this is a must-win game for them to possibly improve their playoff seeding. Tigers win.
Clarkson at Quinnipiac
The Bobcats defeated the Golden Knights on Feb. 1 by a score of 4-2. The loss of Brandon Fortunato of the Quinnipiac's defense will hurt, especially in this game. Both teams still have strong goaltending which will make scoring at a premium. Clarkson squeaks out a victory.
— Nathan Fournier
Hockey East
Thursday
Connecticut at Massachusetts
Games like this can be a bit of a trap, but UMass has had plenty of home success this season. UMass wins.
Friday-Saturday
UMass Lowell vs. Merrimack
Last weekend was likely just a bump in the road for the River Hawks, and it should refocus the team. UML sweeps.
Boston College at Maine
The Black Bears are a pretty good home team and BC just hasn't played well of late. BC, Maine split.
Boston University at Vermont
This is a big weekend for BU as the Terriers try to get four points to get into a home ice position. BU sweeps.
Northeastern at New Hampshire
People will think I am crazy for picking against NU in just one game, but I see UNH getting a win. NU, UNH split.
Saturday
Massachusetts at Providence
UMass won the first two in this series despite being outplayed in both. Can they pull off three? For some reason, I feel yes. UMass wins.
Tuesday, Feb. 26
Providence at Connecticut
If PC loses on Saturday, this will be the game that gets them back on the road. If they win, keep the bus rolling. Providence wins.
— Jim Connelly
NCHC
Friday-Saturday
Western Michigan at Colorado College
Colorado College took St. Cloud State to overtime twice last week on the road and to a shootout once, so the Tigers ought to be carrying some momentum going into this weekend's home series. I wouldn't be stunned if they split this series, especially as Western Michigan has done so twice in the last two weeks against teams that aren't at the top of the NCHC pecking order. Western Michigan 4-2, Colorado College 3-2.
Miami at Denver
Miami snapped an 11-game winless streak last Saturday at home against Omaha, but I don't love the RedHawks on the road this weekend against Denver. The Pioneers have a relatively favorable remaining schedule, and I think this weekend is when they'll start pushing for a better first-round draw. Denver 5-2, 4-2.
Minnesota Duluth at North Dakota
Is North Dakota making a late run toward a potential NCAA tournament at-large bid? The Fighting Hawks have held their own lately against strong opposition and plays at home this weekend against UND's fourth consecutive top-10 opponent. It gets a little more straightforward for UND after this (at Colorado College and Omaha at home) but getting good results here against a strong Duluth team would help matters. How likely is a sweep here, though? Not very. Minnesota Duluth 4-2, North Dakota 3-1.
St. Cloud State vs Omaha
Mike Gabinet thinks his UNO team can peak at the right time this season, but we might not see many signs of that this weekend. SCSU is worthy of its No. 1 ranking, and I think the Huskies will take care of business here. St. Cloud State 3-1, 3-1.
— Matthew Semisch
WCHA
Friday-Saturday
Lake Superior State at Northern Michigan
Big series for both teams. Lake State is battling for the No. 2 seed in the WCHA playoffs (they're tied with Bowling Green at the moment for second) and needs to win if they want a shot at an at-large bid in the NCAAs. They're currently No. 19 in the PairWise, so they have some work to do, but pulling off a string of wins here they can maybe sneak in. NMU, meanwhile, is looking to hold on to their tenuous grasp on the fourth and final home ice slot. They're currently tied with Bemidji State. Given how both teams have been trending recently, I think I have to pick the Lakers sweep.
Alabama Huntsville at Ferris State
The battle for the final WCHA playoff spot. UAH, in eighth with 22 points, can end Ferris' hopes with a sweep, but the Bulldogs, in ninth, are just four points back and will stay alive with a split — a sweep by them would move them two points ahead with two games to play. That said, I think this looks like a split and both teams will be battling for the final playoff slot next season. Ferris wins Friday and the Chargers win Saturday.
Alaska Anchorage at Michigan Tech
The Seawolves make their final road trip of the season not officially eliminated from the postseason but hanging on thread — they're seven points behind Ferris State, so they need some wins to keep playing past next weekend. Michigan Tech has also plummeted in the standings — they were first just before at Christmas break and now find themselves in sixth place, seven points out of a home ice playoff spot. They've got just two wins since the start of 2019. Luckily for them, one of them was against Anchorage — a 3-0 win Jan. 25 in Alaska. The bad news, of course, is that the next night in that same series they managed just one point in a dire 0-0 tie and lost the shootout. So which teams show up this weekend? I think the Huskies get it done this weekend with a sweep, but I wouldn't be surprised if the games are both 2-1 and go to overtime — or if the Seawolves win a shootout.
Bowling Green at Bemidji State
The Beavers and Falcons met Jan. 3-4 and played an entertaining split to kick off 2019 — the Beavers won 3-2 Friday and the Falcons won 3-1 Saturday. I think expect more of the same this weekend from a pair of teams fighting for playoff positioning. The Falcons probably need a sweep for a more favorable Pairwise position (right now they're No. 16 and would be the last team out in that case) but the Beavers have been tough to beat in the past month, going 5-1-2 (with two 3-on-3 OT wins) in their past eight games. BSU wins Friday and BGSU takes it Saturday, and I think both are very close, well-played matches.
Minnesota State at Alaska
The only series this weekend without any real drama. Minnesota State, despite being idle last weekend, clinched at least a share of the MacNaughton Cup and will take the title outright with just one point in the next two weekends. The Nanooks are comfortably in seventh in the WCHA standings and aren't in danger of falling out of the playoffs. They're playing for seeing right now. So how does this series play out? The Mavs swept the Nanooks once already this season in Mankato. My feeling tells me the Mavericks win decisively on Friday to clinch the cup followed by a Nanook win Saturday to get a split.
— Jack Hittinger