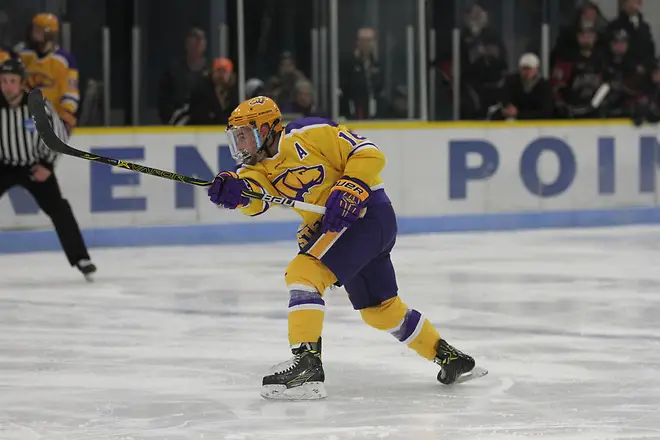 Augsburg and Saint John's are headed to the championship game of the MIAC tournament. The Auggies rolled past Saint Mary's, 8-1, Saturday while the Johnnies topped rival St. Thomas, 4-1, in their semifinal game.
In Augsburg's win, Luke Dietsch came through with a hat trick, and Alex Rodriguez scored twice on a night when 12 Auggies figured into the scoring. Augsburg is seeking its fourth consecutive MIAC tournament crown. Nick Schmit came through with 17 saves in the win. Kyle Meeh scored the lone goal for the Cardinals. Al Rogers made 25 saves for the Auggies for the Cardinals.
The Johnnies are back in the MIAC tournament final for the first time in three seasons. Sean Lang and Evan Okeley both scored twice. Andrew Lindgren came up with 39 saves. Saint John's held a 40-21 advantage in shots. The Tommies got their lone goal from Luke Radetic as their season came to a close.
Saint John's will head into this weekend's title looking for its first MIAC tourney crown since 2013. Interestingly enough, in the Johnnies' last title game appearance in 2016, they played the Auggies, who won the game, 5-4, to earn the first of its three titles in a row.
Title game set in NCHA
St. Norbert and Adrian will once again play for the Harris Cup. The two teams have met in the last four championship games. The Green Knights pulled away late for a 6-2 win over Marian, and Adrian cruised to a 5-1 win over Lake Forest.
St. Norbert scored five goals in the final nine minutes of the game to earn the win.
Adrian was paced by Matt McNair, who scored a goal and an assist. Bryan Yim scored the 50th goal of his career. He also has 54 assists. He's the 14th player in program history to get to the 50-50 club. Kevin Entmaa made 22 saves in the win and picked up his 16th victory of the year. The Bulldogs are now 28-1-1 all-time against the Foresters. They now have a 30-5 mark in conference tourney play.
St. Norbert and Marian were tied at 1-1 before the Green Knights pulled away. Dominick Sacco put the Green Knights ahead 2-1, and they never looked back. Luke Davison tallied three assists. Peyton Frantti came through with two goals. Steven Phillips played in the 120th game of his career, an NCAA Division III record, and scored a goal and dished out an assist. T.J. Black made 13 saves.
Connor Blanck and Jake Howie both scored for the Sabres. Hunter Vorva racked up 30 saves.
Pointers to face Blugolds in WIAC final
Wisconsin-Stevens Point dominated Wisconsin-River Falls in a two-game sweep, and Wisconsin-Eau Claire needed a mini-game win to get past Wisconsin-Superior in its WIAC tournament semifinal series.
The Pointers won 6-0 and 6-2 to advance to their fourth consecutive Commissioner's Cup final. In Saturday's clincher, Wis.-Stevens Point used two goals by Jordan Fader to take down the Falcons and remain unbeaten on the year. The Pointers are 25-0-2. Tanner Karty scored a goal and dished out two assists as did Kelly O'Brien. Carter Roo came through with two assists. Chris Allemon scored his first career goal in the win. Connor Ryckman came through with 20 saves and won his 22nd game of the year.
The Blugolds, meanwhile, found themselves in a hole after game one, dropping the semifinal tourney opener to the Yellowjackets 2-0. They responded with a 3-2 win in overtime Saturday and then won the mini-game, 2-0. Jon Richards scored a game-winner in overtime to force a mini-game. Richards also scored in regulation of the second game of the series.
Zach Dyment made 17 saves to win his 19th game of the year.