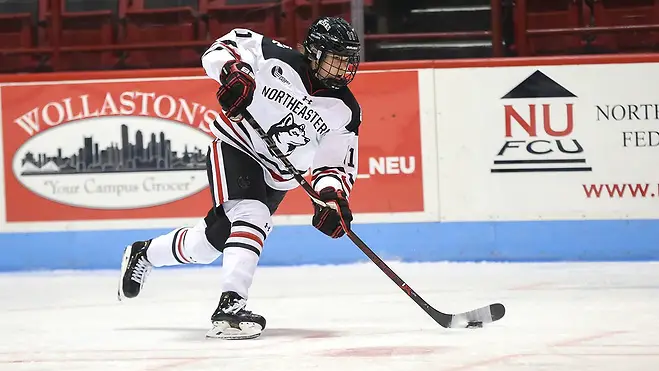 Nicole: The final regular season weekend definitely served up the drama, as we were down to the final minutes in overtime and shootouts to decide some of postseason positioning. We've got a lot to talk about, but I think we have to start with the final weekend shortcomings of Princeton and Wisconsin. Both teams had the lead in their conference heading into the weekend's game.
Princeton was unable to secure any points, losing to both Clarkson and St. Lawrence. That proved costly, as they dropped from first to fourth and will now take on that same St. Lawrence team to try to keep their season alive. The Tigers went from seeming like a lock to host an NCAA quarterfinal game to having a precarious hold on the final postseason spot. I haven't had a chance to play around with possibilities yet, but I'd think the Tigers need to make a good run into the ECAC tournament to keep their at-large hopes alive. Also, the seventh spot is always susceptible to being displaced if there is an upset conference winner that takes an autobid.
Wisconsin did slightly better in tying Ohio State twice, but with Minnesota winning both their games, the Badgers also needed to win out to take the top spot. They ran into a very good performance from Buckeyes goalie Andrea Brändli, but they also had the same trouble scoring despite an abundance of shots that they've had on and off for years.
They were down 2-0 to OSU in the third period Saturday and managed a come back in the final five minutes to tie the game, but we never really saw the spark from them until they scored that goal. I was waiting for them to come out of either period break with that energy, and it didn't really happen. There's some positive to take from making that comeback, but you can bet there's a lot they'll be talking about and working on this week, as well.
What did you see out of these two teams this weekend, and what do you think it means for their postseason hopes?
Arlan: There are moments when I believe that I have at least some elements of this game figured out. All I have to do is wait a week in order to rediscover that, like Jon Snow, I know nothing. Don't bother searching through my recent comments in this column to find where I predicted that Cornell and Minnesota would win their season titles, because it never happened. Of that, at least, I'm certain.
So looking at Princeton in hindsight, its problems began with the home loss to Clarkson on the first Saturday of this month, and there were already indications of the shortcomings that would derail the Tigers' pursuit of the title. That was an odd week for them, because they'd played a rare Tuesday game versus Penn State that ended a 17-day layoff, so the Clarkson game was their third in five days. Posting a 38-20 shot advantage in that loss would suggest that the Tigers had good legs nonetheless, but they seemed to be a little off. For starters, they surrendered a goal on the opening shift, which is never a good thing, and then over a crucial 20-minute stretch that spanned the first intermission, they were give four consecutive power-play opportunities and couldn't convert any of them. Once the Golden Knights finally got a power play of their own, it took a mere 13 seconds for Loren Gabel to cash in.
If we conclude that Kassidy Sauvé stole that game from the Tigers, then another thief arrived a week ago in the person of Lovisa Selander, who made 57 saves to upset them. To add insult to injury, the Rensselaer goals were netted by two players who have otherwise combined to score one goal through their rookie seasons. That loss to the Engineers pushed Princeton from a very stable position to the brink of disaster with the trip to the North Country looming.
As you said above, it was an ill-fated trip. Gabel again scored on her first shift, and Princeton was faced with another deficit, which grew to three goals a shift into the second period. Steph Neatby came in to relieve Rachel McQuigge and kept the Golden Knights at bay while her team got back into the game at 3-2, but a couple of late empty-net goals made the final 5-2 result look more one-sided than it was.
On Saturday, Chris Wells showed the other coaches in D-I how to navigate Senior Day. With three senior goalies, two of whom have played heavy minutes in their careers, he started Grace Harrison and replaced her with Sonjia Shelly a few minutes later. Wells also started four forwards and one defender, because that was the configuration that allowed him to get all of his senior skaters on the ice.
From the Tigers' perspective, they weren't able to get much going offensively against either St. Lawrence goalie while getting shut out, 2-0, and they go forward with some questions. Most importantly, who is their goaltender? McQuigge backed them to the verge of the ECAC title but struggled a bit recently, while Neatby yielded a single goal on 34 shots over nearly five periods this weekend. We've talked a lot about Clarkson's lack of depth after its top line; Princeton has a similar makeup. The Tigers have senior Karlie Lund, who has eclipsed the century mark in her career, on their second line, but their other best remaining offensive options are on the blue line. They've gotten this far in large part thanks to dynamic frosh Sarah Fillier and Maggie Connors, but that duo has totaled one goal during the three-game skid. Whatever Cara Morey is telling her team before the faceoffs to begin periods, she might want to change her message, particularly against Clarkson.
Anyway, Princeton hasn't had a lot of postseason success in the years that I've followed the sport. In fact, the Tigers didn't even advance out of the ECAC quarters, falling at home to SLU in three games, when they made their most recent NCAA appearance in 2016. It's a little déjà vu as they host the Saints once more.
As for Wisconsin, I'm not sure that I have anything original to say about the Badgers' weekend, particularly to somebody who watched games that I didn't see. I'll think on it, but in the meantime, lets turn to a happier subject.
What do you think of Cornell emerging from the ECAC wars to claim the crown, by a decisive three points no less? Was the success of the Big Red, who have the fewest losses in D-I, unexpected, or only unexpected by me?
Nicole: I still am not entirely sure what to think of the Big Red. They had the easiest path to the crown this weekend in terms of their final two games, so I suppose in that way it wasn't super surprising. A lot of other things had to fall in place for their likely easy wins to make a difference, so I definitely didn't think it would happen.
They lost to Brown early on and had losses to Princeton and Clarkson, and I think that's what stuck in my head when comparing them and thinking they may be the third or fourth team in the ECAC. I wouldn't have been able to say they only had those three losses if you asked, but I also have to wonder what other teams would have done with their schedule. Their strength of schedule is 27th. Princeton and Colgate's SOS are also in the 20s. It definitely makes me think about the four ranked ECAC teams and how they can and will match up against teams outside the conference. It might not be huge deal, but it does mean I don't put a lot of stake in the idea that Cornell has the fewest losses.
This does feel like the deepest offense we've seen from the Big Red in recent memory, especially as the season progressed. We knew what Kristin O'Neill was capable of, and we knew there would be some offensive support from Micah Zandee-Hart and Jaime Bourbonnais, but Maddie Mills actually leads the team with 16 goals and 21 assists. Twelve players on the Big Red have double-digit points, and the team has gotten contributions from Grace Graham, Pippy Gerace, Lenka Serdar, and Paige Lewis. That depth on the line chart is a big part of why they've been so difficult to defeat. They've also got nearly a two-goal difference in between what they're scoring and allowing per game, which definitely helps in winning games. They've got one of the toughest opening round draws for any top seed, with Rensselaer visiting, so I think we'll learn a bit more about how they're going to fare by the end of next weekend.
I've been saying for a few weeks that it feels like no one wants to win the CHA, but Robert Morris may have made the definitive move into first. They've got a three-point lead on Mercyhurst heading into the CHA's final regular season weekend. Robert Morris plays at Syracuse, while Mercyhurst hosts RIT. Do we think the Colonials can pull it out, or will they fall prey to the last weekend foibles that befell Wisconsin and Princeton?
Arlan: With the way that the CHA race has unfolded of late, I'm going to take that three-point lead every time. Syracuse has actually been very strong on the road, getting sweeps in three of their previous four trips in the CHA, and that's why the Orange are still in the hunt and tied with Mercyhurst. The one exception was RIT, where the two games were separated by more than a month, and the Tigers won both. Syracuse is also on its best roll of the season, going 6-2-2 over its last 10 conference games, so if anyone could pull this off, it would be the Orange.
The Colonials survived their four-game winless streak, broken by Saturday's 4-1 triumph over the Lakers. If they were going to lose the league crown, I think that is the game where they'd have let it slip away. At one point, the Colonials looked poised to do just that. After taking an early lead, they committed an astounding 31 minutes of penalties over a stretch of less than 28 minutes of game action. That is not how championships are typically won, but the key sequence came while killing the most costly of those penalties. Just after a successful kill early in the second stanza, defenseman Kirsten Welsh was given the boot and a five-minute major for contact to the head. Emma Nuutinen took advantage and tied the score in the first minute of the resulting power play. Mercyhurst had all the momentum and looked poised to complete the series sweep after winning on Friday.
This time of year is all about unexpected contributions, and Emilie Harley provided a huge one — or three. Given that she had set up Lexi Templeman's opening goal, it's likely more than that. While backchecking on the penalty kill just over a minute after the tying goal, Harley forced a turnover, joined Sarah Quaranta on the rush, and went to the net. Quaranta's attempt bounced off of Harley's skate and into the net; not the prettiest goal you'll ever see, but it looked sweet to the Colonials. Harley pushed the lead to 3-1 midway through the final frame when she buried a rebound while stationed in front of the crease on a power play. Harley completed her natural hat trick with a sequence that was all about desire. Templeman lost her stick while Mercyhurst had an extra attacker on the ice, so she slid skates first onto a loose puck to get it out of her defensive zone. Harley won a race to the puck at center ice and pushed it ahead with one hand on her stick, and then she won another race to corral the puck before it reached the end boards and tuck it into the empty net.
Robert Morris also got an unexpected contribution from freshman goalie Arielle DeSmet. Making just her fifth start, she made 25 stops while yielding the lone tally. I'm not sure that Paul Colontino wanted to turn to an inexperienced keeper in the biggest game of the season to that point, but he didn't have much choice after the Lakers got to usual starter Lauren Bailey for five goals on 22 shots on Friday.
What that means in terms of who will be in RMU's net next weekend, I don't know. Maybe Colontino comes back with DeSmet on Friday, and if she falters, he can turn to Bailey on Senior Day.
Syracuse had some doubts as well this past weekend versus Lindenwood. Ady Cohen got the start on Friday, and through 40 minutes, she'd allowed four goals on only 13 shots, as her team trailed, 4-2. Syracuse took advantage of some gaffes by the Lions to rally, as they committed a penalty in the opening minute of the third period and followed it up with a senseless slash 28 seconds later. Lindsay Eastwood scored on the resulting five-on-three power play, and Emma Polaksi tied it up on the subsequent five-on-four advantage. The Orange kept working the puck down below the goal line, and then looked to the back door, but Lindenwood's penalty killers failed to recognize the strategy and adjust to it. Abby Moloughney was awarded a penalty shot in the opening minute of overtime, and she made it count. Maddi Welch was in goal on Saturday as Syracuse cruised to an easy win, but while the Orange have been hot of late, their goalies all have sub .900 save percentages. That's another reason why I don't think that they are on the verge of a championship-winning sweep of Robert Morris.
Hockey East was the one league where the season champ was already decided prior to last weekend. What do you expect to see in that conference's quarterfinal round?
Nicole: The Hockey East tournament was the most volatile one last year, with seven seed UConn defeating one seed BC in the semifinal and four seed Northeastern winning it all. I'm not sure we'll see that kind of upset this year. I do think Merrimack has more than a fighting chance to take down Providence and even make it to the championship round. The Warriors have held their own for much of the season and definitely should not be overlooked.
Boston University is essentially playing for their lives. An NCAA berth is still within their grasp, but they really need to make the title game, if not win it all, to earn the autobid. I never underestimate desperation. They'll have nothing to lose, and that can make you reckless, but oftentimes, that can pay off. None of the top four teams made it through the final few weeks without some stumbles, so it's clear that no one is immune and they all have vulnerabilities. We talked a few weeks ago about if a team like Northeastern, that's led mostly by rookies, could withstand the pressure and grind of the playoff stretch, and we're about to see how that plays out.
I'd be tempted to pick more upsets in a one-and-done format, but I do think that over the course of three games, teams like BC wear their opponent down, and that's when they're the most difficult to beat. Other than Merrimack having a very real threat to overtake Providence, I think we'll probably see the higher seeded teams advance out of this quarterfinal round.
What about in the WCHA? Are you predicting any upsets in that tournament's quarterfinal? I would have been willing to at least talk about the possibility had Mankato been the team heading to Madison. With their troubles scoring, I don't think the Badgers would have looked forward to facing Abigail Levy. I'm not sure any team relishes that matchup, and it'll be interesting to see how the Mavericks fare in Columbus.
Arlan: The Mavericks at Buckeyes series is interesting in that both teams primarily played their freshman goaltenders in the first half, and as January moved along, both Levy and Brändli seemed to hit a bit of a wall. Recently, they've discovered a second wind, although Minnesota Duluth did score eight goals off Levy in two ties this weekend. MSU upsetting Ohio State is in the realm of possibility; the Mavericks won one of the games in Mankato and forced OT in Columbus, but as you said in Hockey East, the best-of-three makes it very hard for the underdog team to advance, so I don't see it happening.
As for St. Cloud State in Madison, maybe the Huskies can keep one of the games close for a while. Janine Alder has been better at thwarting the Badgers so far this year, but Emma Polusny is also capable of making 50 saves or more and getting in shooters' heads. As for winning a game, much less advancing, no. SCSU can't score enough to worry an angry bunch of Badgers.
Ever since Jim Scanlan arrived in Bemidji, much of the drama in the WCHA quarterfinals has involved the Beavers. Three of the previous four years, they've gone up against UMD, and the host team has yet to advance. On paper, it looks like that should change this year, with the Bulldogs having Maddie Rooney in net. Lauren Bench has played about 60 percent of the minutes for BSU and stops around 91 percent of the shots that she faces. However, great as she can be, Rooney only had a .918 save percentage herself, playing behind a blue line that skates plenty of newcomers. If Rooney becomes a wall, then sure, UMD will advance. It isn't likely to be easy, though, because the Beavers will block shots and contest everything. I'm tempted to drive to Duluth to watch at least one of the games, but it will likely be snowing, or there will be sub-zero temps, or both. I'm quickly growing tired of this winter, so I'll probably just stay home and attempt to watch several Eastern games simultaneously while listening to the Bulldogs and Beavers. What do you expect to transpire in that series, and which team do you see as more likely to knock off top-seeded Minnesota if it advances?
Nicole: It's felt like we're in this condensed winter here in the Midwest where we're getting a few months' worth of cold and snow in six or so weeks, and that's something I'm really over. It's a bit relentless, and it puts a damper on my desire to travel for hockey as well. I'm already dreading my drive to Minneapolis in two weeks for the WCHA tournament.
I've heard more than one person say that they don't have a lot of hope when their team goes down to Bemidji because their style is so difficult to break down and get through. They're so good at being in front of the net and clogging up spaces. They block a ton of shots and are pesky with their sticks, so it's hard to get to the net and when they go up a point, they can double down on that and not even have to focus on offense much at all. Coming from behind on them is nearly impossible, and the fight can be really difficult and demoralizing for the opposing team.
I think I'm leaning toward thinking the Beavers will take that series and extend the visiting-team-wins tradition another year. Bemidji feels like they've got a bit more fight in them and you mentioned the lack of experience in front of Rooney that's not done her any favors this year. I do think jumping out to an early lead will be a key to winning, so whichever squad can shake off nerves and find their footing first probably has the better chance to win. I really liked the fight I saw from BSU against the Gophers last weekend. They nearly came back to create even more chaos on Saturday. I am also probably leaning toward the Beavers because I think they have the best shot of challenging one of the higher seeds in the Final Faceoff.
You mentioned Ohio State being possibly vulnerable to Minnesota State, and I think the Buckeyes are both the team most likely to take down Minnesota or Wisconsin and the team most likely to have an early exit to a low seed. Their play has been volatile at times. Obviously if they have an outing like they did this past weekend in Madison, they're going to cause fits, but I also don't think you can count on being outshot that much and coming out on top. They weathered a heck of a storm and got some results they were happy with, but they had virtually no offense in either of the games. They let the Badgers control possession and the puck for most of both games and took advantage of a couple of rushes and power plays to even it up. They have some talented goal scorers, both on offense and on the blue line, and if they're going to make any sort of run, they have to be able to lean on them, hold on to the puck, and create opportunities as opposed to only taking advantage of the ones that come to them. Their play this past weekend was in many ways passive, and that's not sustainable long term.
We touched on the ECAC a bit at the top, but as long as we're talking about possible upsets, let's look at their tournament. Cornell pulls a tough opening draw with RPI, where we know Lovisa Selander can herself steal games. Clarkson has Quinnipiac, a matchup that's traditionally been a rivalry type game where most anything can happen. The Golden Knights beat the Bobcats by one and then tied them to end the season. The teams are probably closer than the 2-7 match up implies. Harvard has improved a lot as the season went on, and Lindsay Reed is another goalie who could cause havoc. Do you see any first-round upsets happening there? What about in the next round?
Arlan: There's a bit of history in that Harvard at Colgate series as well, as it will be the third time in four years that the Crimson head to Hamilton. The first two trips didn't go all that well for Katey Stone and her crew. So is it a case of the Raiders owning Harvard? Should we think that its payback time, and Reed, who wasn't even around for the previous two playoff series, will restore some order to the ECAC hierarchy? Maybe the better team has just won the first two times and will do so again. I don't know. I could do a deep dive here and try to analyze whose third line is more likely to score after a neutral-zone draw in the last five minutes of the second period, but I don't think it comes down to that. If the Raiders are fully engaged, they'll win. They don't tend to always be focused, but they do tend to bring their best against the Crimson. So I'll say I'm 70 percent on Colgate advancing.
As far as RPI goes, I think that it drew a bad matchup in getting Cornell. The Big Red outscored the Engineers 13-2 in the season series, both games taking place in February. I don't think that anything has changed.
Quinnipiac is difficult to play. Not as difficult as the Bobcats were three years ago when the two teams traded 1-0 verdicts in the ECAC Championship and the NCAA quarterfinals, but they'll still make life difficult for Clarkson. Difficult, but not impossible. They don't have enough offense to win the series, and Clarkson is going to advance.
That leave St. Lawrence at Princeton. Back in January, this would have been open and shut, Princeton all the way. Now, I don't know where the Tigers are heading. Will they be able to hit a reset button? That's usually something that veteran teams do. Less experienced teams hit a different button, that coincidentally also begins with a "P." The safest bet is to say that we'll see some overtime, as we did when these teams met in Princeton to open the month. The Saints knocked off Princeton in OT of game 3 in the same round in 2016, a season in which SLU played beyond regulation eight times. That was nothing. The Saints have already needed bonus hockey 14 times this season, including eight of their last 13 contests. So if it is tied after 60 minutes, who do you think will feel more comfortable: the underdog who plays overtime as often as it practices, or the slumping higher seed who doesn't have a lot of postseason success? If the Tigers want to advance, they'd better get off to fast starts, and that's why it's key they don't allow any of those first-shift goals.
Looking elsewhere, the Patty Kazmaier top 10 was announced last week. Did anything there stand out to you? Lastly, as this is our last time sharing this column, how do you see that, or anything else that we've discussed for the last four months, unfolding?
Nicole: I was surprised to see the voters honor Selander, but glad that they did. She's put together an amazing career with the Engineers and has been basically the reason they're in the position they are this season. It's a bit of a lifetime achievement nod, but there was not really another goalie I'd have put on the list for this specific season, so I like the inclusion.I still believe that Grace Zumwinkle is the best player on Minnesota. I know Nicole Schammel has the higher stats, but I think watching the Gophers play, Zumwinkle is the bigger impact player. I understand that few people take the time to watch as many games as I do, but choosing Schammel over Zumwinkle reminded me that most people are picking based on facts on paper, which is a shame, to some extent.
I'm not on the Patty committee this year, but if I were, my vote would be for Megan Keller. I don't know how other people decide who they vote for, but for me, I'm looking for a player that has a season for the ages, a season that will stick out in our minds in the years to come as having been special, a season that makes me feel privileged to have watched it. For me, none of the offensive players on the list really fill that criteria. I could write an article with convincing evidence for each of them, but I don't think there's a lot to separate one of the forwards and say, "This is the player that should win above all the others." Loren Gabel and Elizabeth Giguère are practically interchangeable. They've both had amazing seasons, but to choose one over the other right now seems silly and arbitrary, and that's why I wouldn't do it. With so little separating them from each other as well as from the others, it seems odd to choose one person of this incredibly close and similar group and say their one more point or goal or assist makes them the MVP.
I also think Keller has had one of the most dominant seasons from a blueliner in more than a decade. Every player on her team points to her as a role model and leader and a big reason for the Eagles' resurgence as a contender here at the end of the season. She's set numerous school and conference records, and she meets my personal test of being a player I'll remember details about as the years pass. That's just my two cents and my personal philosophy when trying to sort through the piles of information we have on each player.
You've served on the committee in the past. Did you have any guiding principles when trying to choose the winner?
Despite the true craziness of this season, I've been looking at who we have left and who's likely to get NCAA bids and I feel like we may see the top four seeds end up in the Frozen Four, which would a very interesting side conversation that we'll have to leave for another time. I'll put you on the spot. Looking at the likely matchups, do you see anyone other than Minnesota, Wisconsin, Northeastern, and Cornell in Hamden in a few weeks?
Arlan: My guiding principles as a Kazmaier voter? I tried to consider the input of others on the committee, especially those who had watched players that I hadn't seen, and be as fair as I could to each player that we were considering. How do you compare a franchise goaltender on an offensively challenged team like RPI to a dynamic forward for the two-time defending champions? Not only have they been dealt different hands, they're essentially playing different games.
I agree that Selander belongs in the top 10. I don't know that she can progress farther, but if the Engineers shock Cornell, then we'll have to reconsider that.
As for Schammel or Zumwinkle, you don't have to convince me of the merits of the latter, as I get to watch her play frequently. The question isn't who is Minnesota's best player, and if it was, the answer just might be Taylor Heise. She's been almost as productive, despite often skating on lines of leftover parts, although those leftovers usually have national-team experience. Anyway, Schammel isn't less than Zumwinkle; she's just a different type of player. She doesn't have Zumwinkle's size, strength, or shot velocity. What she lacks in power, she makes up in finesse. Her shot is accurate, she releases it quickly, and she possesses great hands and creative moves to make space to shoot.
Do I think Keller belongs in the top three? Yes, but I wouldn't say her season thus far has surpassed the other defensemen in the last decade. I watched Megan Bozek's 57-point season that got her into the final three in 2013. Keller will likely exceed Bozek's 20 goals, but she'd need to crank out a plus-25 postseason to match her plus-61. That same year, Monique Lamoureux recorded 65 points. It's true that she played forward some of the time that season, but anyone who has watched Keller knows that she spends a lot of her time up ice with the forwards. In order to find her season to be the best in the country, I'd have to conclude that she's had to overcome a handicap of being forced to concentrate on defense, and I haven't seen that.
In my mind, it comes down to Gabel and Giguère, who like Schammel and Zumwinkle skate on the same line but play very different styles. I don't see a reason to penalize them because they are teammates. Daryl Watts won last year even though Caitrin Lonergan had a great season. Brianna Decker had Hilary Knight as a teammate, and Megan Duggan played with both of them. As voters, we have to sort it out somehow, imperfect though it may be. I've seen others who favor Gabel, but every time I watch the Golden Knights, Giguère is making a play to get her the puck in a scoring area, the type of play that few in the country can execute. Giguère is the player I'll remember, and those memories started during last year's NCAA tournament.
If I was forced to name four teams that I could most see at the Frozen Four, I'd probably stick with the four I'd have named to start the season: Wisconsin, Minnesota, BC, and Clarkson. Messed up as though they can be, would you doubt that the Eagles can knock off either Northeastern or Cornell in a quarterfinal? It's been a long time since anybody beat Clarkson in March. Even though we both named the Badgers and Gophers, both went into Saturday knowing a win would earn them at least a share of a conference title … and promptly gave up a goal in the opening minute. Minnesota is yielding more than two goals per game in 2019, when it has yet to post a shutout.
As for Wisconsin, I don't have any wisdom for your earlier question about what the ties with the Buckeyes mean for their postseason, but I don't see it changing much. If the Badgers advance farther than Minnesota, they'll be the top seed, and that's about how it was going to play out in any case.