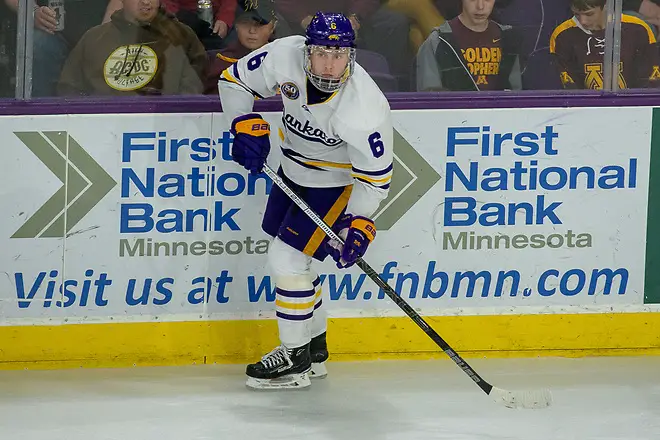 Just because Minnesota State clinched the WCHA regular-season title with three games to spare doesn't mean there's not a whole lot for everyone else in the league to play for.
With one week left in the regular season, seven of the 10 league schools will still be battling for something, be it home ice, playoff positioning or even just a spot in the conference tournament to begin with.
"Any time you're playing with a lot on the line, that's what it's all about," Ferris State head coach Bob Daniels said. "The guys are fired up about it. We look forward to the competition this weekend."
The Bulldogs find themselves in a strange position this season. Instead of playing for the league title, or home ice, as has been the case in recent years, Ferris is instead fighting to extend its season another week. The Bulldogs are currently in ninth place — four points behind eighth place Alabama Huntsville for the eighth and final playoff spot.
"We're used to playing with a lot on the line," Daniels said. "The difference this year is normally we're fighting for home ice in the playoffs. This is one of the first times in a long time that we find ourselves on the opposite end of the standings and fighting to get into the playoffs. We're playing our best hockey at the right time, though, but we have a tall task ahead of us."
The Bulldogs head to Sault Ste. Marie, Mich., this weekend to take on a Lake Superior State team who also has lots to play for. The Lakers, currently in fourth place in the league standings, could potentially finish second, but they could also finish as low as sixth. The Lakers haven't hosted a first round playoff series since 2013 — way back in the last days of the CCHA.
"We still have a lot to play for against Ferris State," Whitten said. "Fortunately, we've had such a strong season that we're in a good position standings-wise to continue to control our own destiny and host that home-ice playoff series."
Coming into the weekend, Bowling Green is in control of second place with 52 points. Northern Michigan is third with 50 and Lake Superior is fourth with 47. Any one of those teams could still finish second depending on how the weekend plays out.
Because the Falcons took five points from Bemidji State last weekend and Northern Michigan swept Lake Superior, BGSU controls its own destiny when it comes to second place. The Falcons, who are guaranteed home ice regardless, take on Alabama Huntsville at home this weekend.
"Going into last weekend, the idea was to stay in second, somehow, some way, even if that was being tied, but we did better than that — we came out in second place on our own," BGSU coach Chris Bergeron said. "We don't have to worry about tiebreakers, and we control our own destiny as far as second place is concerned. That's where we want to be. The last two weekends going in we were tied for second with teams that had the tiebreaker because of league wins, but now that's not the case. The opportunity is ours, now it's all about what we do with that opportunity."
While fifth-place Bemidji State (45 points) and sixth-place Michigan Tech (43 points) are both currently out of the top four, they're each still in contention for the fourth and final home ice slot.
The Beavers take on Minnesota State in Mankato this weekend while the Huskies take on UP rivals Northern Michigan in a home-and-home.
"It's one of those series that they're not playing for much, but we are. We need win some games and get some help, but the bottom line is we all want to be playing good hockey going into the next weekend," Beavers head coach Tom Serratore said. "It's a big series with an instate rival. The guys know what's at stake and their guys do too."
The Mavericks won't have to be playing for conference playoff seeding but they might very well be playing for NCAA tournament seeding. Currently No. 5 in the Pairwise rankings, Minnesota State would love to string together a few wins and make sure they have a top seed for the national tournament.
That leaves the two Alaska schools. At first glance, there might not be much for either team to play for: The Nanooks are guaranteed the No. 7 slot in the conference tournament and will hit the road for their first-round playoff matchup at a rink to be determined next week. The Seawolves, meanwhile, were eliminated from playoff contention last week and will finish in 10th place no matter what.
However, they play each other in what should be a hard-hitting and intense Governors' Cup rivalry matchup in Anchorage. The Seawolves haven't won the trophy since the 2008-09 season; the Nanooks have won 10 consecutive trophies (although three were forfeited).