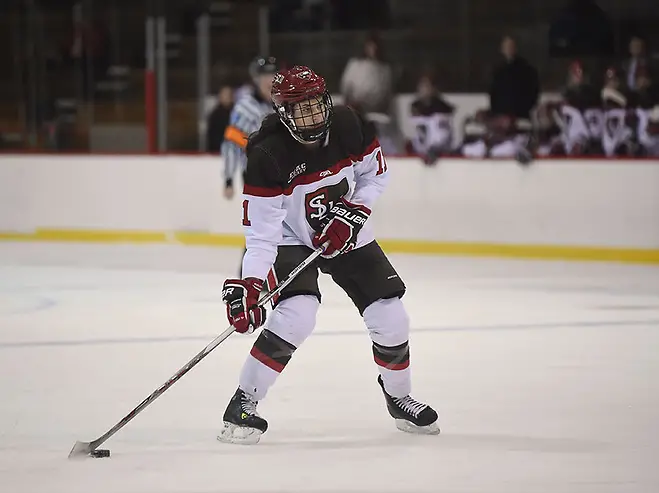 Wow, that final weekend had a lot of ties. I gained one more game on Nicole in our season picks race, going 15-3-11 (.706), while Nicole was 14-4-11 (.672). On the year, I am 313-110-62 (.709), while Nicole is 294-129-62 (.670). The playoffs start this weekend, though we have one more regular season weekend in the CHA.
Friday-Saturday, March 1-2
Penn State at Lindenwood
Candace: I assume a split, as Lindenwood has home ice. Penn State 2-1, Lindenwood 2-1
Nicole: I think these two will split. I'll take Penn State in game one. Penn State 3-0, Lindenwood 2-1
RIT at Mercyhurst
Candace: I'm going with the Lakers to sweep and put pressure on Robert Morris. Mercyhurst 3-2, 3-1
Nicole: I expect these two to split, as well. RIT 2-0, Mercyhurst 1-0
Syracuse at Robert Morris
Candace: I think this might be a split, but am going with Robert Morris to sweep. Robert Morris 3-2, 3-2
Nicole: My gut says the Orange are going to sweep this. Syracuse 3-1, 2-1
PLAYOFFS
ECAC
Rensselaer at No. 4 Cornell
Candace: The Big Red should sweep, even if RPI will make scoring difficult. Cornell 2-1, 2-1
Nicole: I'd love to see RPI get at least one, but based on their two games against Cornell already this season, I think the Big Red take it in two. Cornell 4-1, 3-1
Quinnipiac at No. 5 Clarkson
Candace: It's March, and Clarkson is a different team. Clarkson 3-1, 3-1
Nicole: I both think Quinnipiac could pull an upset and think you don't pick against Clarkson in March, so I'll take the Golden Knights in three games. They win games one and three. Clarkson 4-2, Quinnipiac 2-1, Clarkson 2-0
St. Lawrence at No. 7 Princeton
Candace: I'm going with Princeton in three games, though it could just as easily go the other way. Princeton 3-2, St. Lawrence 3-2, Princeton 4-2
Nicole: This is probably the closest of the quarterfinal matches, and it's a toss-up as far as I'm concerned. I'll give Princeton the benefit of the doubt, especially since they got a wake-up call last weekend, but I do think it'll take three games. Princeton 3-2, St. Lawrence 2-1, Princeton 3-1
Harvard at No. 9 Colgate
Candace: Harvard is tough to score on, but the Raiders look like they are rolling. Colgate 4-1, 4-2
Nicole: Colgate won both regular-season meetings, so I think they have this one in two games. Colgate 1-0, 3-2
Hockey East
Vermont at 3 Northeastern
Candace: Vermont is happy to be playing, but it won't be enough. Northeastern 3-1, 3-1
Nicole: I expect Northeastern to sweep. Northeastern 2-0, 3-1
Connecticut at No. 6 Boston College
Candace: The Eagles are much better at home and should sweep. Boston College 4-2, 4-2
Nicole: Boston College sweeps. Boston College 4-2, 2-0.
New Hampshire at No. 8 Boston University
Candace: I have to think the Terriers sweep, though at least one game will be close. Boston University 3-1, 3-2
Nicole: BU sweeps. Boston University 3-1, 2-1
Merrimack at Providence
Candace: I think home ice will make the difference, probably in three games. Providence 3-2, Merrimack 3-2, Providence 4-2
Nicole: I'm going to take Merrimack in three. Providence wins game one. Providence 3-2, Merrimack 2-1, 4-3
WCHA
St. Cloud State at No. 2 Wisconsin
Candace: This is pretty close to being a sure bet. Wisconsin 3-1, 3-1
Nicole: The Badgers should sweep. Wisconsin 4-1, 3-1
Minnesota State at No. 10 Ohio State
Candace: Minnesota State will make it close, but Ohio State should sweep. Ohio State 3-2, 3-1
Nicole: I think the Mavericks take one, but Ohio State ultimately wins. Ohio State in game one. Ohio State 3-2, Minnesota State 2-1, Ohio State 4-2
Bemidji State at Minnesota Duluth
Candace: This one is a toss-up, likely to go three games. I think the Beavers continue the road team streak. Minnesota Duluth 3-2, Bemidji State 3-2, 3-2
Nicole: This is the other close pairing this week. The visiting team has won most of these recent quarterfinal meeting with these two, but I think we buck that trend here. I'm going with UMD's offense here in three games. Minnesota Duluth 3-1, Bemidji State 2-0, Minnesota Duluth 3-2