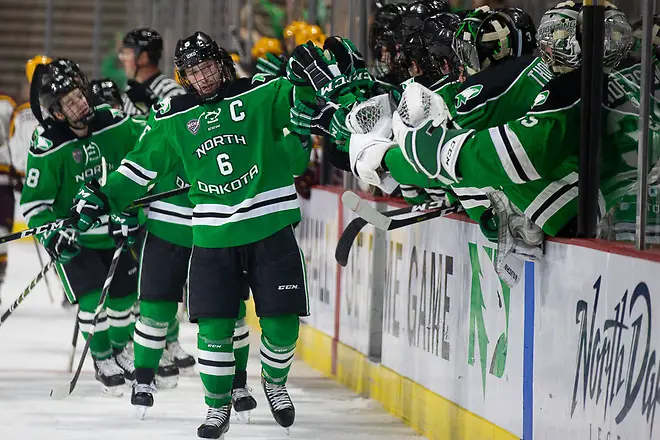 The NCHC is now in its sixth year as a conference.
The Frozen Faceoff is the league's annual tournament, and last year it moved to the Xcel Energy Center in St. Paul, Minn., after spending its first four years in the Target Center in Minneapolis.
Regardless of the location, there has been one constant: Denver and North Dakota have been in the Frozen Faceoff every year.
Until this year.
Until Denver was swept by rival Colorado College on the final weekend of the season, that possibility was in play, but that sweep meant Denver finished fourth in the regular-season standings, and as such will host North Dakota this weekend at Magness Arena for the best-of-three first round.
"Yeah, that's an interesting point," said North Dakota coach Brad Berry. "Obviously, that tells you how tough the NCHC is each and every year. It's not a given that you're going to get there every year. But saying that, that's the beauty of our league. It makes you better. The last three years, the national champion came out of our league, and that's what makes it a great developmental league.
"We feel we're playing our best hockey right now, and we feel whether it's home or on the road, we're going to bring it, and it'll be a great weekend. Two good teams will be facing off against each other on the ice."
North Dakota is currently on a three-game win streak after sweeping Omaha on the final weekend of the regular season. The Hawks have been up and down for most of the season. After a five-game win streak in late October to early November, North Dakota only managed to win more than two in a row twice the rest of the season.
However, Berry feels is team is on an upswing, something they will need if they want to make the NCAA tournament. Currently 18th in the PairWise, North Dakota likely needs to win the Frozen Faceoff to make the NCAA tournament.
"Well, we're building momentum here," Berry said. "Things haven't come easy in the fact that putting sweeps together this year is difficult, but our guys have been playing consistently over the course of a year here, and I think we're finally getting rewarded for it a little bit. It seems like a different night somebody different is stepping up scoring a goal or making a play to get us that win.
"We're finally getting healthy here, too. We have everybody available except for Adam Scheel here. That's another thing that we've never had through the course of the year. I think there are a lot of things going on as far as trying to get some consistency in our game right now."
As for Denver, one of its struggles in the second half has been producing consistent offense. That was borne out in the CC series, where the Pioneers scored one goal in the two games. In fact, after a 4-4 tie with CC on Jan. 19, Denver scored more than one goal only five times in its last 13 games. The impressive thing is that Denver still managed to go 5-6-1 in that span, including winning two games 1-0.
"I think ultimately would we like to be scoring more goals? Yeah, we would," said Denver coach David Carle. "I don't think it's for lack of trying. Do I think we can get into dirty ice more? We've shown a lot of that in video, and we've been working on that, just trying to simplify our game a little bit with the puck offensively to try and create second- and third-chance opportunities for ourselves.
"I wouldn't say our guys are gripping their sticks. Would we like to be scoring more? Yeah, but we understand that it's something that every team has to work through at different times, and we're working through that."
Denver and North Dakota played each other four times this season. Denver won twice, once in OT, and they also tied once, a game that Denver won in the three-on-three overtime. In the first weekend of February in a series hosted by Denver, DU won the first game, 2-1, while the second game was a 1-1 tie.
"Every time we play them it's tight-checking hockey, it's good hockey," said Carle. "It's up and down the ice. We expect another battle here this weekend, and it's going to be a classic Denver-North Dakota series."
Before the Omaha series, North Dakota got senior Nick Jones back in the lineup. He had missed four games, but immediately had an impact, notching three points in the series, including scoring the game-winner in Friday's game.
"He is a very important part of our team in all facets, specialty teams and five-on-five play," said Berry. "He plays heavy minutes for us. He is a leader in our locker room. We've only had him two years here; he was a transfer. He's a senior this year, and he has been in and out of our lineup this year due to injuries, and he knows that this is his last kick at it here going forward. We're in the playoffs now, so he's throwing everything on the table."
While Denver has had offensive struggles, it has benefitted from the play of its two goalies, Filip Larsson, who was just named to the NCHC All-Rookie Team, and Devin Cooley.
Carle hasn't decided who will play in the first game, or whether one goalie will play all the games or if he will platoon them, as he has for most of the year.
"Both kids have continued to play well, so I think both have earned the right to be in the net," said Carle. "Both we feel give us a really good chance to win, and we're really proud of both of them. They both battled their own set of adversity this year with injuries and whatnot. So, arguably, it's been our most consistent position all year long."
When asked about getting different results than the February trip, Berry counters that his team just needs to keep moving in the direction it has been.
"I think the biggest thing for us is doing what we're doing right now, and that's getting contributions from everybody. We're a four-line team with six defensemen that play with shared minutes. That's how we win games. It's not going to be any one guy that's going to win it for us. They have two very good goaltenders, but we do too. Adam Scheel had a very good body of work, and now Peter Thome has come in after not playing for a while and has solidified himself in net too, so very comparable teams."
Unlike some places that have struggled with attendance in the postseason, Denver usually does pretty well. That will be magnified in a series with North Dakota, which has a lot of transplants in the area and also travels well.
"It'll be interesting because typically when they're here they do get quite a few green people in the building," said Carle. "I don't know; it'll be interesting to see what happens. Like last year, we played CC in the first round, and we drew I think over 4,500 all three nights, and that's pretty good for a playoff weekend for most places because it's not included in season ticket packages; everything is walkup. We'll see what to expect. I really have no idea.
"I would hope that it's going to be sold-out games with the rivalry and everything that's on the line."