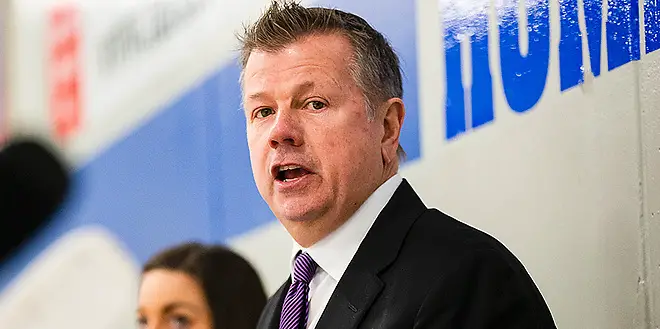 For leading his team into the women's Division III semifinals with a 25-1-2 record, Tom Palkowski of St. Thomas has been chosen as the 2019 CCM/AHCA Women's Division III Coach of the Year.
It is the first such honor for Palkowski, St. Thomas and the MIAC.
Palkowski was assisted this season by Kristi King, Marty Sertich and Drew Fielding.
This was a record-setting season for St. Thomas, who earned a No. 1 in the country ranking for the first time and also won 25 games for the first time. The Tommies played near-perfect hockey in the MIAC tournament, starting with a 4-0 win over Gustavus Adolphus in the semifinals before sealing the title with the 2-0 blanking of Hamline.
Palkowski is completing his 12th season at the helm of the Tommies and his 31st overall as a hockey coach. Prior to succeeding Kevin Gorg as St. Thomas head coach, he served two decades as an assistant coach at both the high school and collegiate levels, his last assisting role being with Gorg.
His career record with one weekend left in this dream season is 202-85-36 (.681).
A native of Columbia Heights, Minn., Palkowski played one year of college hockey at Illinois-Chicago before completing three seasons at St. Thomas.
Despite only playing three full seasons, Palkowski totaled 168 points (71-97), still good for seventh on the school's all-time scoring list.
The runner-up for this year's award is Williams' Meghan Gillis.