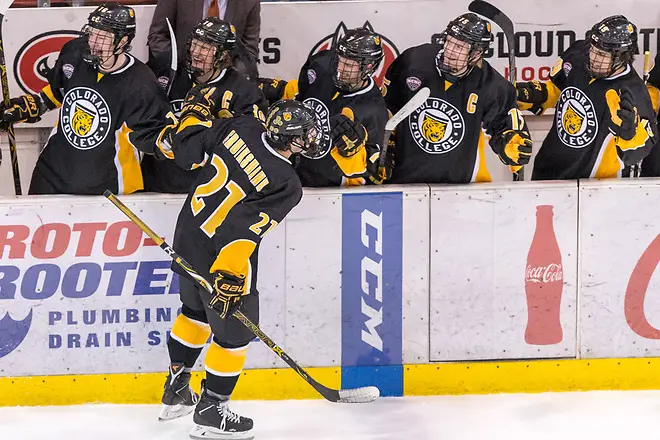 Until the last two years, it was a given that Colorado College was the perennial cellar dweller in the NCHC.
The Tigers' highest finish ever had been seventh, but last year they started to put it all together, and finished in a three-way tie for fifth place, but got the seventh seed in the first round of the playoffs. However, it was not enough to get the Tigers to advance in the postseason, as they fell to Denver in the first round.
This year, CC did make it through, defeating Western Michigan 3-2 on Monday in the third game of a best-of-three first-round NCHC playoff series. Alex Leclerc made 32 saves in the win, sending the Tigers on for their first-ever NCHC Frozen Faceoff. This came on the heels of the team's highest seeded finish in the league's young history (sixth),
"In this conference, which we believe is the best conference in all of college hockey, it's not an easy task to get here," said CC coach Mike Haviland. "So, to be down to your final four, to have a chance to win the championship, is something special. It's an honor for us to be there."
When leading scorer Nick Halloran got injured in January and was lost for the season, few would have thought CC would be in the position it is now, but the Tigers persevered and started getting scoring from deep in the lineup.
"It's tough to lose a player of that caliber," said CC senior captain Mason Bergh. "You can't replace a talent like [Halloran]. And additionally Chris Wilkie, who we ended up losing, too. It's our entire next-man-up mentality. Everyone is willing to jump in and step in the lineup and do what it takes to help the team get a win. Seeing a couple of your top players go down is never easy, but I think the guys have responded pretty well."
After opening with a 2-1 win Saturday (the series was delayed due to weather-caused travel issues), CC lost the second game 5-2. Given that Lawson Arena is a notoriously difficult place to play, Haviland and the coaches focused on resetting for the final game of the series.
"We made a couple of different adjustments with things through the neutral zone," said Haviland. "We talked about we've been here all year. The second half was a lot of close games, and we started to win them. We understood how big the game was. We didn't put a lot of pressure on ourselves."
With Halloran out and scoring at a premium, defense has been a big part of CC's resurgence.
Nine of CC's last 12 games have been decided by a goal. Those are the types of games that teams play in the postseason, and a good defense is important for success.
One player who has stepped up for the Tigers is freshman defenseman Bryan Yoon, who is fourth on the team in scoring with 24 points. Yoon assisted on what turned out to be the series-winning goal against Western Michigan.
"Bryan from Day 1 has been outstanding," said Haviland. "There really hasn't been that big curve as a freshman. He's got great poise and confidence in his game. He's a major part of our back end. He made a great play on that third goal — it was some pass."
Of course, in addition to the defenders, CC has Leclerc in net, who has been bedeviling opposing offenses, especially down the stretch.
Leclerc has a 2.55 GAA and a .919 save percentage. In nine of CC's last 12 games, Leclerc has held the opposing team to two or fewer goals, posting one shutout in the process. He also had four games in which he only gave up a single goal.
"He's been outstanding," said Haviland. "'Clarkie' gives you a chance to win every night, and I think he's really in the zone and focused. When you get into these one-game win or lose scenarios, a goaltender can win the games. We're going to make mistakes; every team does. I think Clarkie's there [and] when he needs to be, he can make those saves."
Headed into the postseason, CC had reason for confidence. On the last weekend of the season, CC swept arch-rival Denver, winning 2-1 and 1-0, and in the process the Tigers regained the Gold Pan trophy for the first time since 2013.
"I think that's a big series; it's always circled on our calendar," said Bergh. "Just talking about our career, specifically the senior class, started not so well against Denver, it's fun to be able to win that Gold Pan on home ice in front of our fans. We took that as a major confidence boost and learned from that and how we played that weekend. I thought we showed that desire and compete level this weekend."
This Friday, CC will take on St. Cloud State in the Frozen Faceoff. The teams played four times this season, with CC going 0-3-1. What makes that record sting all the more is that CC led in every one of those games at the midway point, but couldn't get it done. Bergh says the team has learned from those games.
"I think you can learn from those games," said Bergh. "We kind of went through ups and downs throughout the year with close games not actually going our way. You want to win those games, but you learn from those and figure out how to win. We've kind of been doing that at the right time now."
"You're talking about the best team in the country, and they pretty much have been the entire year," added Haviland. "They deserve it. They are the best team. We've played well against them, and that's a good thing for us in our confidence level."