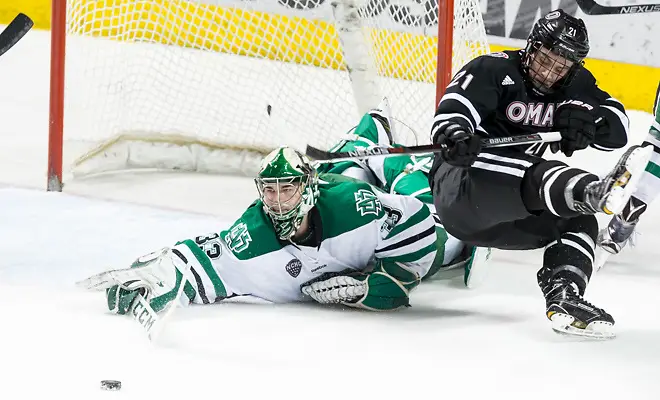 Omaha senior forward Ryan Galt has been selected as the recipient of the NCHC's fourth annual postgraduate scholarship.
Galt, the third straight Maverick to receive the scholarship, carries a 3.65 grade-point average in the School of Business while majoring in banking, finance, investment science and portfolio management. The assistant captain is both a four-time NCHC Academic All-Conference Team member and NCHC Distinguished Scholar-Athlete, while also being named an All-American Scholar by the American Hockey Coaches Association after his junior season.
he is set to graduate with a degree in Business Administration this May.
"NCHC students continue to impress us and perform well in the classroom, in addition to their on-ice commitments, and Ryan Galt is no exception," NCHC commissioner Josh Fenton said in a statement. "We are proud to select Ryan as the conference's postgraduate scholarship winner for 2019, extending Omaha's impressive run of academic success, as he continues his studies in the area of Business Administration."
In addition to his NCHC academic honors, Galt has been a four-year representative for Omaha hockey on Omaha Athletics' Student-Athlete Advisory Committee, as well as on the NCHC's SAAC, in which he was heavily involved in the conference's participation in the Headway Foundation's Concussion Awareness Week.
For his career, Galt played in 115 games for his hometown team, tallying 27 points on eight goals and 19 assists, including a career-high four goals this season. He added four assists for eight points in 35 games in 2018-19, missing only one as a senior.
"I want to thank the coaching staff, our academic advisor, Lindsey Ekwerekwu, my teammates, and especially my parents for all the support throughout my four years at Omaha," Galt added. "Our players strive to better themselves on the ice, in the community and in the classroom every day.
"Thanks, as well, to the committee for providing this award. I'm looking forward to the new opportunities this scholarship will provide in the future."
To be eligible for the postgraduate scholarship, the student-athlete must be a senior on the official NCAA hockey roster with at least a 3.5 cumulative GPA, with plans to continue his academic studies beyond his undergraduate degree. The recipient must enroll in a postgraduate school within three years of receiving the scholarship to collect the financial aid.
The winner is chosen by a vote of the NCHC's faculty athletics representatives from among the nominees submitted by each school's FAR.
PREVIOUS NCHC POSTGRADUATE SCHOLARSHIP WINNERS
2016 – Gabe Levin, Denver
2017 – Aaron Hadley, WMU and Kirk Thompson, Omaha
2018 – Joel Messner, Omaha