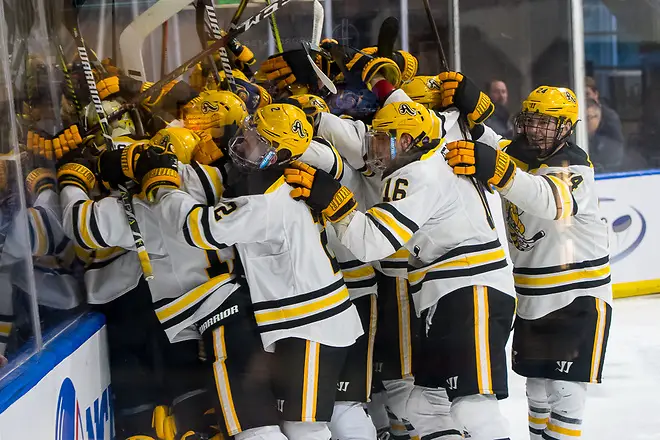 BUFFALO — Survive and advance.
That's the motto in playoff hockey, and it's what top-seeded American International was able to, defeating eighth-seeded Robert Morris 3-2 in overtime on a goal by Blake Christensen just 1:44 into the extra frame.
The Yellow Jackets survived a comeback bid by eight-seeded Robert Morris, which evened the game with an extra-attacker goal by Daniel Mantenuto with 1:05 left in regulation.
"It looked bad for a little bit," said AIC freshman Jan Stefka, whose first collegiate goal staked the Yellow Jackets to a 1-0 lead in the first period. "We were down but regrouped in the locker room and got the win. I'm proud of the boys."
Alex Tonge's 19th goal of the season evened the game at 1-1 late in the first. The senior, playing in his 146th and final game, was able to redirect a feed from Michael Louria over the shoulder of AIC goaltender Zackarias Skog (24 saves).
AIC dominated for stretches of the second period, outshooting Robert Morris 15-9 and scoring the only goal, Joel Kocur's 10th of the season at 17:04. The goal was originally waved off but the call on the ice was reversed after a brief video review.
"(The referees originally) said there was a kicking motion," said RMU coach Derek Schooley. "But (the AIC player) missed the kick, and (Kocur) came in from behind him. I watched (the replay) from a broad view and could see what they were saying, but there was no overhead (replay)."
The goal stood up until late in the third period, when the Colonials staged a comeback. With goaltender Francis Marotte (35 saves) pulled for an extra attacker, Mantentuto was able to collect a loose puck in the slot and beat Skog stick-side to even the score at 2-2.
"In the third period, we managed the game pretty well for 18 minutes and 55 seconds," said AIC coach Eric Lang. "Credit Robert Morris, they seem to do that, and by no means did we think it would be easy."
AIC was able to regroup in the locker room and got the game-winner just 1:44 into overtime on a shot from a tight angle by Christensen, his 16th of the season.
"Shawn McBride tried to do a wrap-around, but it was saved," said Christensen. "Then I tried a wraparound as well and it managed to go in."
"Tough bounce, tough break," said Schooley. "It hurts, it stings. Congrats to AIC."
Lang said his team was able to put the late goal behind it and regroup for overtime.
"It's tough, when a team gets a goal that late on you, and you walk in the room and it's pretty quiet," he said. "But we're a resilient group and champions at times have to battle through adversity. We talked about that we were playing a darn good hockey game. These things happen, and it's not going to be easy."
AIC will try to become the first top seed to win the Atlantic Hockey tournament since Air Force in 2012. The Yellow Jackets are one win away.
"I didn't even know that that was a stat," said Christensen. "That's pretty crazy, but we're not really worried about that. We know what we can do in our locker room. We know that we can come out and play and if we do enough right things, we'll come away with the win."