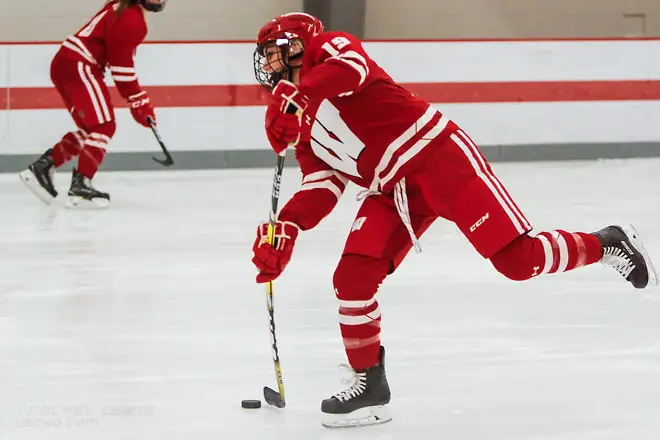 Wisconsin redshirt senior captain Annie Pankowski is standing outside the Badgers locker room, giving an interview to a handful of reporters, when a she gets distracted for a moment and then pauses her answer to lean down and scratch the head of a dog that's now happily wagging its tail and sitting at her feet.
Pankowski gives the dog a quiet command and then stands up to pick up exactly where she left off in giving an answer.
It's a scene that has become familiar around the Wisconsin women's hockey locker room the past few years as Pankowski has become involved with OccuPaws, an International Guide Dog Federation accredited in-home program that trains and places fully trained guide dogs with visually impaired Midwesterners at no charge. She has logged more than 2,000 hours training guide dogs and readying them for a life as a service animal. These days, it's rare to see Pankowski without a dog by her side, so much so that she said her teammates often express disappointment when she shows up at the rink without a four-legged friend.
The daughter of two veterinarians, Pankowski has been around animals her entire life.
Read more on the Hockey Humanitarian Award website.