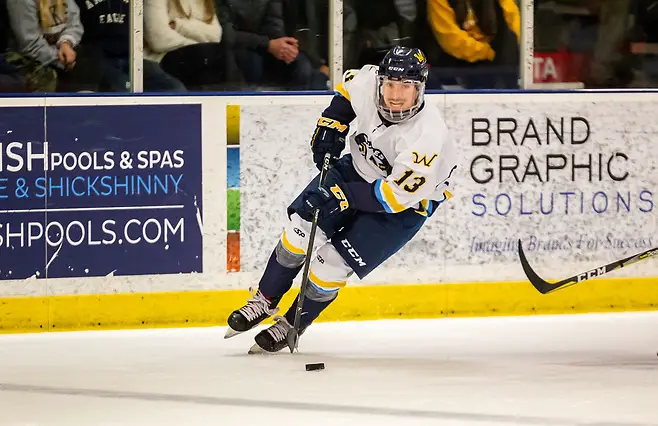 Tyler Barrow from Wilkes University has been named the USCHO D-III Rookie of the Year. During his freshman season, Barrow helped the Colonels to the number-three seed in the UCHC while winning 16 games overall in their first season as an NCAA program. Barrow finished with 13 goals and 23 assists for 36 points and scored seven times on the power play while proving himself invaluable to coach Brett Riley.
"At the beginning of the year, Donny [Flynn] had the very hot start and Tyler didn't adjust as quickly to the college game," said Riley. "Tyler was probably the player who came in with the highest expectations, and we thought it might just take him a little longer. He started catching fire at the midpoint of the season and became a big power-play threat for us, and then that translated into his becoming an offensive threat every time he had puck possession. He had a breakout weekend against Lebanon Valley where his four points in the third period led us back from a 5-1 deficit to a 6-5 win."
Barrow, like his teammate Flynn, was heavily targeted by teams in the UCHC, and his offensive numbers came with a significant amount of effort to overcome opposing teams' focus on shutting down the talented freshman. At only 5-foot-9 and 165 pounds, Barrow proved to be tough and willing to give back in the physical game to continue to create opportunities on the ice.
"Tyler became a 20-minute per night guy for us in the second half of the season," noted Riley. "That is a lot of ice time for a forward, but he seemed to play big and better against the more difficult opponents and score big goals for us, especially in the second half when we needed his production most. His vision on the ice and ability to distribute the puck made him much more of a threat than being just a shooter, and there was no hesitation to play him in any situation on the ice."
Barrow was also named the MAC Rookie of the Year in recognition of his consistent play and strong statistical performance as a freshman.
"You know you are a threat to other teams when they start looking out for your number," said Riley. "At the beginning of the year, it was number 11 [Flynn] that got all the attention, and at the end of the year it was 13 [Barrow] that teams were paying special attention to — trying to slow him down. His progress through the year was amazing to see, and he became our best player over the course of the season. This is a great recognition for Tyler and our program."