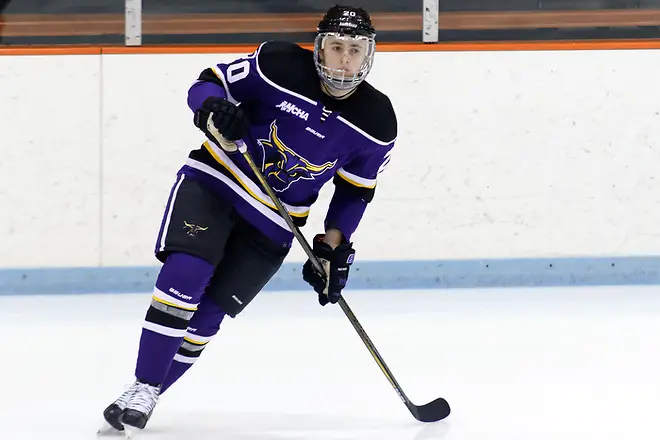 East Regional
March 30-31
Dunkin' Donuts Center, Providence, R.I.
Saturday, March 30, 1 p.m. Eastern time, ESPNews/WatchESPN, No. 1 Minnesota State Mankato vs. No. 4 Providence
Saturday, March 30, 4:30 p.m. Eastern time, ESPNews/WatchESPN, No. 2 Northeastern vs. No. 3 Cornell
Sunday, March 31, 4 p.m. Eastern time, ESPN2/WatchESPN, East Regional Championship
MINNESOTA STATE
Season record: 32-7-2 (22-5-1, 1st in WCHA)
Playoffs to this point: Won WCHA tournament (beat Alabama Huntsville in quarterfinals, beat Lake Superior State in semifinals, beat Bowling Green in overtime in title game)
Top players: junior forward Marc Michaelis (19-22-41), junior forward Parker Tuomie (14-25-39), junior forward Charlie Gerard (11-18-29), sophomore forward Jared Spooner (7-20-27), sophomore defenseman Connor Mackey (7-18-25)
Top goalie: freshman Dryden McKay (24-6-2, 1.66 GAA, .931)
Why they will advance to Buffalo: Minnesota State has plenty of offensive firepower — the Mavericks scored 3.51 goals per game this year, and had five different played with double digit goals. They're also the best defensive team in the country — just 70 goals allowed in 41 games. Plus, Mike Hastings has his team on a roll. They lost just twice in the 2019 calendar year.
Why they will not advance to Buffalo: The fact that a No. 1 seed has to travel more than 1,300 miles to take on a No. 4 seed in what is essentially a home game for said No. 4 seed has been discussed ad nauseum, so I won't mention it again (but, c'mon, it's a disadvantage). But beyond that, the Mavericks don't have a great track record in the NCAA tournament. Since joining Division I, Minnesota State is 0-5 all time in NCAA tournament games, including one other time as a No. 1 seed (2014).
At the start of the season, Minnesota State was somehow simultaneously the most known and unknown quantity in the WCHA.
Sure, the Mavericks were the defending league champions, had a number of skilled scorers returning and were predicted to finish first by both the media and the coaches. But on the other hand, the Mavericks also had a number of question marks: they were without their two top scorers, their top defenseman and their top goalie from their 2017-18 title campaign.
But as is becoming the routine for the Mavericks in recent seasons, everyone should have given Mike Hastings and his team the benefit of the doubt. Minnesota State won the WCHA regular-season title with weeks to spare and ended up being one of the top four teams in the country. Their reward is the No. 1 seed in the NCAA East Regional this weekend in Providence, R.I. — the second time the Mavs have been a No. 1 seed in their Division I era.
This time, they're hoping to do something they've never done before — win an NCAA tournament game and keep playing for as long as possible. Hastings is hoping the Mavericks can make the most of their opportunity as top seed and make a deep run. Last time they were a No. 1 seed, the Mavs lost in the first round to RIT.
"We just want to continue to play. We approached Saturday in the (WCHA championship) the same way," Hastings said, referring to MSU's dramatic 3-2 overtime comeback victory over Bowling Green last weekend. "Right now we've got an opportunity to play Saturday in the NCAA tournament and we don't want to let that opportunity go by."
Hastings said he saw a lot of his own team in Providence, which finished tied for second in Hockey East.
"They're big, they're heavy, they're very well coached," Hastings said. "You look at them and there's a few things that come off the page right away, and a lot of that has to do with the quality up front with Conway and Bjorkqvist, some veterans there. Then you mix in some of the real good young players they have, they're just real deep up front and they have two real dynamic defensemen on their back end. And you add in a goaltender who has played a lot of meaningful games in Hayden Hawkey, you have a good hockey team."
The Mavericks, too, have a similar mix: some experienced upperclassmen in Michaelis, Tuomie and Gerard combined with a deep forward group composed mostly of sophomores and freshmen.
"I see some mirror images," Hastings said of their first-round matchup. "They try and win with depth and they play a heavy game. We've had more than one line that's carried us, then we've got a couple of defensemen in Max (Coatta) and (Ian) Scheid that have carried us offensively but defensively I like our next five, they've done a real good job of defending."
And despite all the talk about the matchup and location (playing the Friars in Providence and a potentially hostile crowd), Hastings doesn't think that part of it matters much.
"No, we don't care about that. At this time of year, all 16 teams have earned their way in. Now, we've just got to drop the puck and play," he said. "And you want some environment in the crowd, that makes it more exciting."
— Jack Hittinger
NORTHEASTERN
Season record: 27-10-0 (15-8-1 HEA, tied for second)
Playoffs to this point: defeated Maine, defeated Boston University, defeated Boston College to win Hockey East championship
Top players: defenseman Jeremy Davies (8-27–35); forwards Brandon Hawkins (12-20–32), Liam Pecararo (10-19–29), Tyler Madden (12-16–28)
Top goalie: Cayden Primeau (25-9-1, 2.00 GAA, .936 save percentage)
Why they will advance to Buffalo: This is arguably the best – and most well-rounded – of coach Jim Madigan's three teams that have played in the NCAA tournament. It doesn't hurt that they're playing their best hockey heading into the tournament. Add in having Cayden Primeau as the backstop, and this is a dangerous hockey team.
Why they will not advance to Buffalo: Slow starts have plagued this team at times and anyone knows that chasing the game in an NCAA tournament is never a winning formula. They also got through the Hockey East tournament without having to beat the best as both Providence and Massachusetts were eliminated before they were aligned to play.
Northeastern has certainly begun to build a hockey power under Madigan. After stumbling through the first season under the coach, Northeastern is about to play in its third NCAA tournament in four years, has twice won the Hockey East championship and, important in Boston hockey circles, won back-to-back Beanpots over the last two seasons.
To say these are the glory days of Northeastern hockey is no exaggeration.
But the one thing that has escaped this team in the last three seasons has been any success on the biggest stage. In 2016, Northeastern was the hottest team in the nation, but as a No. 4 seed ran into eventual national champion North Dakota. Last season, the Huskies fell victim to a Michigan team that pressed all the right buttons in the Manchester regional and beat not just the Huskies but also fellow Hockey East member Boston University.
Madigan hopes that this year's team is different and can take not just a step past the NCAA opener, but put together two wins and reach the Frozen Four in Buffalo.
"There's a hunger there," said Madigan. "We need to move forward in this tournament to continue elevating our program. It's confidence and believability. You can't generate that, it has to come from within."
A lot of this team's believability comes from the Hockey East playoffs. All four games were one-goal victories, two coming in overtime and last Friday's semifinal win over Boston University required a third-period comeback.
"We've been in a lot of one-goal games this year and a lot of games when we've come back in the third period," Madigan said. "There's a comfort level in those type games. We don't panic.
"It's kind of a bend-and-don't-break mentality. We can get pinned in our own zone and we have a goaltender who can help us out in those situations. And we don't break, just live for the next shift."
Northeastern's first-round opponent, Cornell, is a heavy opponent who will challenge the Huskies physically. That's nothing new, says Madigan, when it comes to Cornell.
"Mike Schaefer's teams have always had a similar DNA, in terms of what the makeup of a team," said Madigan. "[That includes] very good goaltending and strong defensive play.
"We're built differently, but I think we both have confidence and comfort level."
— Jim Connelly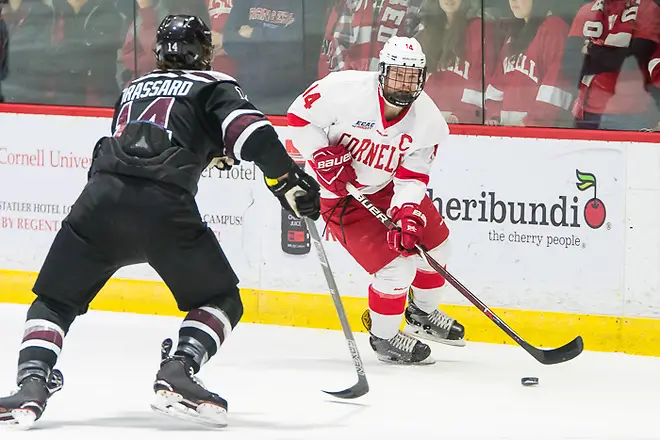 CORNELL
Season record: 20-10-4 (13-5-4, tied for first, ECAC)
Playoffs to this point: beat Union in three games in the ECAC quarterfinals, beat Brown in the ECAC semifinals, lost to Clarkson in ECAC championship game
Top players: Morgan Barron (14-18-32), Mitch Vanderlaan (10-19-29), Yanni Kaldis (4-23-27), Cam Donaldson (12-12-24), Tristan Mullin (8-12-20)
Top goalie(s): Matthew Galajda (16-7-3, 1.80 GAA, .923 save percentage); Ausin McGrath (4-2-1, 2.14 GAA, .919 save percentage)
Why they will advance to Buffalo: The Big Red have ability to grind teams down as they only allow two goals per game. Morgan Barron is having an outstanding season and could make his presence known at the national level. Cornell will be leaning heavily on him and Mitch Vanderlaan offensively.
Why they will not advance to Buffalo: Injuries. The Big Red have been injured throughout the season and they suffered two injuries against Clarkson in the ECAC championship. They will be without Jeff Malott while goaltender Matthew Galajda's availability is unclear for the weekend. If they get down after 40 minutes, their fate may be sealed as they are 0-7-0 this season when trailing after two periods.
It's almost fitting the Big Red head into the NCAA tournament with a new set of injuries suffered during the ECAC championship game against Clarkson. Saturday night, they lost Jeff Malott with a knee injury while Matthew Galajda also appears to be out after suffering a knee injury when the net collapsed on top of him in the overtime session.
"We had a lot of adversity, a lot of injuries this weekend and next week will be a challenge," Cornell coach Mike Schafer said after the 3-2 loss to Clarkson on Saturday night. "We will regroup, lick our wounds and piece it back together."
Cornell was without Galajda earlier this year as he missed five games at the end of the first half and the beginning of the second half while Malott also missed some time. They also have seen Alex Green, Brenden Locke, Cam Donaldson and Brendan Smith out at different points of the season. They also lost Cody Haiskanen for the season.
While they lose some depth heading into the game against the Huskies on Saturday afternoon, Schafer said he likes the mental game of his group heading into the national tournament.
"I like our character and we never used excuses," Schafer said.
The Big Red have five players with 20 or more points this season, led by New York Rangers' 2017 sixth-round pick Morgan Barron, who has 14 goals and 18 assists in 34 games. The top defenseman is Yanni Kaldis, who has four goals and 23 assists in 34 games.
Austin McGrath has been solid for Cornell in goal if Galajda isn't good to go this weekend.
The past month has been up and down for Cornell as the squad is 5-4-1 in the past 10 games. They had three wins against Union (two of them in the ECAC quarterfinals), and they suffered a loss to Rensselaer in overtime. The lone tie came against Clarkson in Potsdam.
The first-round game against Northeastern will be the first game against a Hockey East opponent this season.
— Nathan Fournier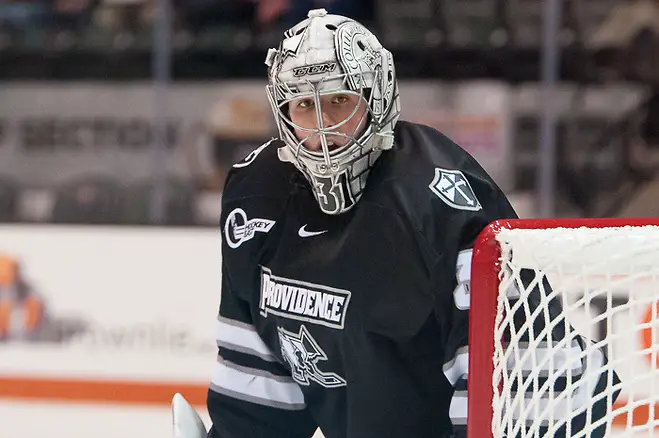 PROVIDENCE
Season record: 22-11-6 (14-7-3 HEA, T-2nd)
Playoffs to this point: lost quarterfinal series to Boston College
Top players: forwards Josh Wilkins (16-24–40), Jack Dugan (10-27–37), Kasper Bjorkqvist (16-12–28), defenseman Jacob Bryson (4-21–25)
Top goalie: Hayden Hawkey (22-11-5, 1.89 GAA, .919 save percentage)
Why they will advance to Buffalo: This is a solid hockey team that has all the components. At times this season, that may not have seemed apparent. But when Providence is rolling, they can be among the best teams in the nation. They also have motivation after being eliminated in the Hockey East quarterfinals.
Why they will not advance to Buffalo: There are times Providence can generate shots from all over the ice yet struggle to score. And when the offense goes dry, that becomes a problem. Also, as Hayden Hawkey goes, often too do the Friars.
Fans in Providence remember 2015 well. Providence lost their best-of-three Hockey East quarterfinals to New Hampshire and had to sit a week and wait out their NCAA fate. After getting into the NCAA field as the last at-large team, the Friars were placed in the East Regional in, of all places Providence, and upset top-seed Miami and second-seed Denver on the way to winning their first national title.
In the words of Yogi Berra, "it's déjà vu all over again."
The Friars, after their quarterfinal loss to Boston College, again enter as the fourth-seed in the East Regional in Providence, about two miles from the school's campus. Top-seed Minnesota State will be the opponent in the opening round, but before we just coronate the Friars national champions, understand there is a long road ahead.
Still, the regionals will be an opportunity for Providence to turn the page, something the team didn't do well between the regular season and Hockey East tournament.
"Down the stretch we were on a pretty good run," said Providence coach Nate Leaman. "I don't think we did a good job resetting for playoffs. We were a little sloppy, a little loose."
Leaman said the week off was "business as usual.
"It was a chance to get some guys healthy, and it was a chance to work on a couple of things that we needed to work on."
In terms of what the team could work on that was the major takeaway from the Boston College series, doesn't require X's and O's.
"We were chasing the games," said Leaman. "BC was a good forechecking team and we allowed them to forecheck."
Leaman did say that he was happy with the way his team came back in each game and that the power play executed well. But he's been around this game long enough to know, he won't be able to fall behind to a team like Minnesota State which enters the tournament the nation's top scoring defense, allowing just 1.71 goals per game.
"They're heavy, older," Leaman said about the Mavericks team that won both their regular- and post-season title in the WCHA. "They're good at the net fronts. They're tough to generate against."
When asked if he believes his team knows it has a second chance at playoff destiny, Leaman says it does.
"Absolutely," Leaman said. "They've wanted this. They've wanted it all year. Being so close to getting to the Frozen Four last year, they have that experience."
— Jim Connelly