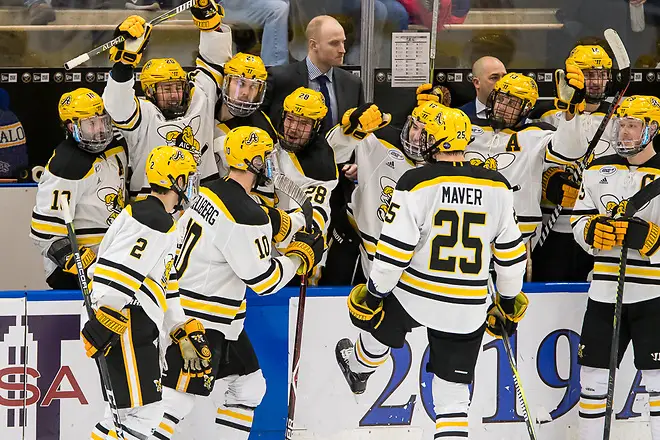 Here is how our columnists see this weekend shaking out.
Atlantic Hockey
American International vs. St. Cloud State
One thing's for sure: St. Cloud State will not be taking AIC lightly. Last season, the Huskies were also seeded first overall, but fell 4-1 to 16th-seeded Air Force in the opening round.
Atlantic Hockey teams have won their opening game three of the past four seasons, but I think St. Cloud won't allow history to repeat. St. Cloud State wins.
Regional picks:
St. Cloud State
Minnesota Duluth
Northeastern
Notre Dame
— Chris Lerch
Big Ten
Ohio State vs. Denver
Tough draw for the Big Ten champions, facing a traditional NCHC power and then, potentially, getting the tournament's top seed if they do win. I don't like the fact that the Buckeyes will have only played one competitive game in roughly four weeks leading up to their game against the Pioneers. I'll take Denver in the game and St. Cloud State to capture the regional.
Notre Dame vs. Clarkson
Notre Dame locked down its defense for the playoffs. Now, if the Irish can keep up the opportunistic scoring, they have a chance to make it back to the Frozen Four. I like the way Cale Morris is rolling right now, and a hot goalie in the postseason can be a dangerous thing for the opposition. I'll take Notre Dame over Clarkson and then UMass winning the regional in a close game on Saturday.
— Drew Claussen
ECAC Hockey
Quinnipiac vs. Arizona State
Both teams are coming off long layoffs, as Quinnipiac was swept by Brown in the ECAC Hockey quarterfinals two weeks ago, while independent Arizona State has not played a game since March 2. The Bobcats struggled to generate offense the Bears without defenseman Chase Priskie, who was suspended for two games. Priskie is Quinnipiac's best player, and I think his return should give the Bobcats an edge. Quinnipiac wins.
Cornell vs. Northeastern
These teams played each other in the NCAA tournament 10 years ago, a game that Cornell won 3-2 after scoring twice late in the third period. However, I think this one goes to the Huskies this time. Northeastern has a deep offense and an outstanding goalie in Cayden Primeau, while injuries have struck the Big Red again this year. Forward Jeff Malott is out for the year after an injury in the ECAC Hockey championship game, while goalie Matthew Galajda left with an injury as well. Northeastern wins.
Harvard vs. Massachusetts
This game is being hyped as the matchup of two premier defensemen in Harvard's Adam Fox and Massachusetts' Cale Makar. But this matchup also features the top two power-play units in the country, so this game could be decided by the penalty kill units. That's where the Minutemen have an advantage; Massachusetts in fourth in the country in penalty kill efficiency, while Harvard is 49th. Massachusetts wins.
Notre Dame vs. Clarkson
Clarkson's Nico Sturm might be one of the most underrated players in the country. Like the Golden Knights, he's not flashy but has a high skill level and gets the job done. Led by goalie Cale Morris, Notre Dame is sound defensively, but Clarkson is one of the hottest teams in the country right now. Clarkson wins.
Regional picks:
Clarkson
St. Cloud State
Quinnipiac
Minnesota State
— Nate Owen
Hockey East
Massachusetts vs Harvard
These two teams are very much like each other. Terrific offenses quarterbacked by a defenseman who ranks among the top players in the country. And the top two power plays in college hockey. Yeah, Harvard has the experience advantage, but it also has a hideous penalty kill (49th in the nation!). Expect the UMass power play to dominate. UMass wins.
Second round vs. Clarkson/Notre Dame
Count me as a UMass believer. If the Minutemen get past Harvard, the whole bright-lights, inexperience factor may go away, and I simply believe they're the best team, especially if matched against Notre Dame's lukewarm offense. UMass wins.
Providence vs. Minnesota State
The safe pick is to go with top-seeded Minnesota State. After all, the Mavericks have been one of the top teams in the country all season long. Homer Hendrickson, however, is going out on a limb and picking the Friars. Not because they're "the home team," although that certainly won't hurt. It's just that they're a playoff-style team that's well-rounded and, I believe, primed for the upset in a game that's more evenly matched than most believe. Providence wins (and everyone outside of Rhode Island complains about the "home ice" factor.)
Second round
If Providence advances, I pick the Friars to defeat Cornell in that matchup, but fall to Northeastern. Either way, the better team wins.
Northeastern vs. Cornell
The Huskies have defied expectations all season long, and now enter the tourney having won 10 of their last 11. Jeremy Davies quarterbacks the superior offense, and Cayden Primeau wins the battle of goaltenders with Matthew Galajda.
Second round
If Northeastern advances, Homer Hendrickson believes they keep going all the way to Buffalo. The Huskies defeat either Minnesota State (in an overtime upset) or Providence.
Regional picks:
Massachusetts
Northeastern
Minnesota Duluth
St. Cloud State
— David H. Hendrickson
NCHC
American International vs. St. Cloud State
While the Huskies did lose the NCHC Frozen Faceoff last weekend in St. Paul, they looked monstrously good. They are fast, skilled, and play systems well. Their goaltending may not be top of the heap, but it's hard to get the puck away from them to make it an issue. American International is playing its first-ever NCAA tournament, and congrats to them, but their season ends Friday. St. Cloud State wins 4-1.
Ohio State vs. Denver
A year ago, the Buckeyes ended the season of a loaded Pioneers team that was too talented for its own good. OSU jumped all over Denver en route to a 5-1 win. Denver looks to flip the script with one of the toughest defenses in the country. Denver didn't look bad in the game against Minnesota Duluth. The Bulldogs got one goal in the third and two empty-netters to seal it. Ohio State struggled down the stretch, and the Buckeyes haven't played much in the last few weeks, so some rust may be at play. Since Denver doesn't play a relentless puck control game, Ohio State will get its chances, but I see Denver getting a win here in a close game. Denver wins 2-1.
West Regional: St Cloud State defeats Denver
Bowling Green vs. Minnesota Duluth
The Falcons seemed poised to win the WCHA tournament last week, holding a two-goal lead with three minutes to go, but Minnesota State scored twice with the goaltender pulled and won in OT. The Falcons have done well to get back to the NCAA tournament, but Minnesota Duluth knows what it takes in the postseason, having played in the last two national championship games and having won last season. UMD also has one of the best goalies in the country in Hunter Shepard, who if he sees the puck snags it. UMD doesn't blow teams out, but the Bulldogs stifle their opponents, like they did against Denver, and then strike on their few chances. Minnesota Duluth wins 3-0.
Midwest Regional: Minnesota Duluth advances to its third straight Frozen Four
— Candace Horgan
WCHA
Minnesota Duluth vs. Bowling Green
This is a monumental moment for the Falcons, who snap a 19-year NCAA tournament drought by playing in this game. As much as I love BGSU coach Chris Bergeron and how well his third-place squad played in the WCHA this year, I have to go with Duluth. It's hard to bet against the defending national champions. But if you want to be the best, you have to beat the best, right? Hopefully, the Falcons prove me wrong.
Minnesota State vs. Providence
The Mavs are in a sneaky-good bracket chocked full of solid east coast teams, especially Providence, which has won four games against ranked opponents this season. I fully expect the Friars to play well, but MSU has been a tough team to beat this year, and I've thought all season long its poised to make a Final Four. Give me MSU, the regular-season and conference tournament champions in the WCHA, in a close one.
— Brandon Folsom