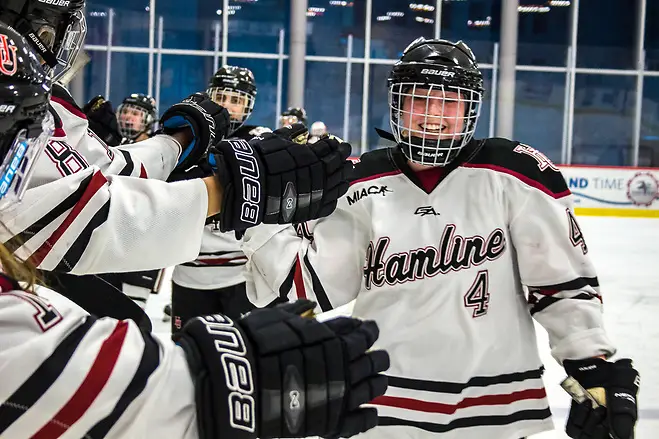 With an outstanding performance in her freshman season, Hamline forward Molly Garin is the USCHO Women's D-III Rookie of the Year. Garin ended her first year at the collegiate level with 19 goals and 19 assists for 38 points.
The rookie is from Mound, Minnesota, where she played high school hockey at Holy Family. During her time there, she recorded 160 points with 91 being goals and 69 assists. It's clear that Garin has natural hockey skills to begin, with but with a coach like Natalie Darwitz and alongside teammate Bre Simon, it's a no-brainer that Garin would have a breakout rookie season.
Garin ends this season tied for 12th in the nation in total points and averaged 1.27 points per game. Three of her goals were game-winning goals, and eight were scored on power plays.
As seen in the Frozen Four, the West dominated the competition with three out of the four teams. With that being said, the competition was not easy, and points did not come freely during the regular season. Garin is the only freshman from a western team to crack the top 50 in scoring.
Some players struggle at the collegiate level to conform to the speed and physicality. Garin not only adjusted to college hockey almost immediately, she was executing on the largest stage, the national tournament.
The most notable night for Garin came against Wisconsin-River Falls in the NCAA quarterfinals. She opened up the scoring late in the first period to give her team the lead. After Simon scored, a few minutes later Garin scored her second of the game on a power play to give the Pipers a 3-0 lead. Near the end of the third period, Hamline got a power-play opportunity again where Garin capitalized for the third time to complete her hat trick. Prior to her hat trick against Wisconsin-River Falls, Garin completed one against St. Olaf on Jan. 19, 2019.
In the MIAC, Garin was third in points behind her two teammates, Bre Simon and Leah Schwartzman. Garin earned all-conference team as well as all-rookie team in the MIAC for her efforts.