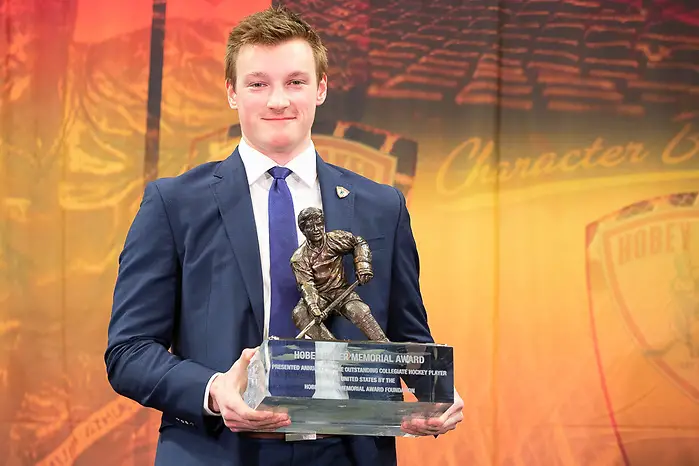 BUFFALO, N.Y. — The magical season of firsts for Massachusetts earned another star on Friday when Cale Makar won the 39th Hobey Baker Award, given annually to the best player in Division I men's hockey.
Makar became the first Minutemen player to win the award, completing a trifecta season where he was the program's first finalist and Hobey Hat Trick honoree.
"I'm not an individual guy by any standards," he said. "I think this is a team award, and I accept this on behalf of the team. It's been amazing, and anyone on our team can step up at any moment. It's unbelievable, and I'm truly honored to play for such a good program."
It continues the culmination of a banner season for the Calgary, Alberta, native. His 49 points are most among defensemen and third-most in Division I, and his plus-33 rating is second among all college hockey players with one game remaining: the national championship on Saturday. He was the only unanimous Hockey East first-team all-star and a unanimous selection as the player of the year in the conference, becoming the first defenseman to lead the league in 20 years.
In the process, he became arguably the brightest star in UMass program history. He led a breakout of a dormant Hockey East program that won just five games in 2016-17. His arrival coincided with a 17-win season last year during which he scored five goals and 21 points before the team elevated to the top of the national mountain this season.
The Minutemen are in the midst of a 31-win season and advanced to the national championship game with their first appearance in a national semifinal. They defeated Denver on Thursday night in a 4-3 overtime thriller to set up a matchup against the defending national champion Minnesota Duluth Bulldogs.
"It's a little bit of a whirlwind [this weekend]," Makar said. "There's a lot going on with a long game last night. I didn't get much sleep, but it should be a good national championship game, for sure."
Makar became the second Alberta-born Hobey Baker Award winner, joining North Dakota's Ryan Duncan (2007). He's the 10th Canadian victor and the 11th Hockey East player to win and second consecutive after Northeastern's Adam Gaudette won last year. He's the eighth defenseman to win the award, three of whom originated at Hockey East schools.
In addition, he remains a hot commodity for the Colorado Avalanche, who own his draft rights after taking him fourth overall in the 2017 NHL Draft.
The Avalanche are in the midst of an NHL Western Conference playoff series with Makar's hometown Calgary Flames, and there exists the possibility that, following the national championship game on Saturday, he could be suiting up for the Avs against the Flames.
"You couldn't ask for a better way to end a college career than in the national championship and hopefully hoisting a trophy," Makar said. "After that, we'll see what happens in regards to everything. You never know, and it's what they want.
"There's not much on the table because we're still playing. But you go from being a die-hard Flames fan your whole life to a great organization like Colorado. I've definitely gotten some messages from friends, though, in regards to who they might be rooting for in that [situation]."
He beat out a talented field that included two other blue-liners, Harvard's Adam Fox and St. Cloud State's Jimmy Schuldt. It was the first time since the introduction of the Hobey Hat Trick in 2002 that all three honorees played defense, though Makar joined Denver's Will Butcher as the second winner from the blue line in the last three years.
Prior to this run, the only two defensemen skaters to win the award and play for a title were Boston University's Matt Gilroy in 2009 and Minnesota's Jordan Leopold in 2002.
Both won national championships.