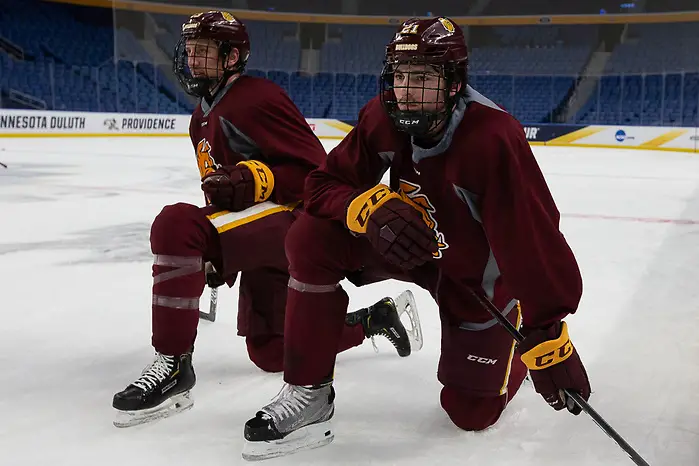 BUFFALO, N.Y. — Massachusetts coach Greg Carvel had a realization very recently that he might need to change the dates of his family vacation.
Without looking at the college hockey calendar and April vacation on the horizon in Massachusetts, Carvel realized he had booked his family to fly to Florida on Saturday, April 13 at 6:30 p.m.
"In February, I was like, 'Oh, my God.' I made that reservation, stuck it in a desk somewhere," said Carvel.
On Friday morning, after beating Denver 4-3 in overtime the night before, Carvel gladly called the airline to change the flight that directly conflicted with Saturday's national title game.
"It was the happiest $200 per flight charge I'll ever make," Carvel said with a wry smile.
Saturday will be his Minutemen's first trip to a national title game, where they will face off against the defending national champion, Minnesota Duluth.
Despite being a 31-win team, Carvel on Friday sounded like a coach trying to sell his club as embracing the role of the underdog. That is a sale that Minnesota Duluth coach Scott Sandelin isn't buying.
"All I know is you win 31 games, you're a damn good hockey team," said Sandelin. "And they are. If that's all that people want to spin it, I guess there's reasons for that."
From the perspective of strategy, there will be a lot of focus of this battle on the neutral zone. Both teams have great speed and like to move quickly through the neutral zone. But both also like to defend and create headaches for their opponents as they come up ice.
One team will be able to impose its will, and in that you might find a point of differentiation.
"They're a little bit different than some of the teams we've seen as far as how they defend through the neutral zone," Sandelin said of UMass. "That's probably one thing that we'll focus on. We know they pressure [in the neutral zone]. We're going to have to make plays under pressure. We've got to learn to handle that. Hopefully we can do the same thing to them."
One major thing each coach likely will address with his club is playing heavy and with an edge but making sure not to cross the line and take unnecessary penalties.
On Thursday, Duluth did a decent job staying out of the box against Providence but also took two of its three penalties back-to-back in the third, giving the Friars a golden opportunity to break open a 1-1 game with an extended 5-on-3 power play.
UMass went a step further, taking two major penalties and getting away with an elbow to the head late in the game. That final hit by Bobby Trivigno, which wasn't called on the ice or reviewed by instant replay, didn't go unnoticed and on Friday the NCAA Men's Ice Hockey Committee announced Trivigno will be suspended for Saturday's national championship game.
"We check. It's hockey. You run into people," said Carvel. "I guess they unfortunately hit heads first [on the major penalties]. I honestly haven't really gone back to dissect them.
"But that's our identity. You play hard. I don't think Duluth is any different. There's always the line that you can't hit the guy in the head.
"We won't change anything except ask the guys to be a little more disciplined in how they go about it."
Sandelin, in addressing the need for discipline, was even more direct.
"I think [discipline is] something we stress all the time," Sandelin said. "I don't think I stressed it any more. I might be a little louder when I say it now because it's so critical. You've just got to stay out of that.
"It's an emotional game. There's emotions, there's intensity. That is what kids play for, to be in these games. You know what, as much as you talk about it, you hope that they listen and follow through."
While UMass is looking to become a first-time champion on Saturday, Minnesota Duluth is looking to become the first back-to-back champion since Denver accomplished that in 2004 and 2005. And while they were a bounce in overtime away from facing a very familiar opponent in Denver, they instead have a learning curve to figure out the best way to shut down this 31-win "underdog."
"Obviously, when you see a team for the first time," said Sandelin, "I think there's good and bad. I mean, obviously there's no familiarity with maybe their style of play.
"There will probably be some things we'll obviously pay attention to, just like we do with any opponent. But this isn't the time to go changing the way you play. If you have to [make changes] within the game, we'll make some adjustments. We've got to just prepare our team to play and do the things that we need to do to have success regardless of who we're playing."