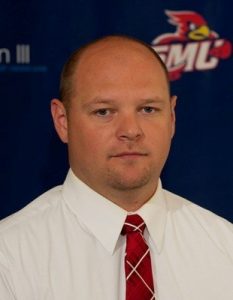 St. Mary's announced Thursday that Ryan Egan is the new head coach of the men's hockey team.
Former coach Bill Moore stepped down in April after 12 seasons coaching the Cardinals.
"We are extremely excited to announce Ryan Egan as the head coach of our men's hockey program," said St. Mary's athletic director Brian Sisson in a statement. "Ryan's energy and hockey knowledge, combined with his recruiting prowess and experience as a head coach, will serve our student-athletes well."
Egan is no stranger to St. Mary's, having served as the Cardinal men's hockey team's assistant coach from 2009 to 2014.
"I would like to thank Father Burns, Brian Sisson and the search committee for allowing me this great opportunity to come back to St. Mary's University as the head men's hockey coach," added Egan. "My family and I couldn't be happier to once again be a part of the St. Mary's family. I look forward to achieving many successes with the current and future Cardinal student-athletes."
After leaving St. Mary's, Egan spent two years as head coach and general manager of the NA3HL's La Crosse Freeze, and then was named the head coach and general manager for the NAHL's Coulee Region Chill. He spent last season as head coach and general manager of the NA3HL's College Station Spirit (recently renamed the Texas Roadrunners).
Egan began his coaching career with the Omaha Energy AAA program, where he was program director and head coach, and then moved on to guide the WSHL's San Antonio Diablos (WSHL).
"Ryan's passion, character, and clear vision in providing a transformational student-athlete experience — along with the respect he has in the junior and collegiate hockey community — stood out during this process," noted Sisson. "We are eager to connect Ryan with our hockey alumni and the Winona and surrounding community and welcome him, his wife Melissa, and sons Jackson and Weston to the Cardinal family."