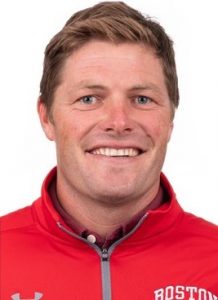 Eddie Effinger, who spent a combined 10 years with the Amherst men's hockey program as a student-athlete and an assistant coach, has been named the director of men's hockey operations at Boston University.
Effinger served as an assistant coach on Jack Arena's staff for the past six seasons following an impressive playing career at Amherst and was part of the Mammoths' only two national semifinal appearances, first as a senior in 2012 and then again in 2015 as a coach.
"We are thrilled to add Eddie to our staff," said BU coach Albie O'Connell in a statement. "He gained invaluable experience under Coach Arena as both a player and as an assistant, and he is an up-and-comer in the college hockey world. He'll be a huge asset to our program, benefiting both the coaching staff and our players."
A two-time captain at Amherst, Effinger played in 97 career games, totaling 77 points on 38 goals and 39 assists, and helped the team capture the 2009 and 2012 NESCAC titles.
Following graduation, Effinger played professionally for one season in the Central Hockey League with the Quad City Mallards.
During his time as an assistant coach, Effinger was a LEADS staff member, helping design curriculum dedicated to leadership development for over 200 student-athletes. He managed a LEADS initiative that exposed student-athletes to the growing industry of analytics and data management while also helping to implement professional development opportunities for the athletic department that focused on recruiting, communicating with student-athletes, wellness and sports psychology.
As a senior, Effinger was named the recipient of the 2012 Friends of Amherst Athletics Award, given those who have demonstrated through determined effort and sportsmanship the desire for excellence.
Effinger earned his bachelor's degree in economics from Amherst in 2012. He also served as a coach and evaluator for the U.S. National Team Development Program from 2015 to 2017 at sites in New Hampshire and Utah.