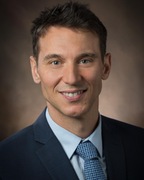 Bentley announced Tuesday that Joel Beal has been hired as an assistant coach.
Beal, who replaces Ben Murphy, who took a similar role at St. Lawrence, comes to Bentley after serving as an assistant coach last season at Miami.
"I am extremely excited to welcome Joel and his family to our program," said Falcons coach Ryan Soderquist in a statement. "He is tireless worker with a great hockey mind and I look forward to him adding to our culture immediately."
Prior to his time at Miami, Beal was on the coaching staff at Sacred Heart for five years. He rose to the level of associate head coach for the 2016-17 and 2017-18 seasons after starting out as an assistant.
Beal began his coaching career as a volunteer coach at his alma mater, Union, for two seasons.
As a player, Beal recorded 101 points during his career with the Dutchmen from 2001 to 2005.