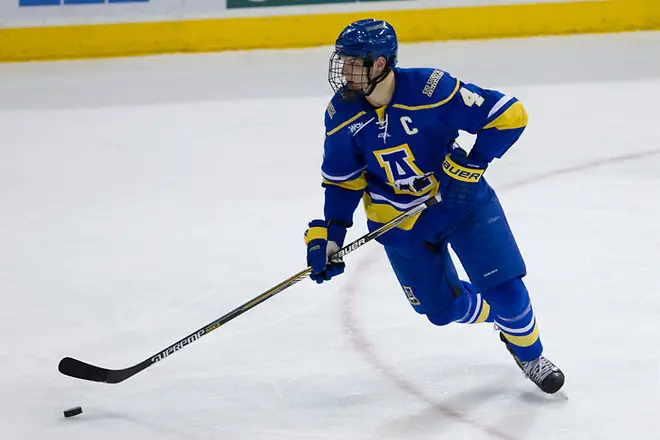 Colton Parayko has gotten used to wearing blue and gold – first as a two-time All-American selection for Alaska, and now as a Stanley Cup champion with the St. Louis Blues.
The former Nanook defenseman from St. Albert, Alberta, hoisted Lord Stanley's prize in June as a member of the first Blues' team in the franchise's 52-year history to claim the NHL championship. He becomes the third former Nanook, and the third former UAF blueliner, to win the Cup, following Shawn Chambers (New Jersey, 1995 and Dallas, 1999) and Jordan Hendry (Chicago, 2010).
Parayko got to enjoy his day with sport's most heralded trophy in the Edmonton area in July, sharing it with his family and friends back home. He even brought it to the Brick Invitational Hockey Tournament at the West Edmonton Mall, as part of what he deemed to be his "perfect" summer.
"It's been going well," he said in early August. "Before you know it, summer will be over, but it's been exciting, and I'm looking forward to starting next year."
The Blues, who had been dead last in the overall NHL standings in January prior to ultimately attaining the pinnacle of the pro hockey world, were in danger of coming up a game short after taking a 3-2 lead in the Stanley Cup Final. After dropping Game 5 by a goal at home, the Boston Bruins rebounded with a 5-1 victory over the Blues in Game 6 in Missouri to force a winner–take-all Game 7 in Massachusetts.
"That was obviously a tough one," recalled Parayko of St. Louis missing out on a chance to claim the Cup at home. "Going back to Boston was tough, but we had a good group on the road in the playoffs, and we won a lot of games.
"We were confident, and we put Game 6 behind us. It was one game to take it all, and if you win that one game, you win the Cup."
That the Blues did, tying an NHL record with their 10th road victory of the playoffs in a 4-1 triumph over the Bruins on June 12 to earn St. Louis' first Cup championship in its fourth-ever trip to the Final, and its first visit there in 49 years.
Besides providing steady defensive play and 12 points in 26 playoff games en route to the Blues' first Cup championship, Parayko also gained international notice for his friendship with Laila Anderson, an 11-year-old Missouri girl suffering from hemophagocytic lymphohistiocytosis, an exceptionally rare immune disease that affects less than 20 children worldwide.
The Blues adopted Anderson and her personal fight in their own postseason crusade that ultimately felled Winnipeg, Dallas, San Jose and Boston.
"It was cool, and she was special to our group," said Parayko. "She was going through her own battle and supporting us, and it was a tough time for her."
Anderson later got medical clearance to travel to Boston for Game 7 of the Final, and even got to help Parayko and company lift the Cup on the ice at TD Garden.
"It was nice she could come out and join us," recalled Parayko. "It took her a long time to get out of the hospital, and it was a special moment for me and our whole team, to have her be a part of the win."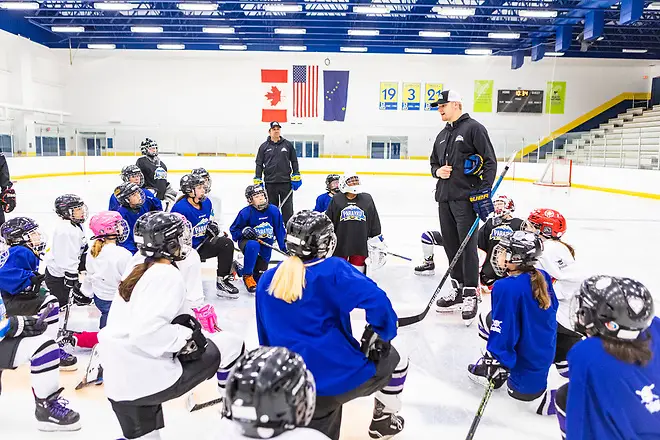 Other former NCAA players who played key roles in St. Louis' postseason journey this spring included forwards Tyler Bozak (Denver), Zach Sanford (Boston College) and Jaden Schwartz (Colorado College), all of whom scored key goals in the Blues' four-round run. Also on the roster was defenseman Chris Butler (Denver), a St. Louis native who announced his retirement several weeks after the Blues claimed the championship, and forward Mackenzie MacEachern (Michigan State).
Drafted by St. Louis in the third round (86th overall) just prior to enrolling at Alaska in the fall of 2012, the 6-foot-6, 229-pound Parayko quickly proved himself to be a mainstay on the Nanook blueline. As a freshman, he tallied four goals and 13 assists for 17 points to go with just 23 penalty minutes in 33 games, as UAF closed out its tenure in the now-defunct CCHA.
"I went to Fairbanks and enjoyed it," said Parayko, who admitted there were some other schools that had been in the mix for his services. "It was a good group of guys. I'm glad I made that choice, and I would do it again."
The next two years, in the revamped WCHA, Parayko put up 13 goals and 36 assists for 49 points in all, while notching just 32 PIMs. An assistant captain during his sophomore season, and a captain in his junior campaign, he was named WCHA First Team, WCHA Defensive Player of the Year, and Second Team All-American in both those years.
"For sure, it was a big part of my career," he reminisced of his time at UAF. "I spent a lot of time in the gym. It was a good opportunity to get stronger and faster, and I needed that at the time."
It was that, and playing nightly against top NCAA Division I opponents, whether at the 4,300-seat Carlson Center in Fairbanks, or on the road in the so-called "Lower 48," as Alaskans call the contiguous United States.
"I spent a few more years playing against better teams, with players (up to) 24 or 25 years old," said Parayko. "It was a chance to develop that way."
UAF finished with a winning record in each of Parayko's three winters in Fairbanks, winning 17, 18 and 19 games, respectively. He also recorded seven points in 13 career matchups with rival Alaska Anchorage, while winning three Governors Cups in the annual head-to-head competition between the Nanooks and the Seawolves.
"His game was pretty consistent," said Denver assistant coach Dallas Ferguson, a former Nanook defenseman who was Parayko's head coach at UAF. "You noticed it every day in practice and in games, that there weren't a lot of highs and lows, and that's an extremely valuable quality.
"You saw his athleticism develop, and that he wasn't just a big body. He started to impact games and take control. You started to see him play at a higher level and maintain that consistency, and it gave you the idea that he would be playing for a while."
His development and success precluded a fourth and final season for Parayko in Fairbanks. After completing his third full campaign in Alaska, he and the Blues decided it was time for him to turn pro. He departed Fairbanks in the spring of 2015, and then skated a 22-game apprenticeship (including playoffs) with the Blues' AHL affiliate, the Chicago Wolves, for whom he scored four goals and added three assists in that span.
"It was a good stepping stone," he explained. "I was introduced to a few guys in our system, and having our coaches and scouts watching was huge. I got a look at what it's like in the pros. The AHL has players that have been in the NHL, or will be in the NHL, and it's a good league."
Parayko joined the Blues for good the following fall. His 33 points with a plus-29 plus-minus rating in his first 79 NHL outings earned him inclusion on the 2015-16 NHL All-Rookie Team, and also garnered him Calder Trophy consideration. He was also part of St. Louis' run to the 2016 Western Conference final, its longest playoff stretch to that point in 15 years, as the Blues ultimately fell to San Jose. Parayko himself contributed two goals and seven points in 20 games in his initial taste of NHL postseason action, and then played for Team North America in the 2016 World Cup several months later.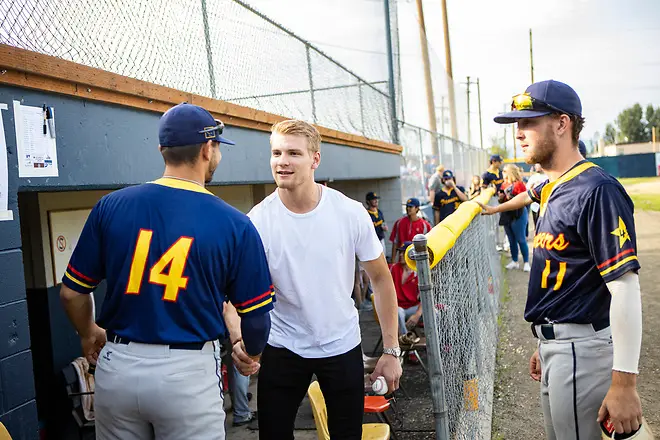 St. Louis missed the playoffs in both 2017 and 2018, but Parayko took that time off to represent Canada both years at the World Championship, earning a silver medal and making the All-Star squad the second time out.
Academically, Parayko didn't miss a beat after signing his first professional contract, as he completed his studies online during the Blues' 2015-16 season. He earned his bachelor's degree in business administration from UAF in August 2016, just before embarking upon his second full NHL training camp.
"I enjoyed it," he said simply of finishing his studies on the road.
It was much like he did when he played for the traveling Nanooks, who can be away from home for weeks at a time during the regular season.
"I was still busy getting accustomed to the league," he said. "You want to do well, but you go home and do something different, and I had a good time doing it."
Parayko, now 26, also got more than a little bit of notice last season before the Stanley Cup Playoffs even began.
His off-the-cuff response of "I can do want I want" to an on-ice official, who wanted Parayko to move the puck from behind the St. Louis net, went viral, although there was a solid rationale for the way the Blues' No. 55 replied.
"It was overtime, and our guys were changing up," he said. "I had to wait for the line change, and I didn't mean to be rude, but that was my reason for doing it."
The play has been viewed thousands upon thousands of times on YouTube and other websites.
"It was kind of crazy," he chuckled of the resultant fanfare to his impromptu response. "I don't know why, but it just kind of happened."
Despite logging heavy minutes every night with the Blues, Parayko has only missed six regular-season outings so far in an NHL career that has seen him tally 29 goals and 131 points in 322 appearances. He also has six goals and 24 points through his first 57 Stanley Cup playoff contests.
Parayko has traveled back to Fairbanks the last two summers to run his own hockey camp at the Patty Ice Arena, where he used to practice as a member of the Nanooks. This year, he returned to both the North Star Borough and the Golden Heart City as a Stanley Cup champion.
"It was lot more exciting (after the Cup)," he admitted. "It's obviously a tight-knit group in Alaska. It was cool playing there, and sharing the Cup with the team and many others. They were obviously all excited."
He donated the proceeds from the second annual Parayko Hockey Camp in July to scholarships for the Nanook hockey team, according to Fairbanks native and UAF sports information director Nona Letuligasenoa, herself a former NCAA Division I player at Rensselaer. Parayko also threw out the first pitch at an Alaska Goldpanners baseball game last month, and received a proclamation from Borough Mayor Bryce Ward.
"Everybody's proud of what he did," said Ferguson, who had dinner in Colorado with Parayko and former Nanook netminder Chad Johnson shortly after the Blues installed Craig Berube as head coach in November. "We followed them through the playoffs and cheered them on. It's not easy to win the Cup."
"It was great, Colton coming back for his second summer camp as a Stanley Cup winner," added longtime Nanook hockey radio voice Bruce Cech. "The pictures, the autographs, the smiles. Now a professional, he is still just as down to earth as he was as a Nanook – first class all the way."
Parayko hasn't really gotten an opportunity to see his old college club play a game since he turned pro, and his time to do so could possibly be running out.
The overall University of Alaska educational system has been threatened with some $130 million in budget cuts across the board by the state government, to its three campuses in Anchorage, Fairbanks and Juneau. Couple those financial straits with the supposed departure of seven of the current 10 WCHA teams in the next two years to form their own circuit, excluding the two Alaska schools and Alabama Huntsville, and there is a real chance that either or both the UAA and UAF hockey programs could conceivably cease to exist.
Parayko said he didn't know the entire situation with the Alaska system, or what would happen, but that he definitely kept tabs on his old college team, just like he did his former junior clubs, and obviously wants to see UAF survive.
"It's something where we'll see where it goes," he said. "I hope it works out well."
Despite his size, strength and shot (once clocked by the Blues at 104 mph), Parayko rarely racks up penalty minutes, despite skating a regular shift in the most skilled league in the world. The 65 PIMs he recorded in his last season of junior hockey with the Fort McMurray (Alta.) Oil Barons in 2011-12 is twice as many as any amount he's totaled in the last seven seasons, at three different levels of hockey, and almost as much as the 89 PIMs he's accumulated in all at the NHL stage.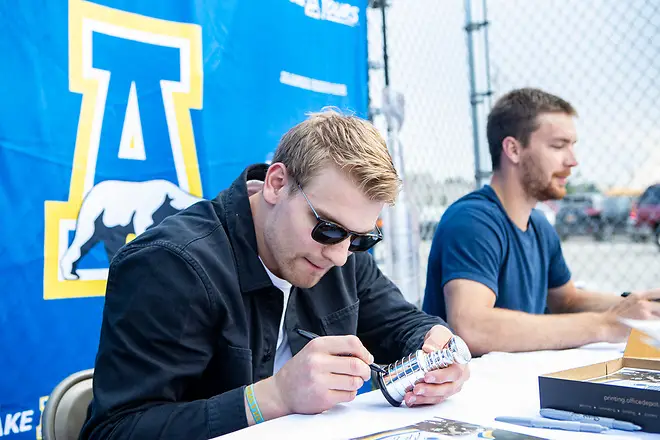 "I use my stick a lot, instead of my body," admitted Parayko, who combines his more-than-generous wingspan with one of the longest sticks in the league. "I have a long reach, and I can break up plays that way."
He'll be doing that, and more, once the puck drops on the new NHL season in October, with the Blues preparing to guard their crown.
"I'm ready to go," said Parayko, who is under contract to the Blues through the 2021-22 season. "I've been training for a few weeks now, and the only thing better would be to win another Cup. It's been a quick offseason, but a good one. I'd do this every summer if it meant winning the Cup, and hopefully I'll have a few more wins in my career."
At 6-foot-6, Parayko is the headliner among a rugged Blues' defensive corps that also features the likes of Robert Bortuzzo (6-foot-4), Jay Bouwmeester (6-foot-4), Joel Edmundson (6-foot-4) and captain Alex Pietrangelo (6-foot-3).
"We believe in big defense," said St. Louis GM Doug Armstrong to the Washington Post during the Stanley Cup Final. "We have had a lot of big defensemen over a number of years."
The Blues' Stanley Cup title, though, has painted a target squarely on all their backs, for the other 30 teams they'll face throughout the 2019-20 campaign.
"Obviously, everyone will be coming at us, and every team will give us their best game," stated Parayko. "We'll have to play our best every night. It's a tough league, but we have great guys and a good team, and there's a good chance we'll have another good season."
Perhaps even another championship one, and another celebration in the Great White North that helped him get to where he is, and to which he still reciprocates.
"What's really amazing is how he gives back," said Ferguson of his former defenseman. "Since the day he left Alaska, people have gone to watch him or meet him, and he always takes the time for them. It's what you admire about him.
"They say good things happen to good people. He's a high-quality person, and you like to see good things happen to people like that."