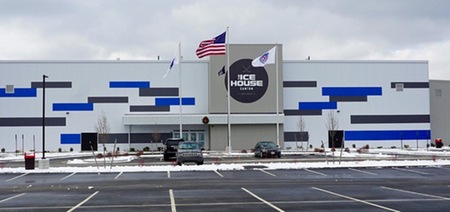 Curry announced Monday that the men's hockey team will be moving to the Canton Ice House, effective for the 2019-20 season.
The team previously played at Ulin Rink.
"The Canton Ice House is a top-notch facility and will be a tremendous arena for our players and coaches along with our students, alumni, and friends to watch our Colonels in action," said Curry director of athletics Vinnie Eruzione in a statement. "This will also give the college an opportunity to explore the possibility of adding an NCAA Division III women's ice hockey program in the future. I cannot thank president Kenneth Quigley, director of facilities Robert O'Connell, and vice president of finance/CFO David Rosati enough for their hard work and dedication in making this happen."
"I am excited to be making the CIH the home of Curry Hockey," added coach TJ Manastersky. "It will provide an unmatched experience for not only our players, but also our students, friends, families, and alumni to come and enjoy home hockey games. This move signals a continued commitment to hockey from Curry College and I am grateful for the opportunity.
"We look forward to building on our proud history and tradition in our new home and building relationships in the CIH and the community of Canton. Exciting college hockey is coming to Canton and we can't wait to get started."